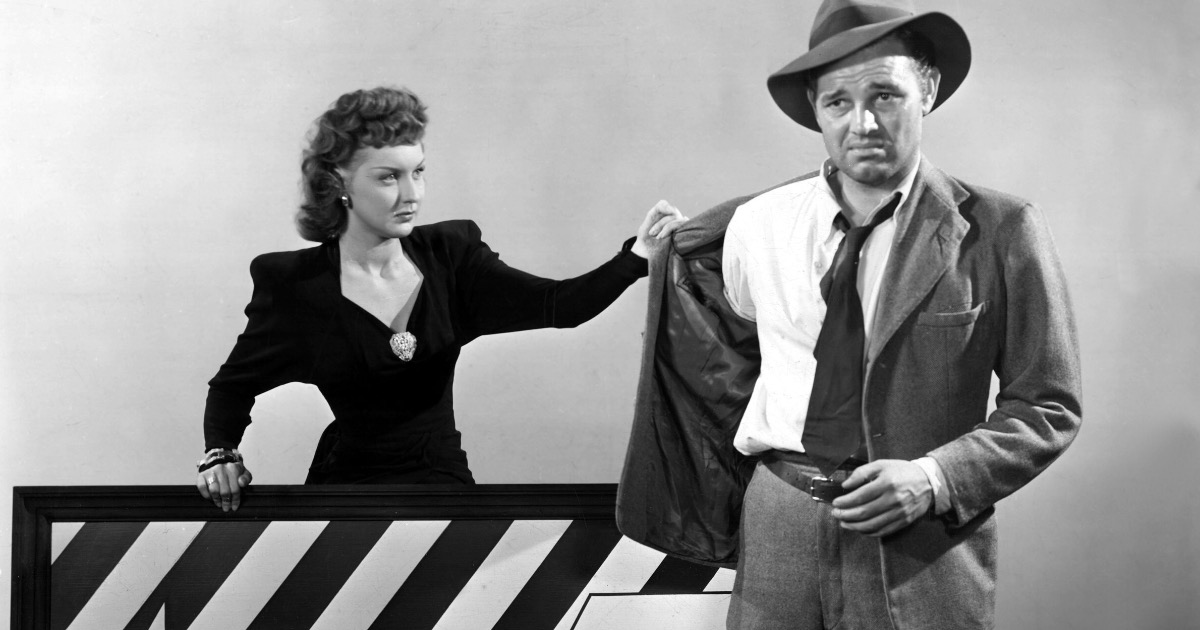 Today, our friends at Janus Films announced that later this year they'll tour the Film Foundation's new 4k restoration of Ulmer's 1945 film: Detour.
The film will play at TCM Fest on Thursday.
---
The Academy Film Archive and the Film Foundation Present
New 4k Restoration of Edgar G. Ulmer's Detour (1945)

Restoration to Premiere April 26, 2018 at the Tcm Classic Film Festival
Janus Films to Release Theatrically in Fall 2018

New York, NY. (April 25, 2018) – The Academy Film Archive and The Film Foundation, in collaboration with Cinémathèque Royale de Belgique, The Museum of Modern Art, and Cinémathèque Française, with funding from the George Lucas Family Foundation, have completed a new 4K digital restoration of Edgar G. Ulmer's DETOUR (1945) that will premiere Thursday, April 26 at 7:45pm at the TCM Classic Film Festival in Hollywood. Audiences across the US will also be able to enjoy this seminal film noir when it is released theatrically by Janus Films in the fall.

Added to the National Film Registry in 1992, DETOUR is a quintessential example of distinctive filmmaking on a low-budget. Now the Academy Film Archive has carefully restored the film with sources from three different countries and an innovative use of 4K digital technology.

The film noir recounts events in the life of musician Al Roberts' (Tom Neal) through an extended flashback. On his way to join his girlfriend Sue (Claudia Drake), in Los Angeles, he hitches a ride with con man Charles Haskell (Edmund MacDonald). When Haskell mysteriously dies, Al assumes his identity, believing he will be blamed for the death if he goes to the police. Al runs into a new set of troubles when he picks up a hitchhiker, Vera (Ann Savage), who discovers the truth and uses his lies against him.

"DETOUR, shot in 14 days by Edgar G. Ulmer for $100,000, is now an acknowledged milestone in American cinema. It's a picture about bad luck, about being down and out, about thinking you've hit bottom and then realizing that it's a longer way down than you thought. The style of the picture reflects the desperate situation of the characters," said Martin Scorsese. "For many years, it was possible to see DETOUR only in copies mastered from extremely degraded 16mm prints. Which was okay, it seemed, because it was in keeping with the spirit of the picture. Then, in the late 90s, there was a photo-chemical restoration made from far better elements, though it was still a bit rough. With this new restoration, to be able to see so much detail in the frame, in the settings and in the faces of the actors, is truly startling, and it makes for a far richer and deeper experience. In fact, watching this new restoration of DETOUR might make you feel like you're back there in 1945, seeing the picture on opening night."

"We've been looking forward to restoring DETOUR for years," said Michael Pogorzelski, Director of the Academy Film Archive and co-supervisor of the restoration. "It's wonderful that The Film Foundation and four archives from around the world have collaborated to make this restoration as complete and perfect as possible."

"I'm not sure anybody has ever seen DETOUR looking so good," said Janus Films President Peter Becker, "and it's still one of the most revered and beloved B-movie noir classics of all time. We've been hoping for years that this day would come and now thanks to The Film Foundation and the Academy Film Archive we can see Edgar Ulmer's work clearly for the first time – and it's a revelation."

The restoration team began by examining potential sources, including: a 35mm dupe negative from The Museum of Modern Art, which was incomplete and riddled with jump cuts; a 35mm safety composite print from the Cinémathèque Française; and a 35mm nitrate print from the Cinémathèque Royale de Belgique. That print, thought to have been made from the original camera negative, was clearly the best element in terms of image clarity, contrast, and density, but had never been considered as a source for preservation because it contained burned-in French and Flemish subtitles.

This obstacle was overcome by scanning all of the print elements to 4K, then compositing frames from the MoMA print over the matching subtitled frames from the Belgian print. Where frames from the MoMA print were missing, and in shots that contained significant movement within the frame, the subtitles were removed by dedicated and talented digital artists using digital painting techniques.

On Sunday, April 29, the TCM Classic Film Festival will also feature TUNES OF GLORY (1960, d. Ronald Neame), another film restored through the collaborative efforts of the Academy Film Archive, The Film Foundation, MoMA and Janus Films, with generous support from the George Lucas Family Foundation.