Earlier today, it was announced by Criterion that Janus Films would be theatrically touring the new restored print of Rainer Werner Fassbinder's 1973 television production, World On A Wire. This new print has toured in a very limited fashion over the past year or so, recently playing in New York at MoMA. Janus uploaded the trailer to their YouTube page, and put up the following images on Facebook:
---
---
---
As you might suspect with an announcement like this, Criterion will be releasing this title on (presumably) DVD and Blu-ray within the next year or so. This was actually revealed on the Criterion Forum a couple weeks back when one of the members announced that they had written to the Fassbinder Society, and received this in reply:
thank you very much for your request. Actually, The Criterion Collection is just working on the US release of Fassbinder's WORLD ON A WIRE. The DVD will be available on the American market supposedly by the end of this year.

We will also inform about the release on our homepage, so simply check it from time to time.
Since Janus will be touring this film through the end of 2011, I'd say that we won't see this as a Criterion release until 2012 at the earliest.
In addition to the announcement that Janus will be taking this print around the country, Mubi had the exclusive premiere of Sam's Myth's new poster for the film, which can be seen below.
---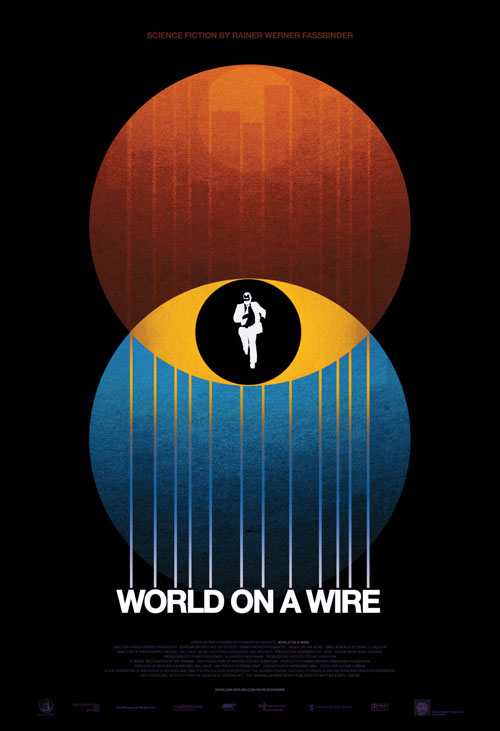 ---
There was a Blu-ray released recently in Europe, check out DVDBeaver's review here.
Below you'll find the theatrical dates for Janus' tour of World On A Wire. They will likely grow, and we'll post them as they're available.
---
THEATRICAL PLAYDATES
NOTE: This list is not complete. New dates will be added as they are confirmed.
June 17 & 19
Toronto, ON – Cinematheque Ontario
June 24 – 26
Vancouver, BC – Pacific Cinematheque
July 22 – August 4 (HD)
New York, NY – IFC Center
July 29 – August 4
San Francisco, CA – Roxie Theater
August 19 – 20
Los Angeles, CA – LACMA
September 10 & 11
Cambridge, MA – Harvard Film Archive
September 16 – 22
Seattle, WA – Northwest Film Forum
October 7 – 9
Houston, TX – The Museum of Fine Arts, Houston