Well folks, it's not often that we're treated to back-to-back Criterion Collection releases, so we have to celebrate them each and every time. Last week we were hit with three incredible DVD and Blu-ray releases: Revanche, Lola Montes, and Hunger. This week, we are treated to a very special DVD release: Leo McCarey's Make Way for Tomorrow.
I haven't seen the film yet (it's currently sitting at the top of my Netflix queue), so I can't yet confirm Errol Morris' thoughts on the film:
"The most depressing movie ever made, providing reassurance that everything will definitely end badly."
Sounds fun right? Over the past year and half, as the economy has devolved into its current state, many have looked back to the depression of the 192os & 30s for a glimpse at how society copes with its troubles through art. It feels oddly appropriate then for Criterion to release Make Way for Tomorrow as America prepares for tax season.
Along with Leo McCarey's film, we're also getting a new box set from Criterion's Eclipse line, collecting three films written by the esteemed playwright, George Bernard Shaw. We haven't covered the Eclipse releases much in our episodes, mostly due to our own time constraints, as each box set represents considerably more hours of film watching. We are working hard to make it so that we can release bonus episodes for each of the Eclipse Box Sets, so look for that one day hitting your podcast catcher.
Are you picking up either of these releases today? What are you looking forward to next month from Criterion?
---
---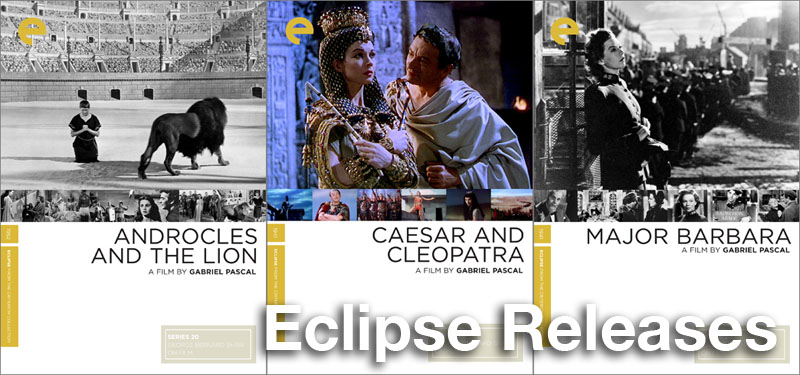 The hugely influential, Nobel Prize'"winning critic and playwright George Bernard Shaw was notoriously reluctant to allow his writing to be adapted for the cinema. Yet thanks to the persistence of Hungarian producer Gabriel Pascal, Shaw finally agreed to collaborate on a series of screen versions of his witty, socially minded plays, starting with the Oscar-winning Pygmalion. The three other films that resulted from this famed alliance, Major Barbara, Caesar and Cleopatra, and Androcles and the Lion, long overshadowed by the sensation of Pygmalion, are gathered here for the first time on DVD. These clever, handsomely mounted entertainments star such luminaries of the big screen as Vivien Leigh, Claude Rains, Wendy Hiller, and Rex Harrison.
---
---
---
---