Over the past few years, the folks over at Mondo Tees have produced the finest, limited edition, film themed prints / posters that the world has seen. The "limited" factor is what makes them truly special (of course the fact that they are visually and physically doesn't hurt either). Folks will spend hours refreshing their browsers, in the hopes that they manage to get one of the prints in their shopping cart, and check out before they sell out.
They done an incredible series of Star Wars prints over the past few months, and have recently begun releasing prints based on Guillermo Del Toro's films (I cannot wait to see what happens with Cronos). Today they announced that they'll be releasing a new print based on Jim Jarmusch's Down By Law, which recently screened at the Alamo Ritz in Austin as a part of their Music Monday series. This print was designed by the artist, Rich Kelly.
Down By Law is one of my favorite Jarmusch films, and one hell of a twist on the prison break genre. I really hope we see a Blu-ray of this film at some point in 2011. Be sure to follow Mondo on Twitter, and hope that you're fast on the draw, when purchasing one of the prints. They usually run anywhere from $60-100, plus shipping. You'll also want to invest in a nice frame once it arrives, as putting a thumbtack in one of these beauties would lead to the geek authorities busting down your door. I'm linking to the DVD on Amazon below, if you don't already own it (you should!).
---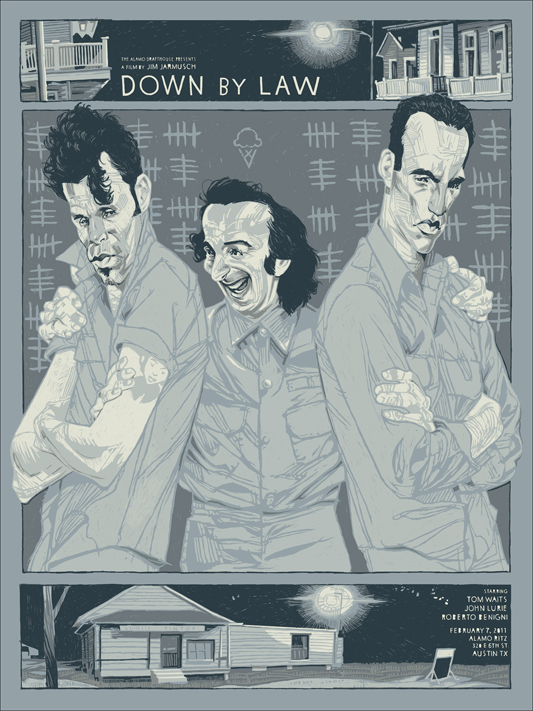 ---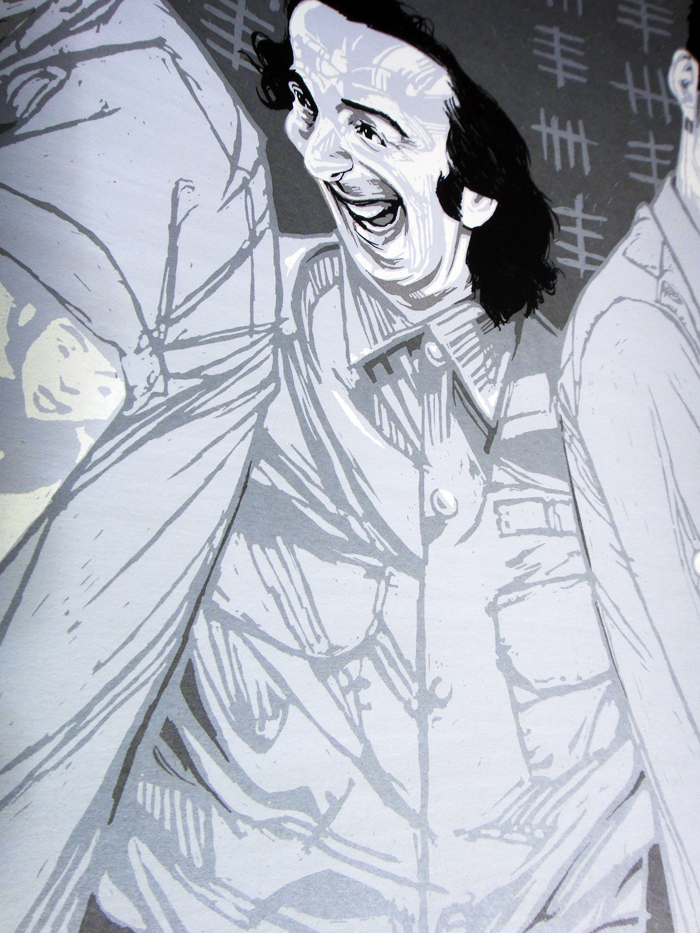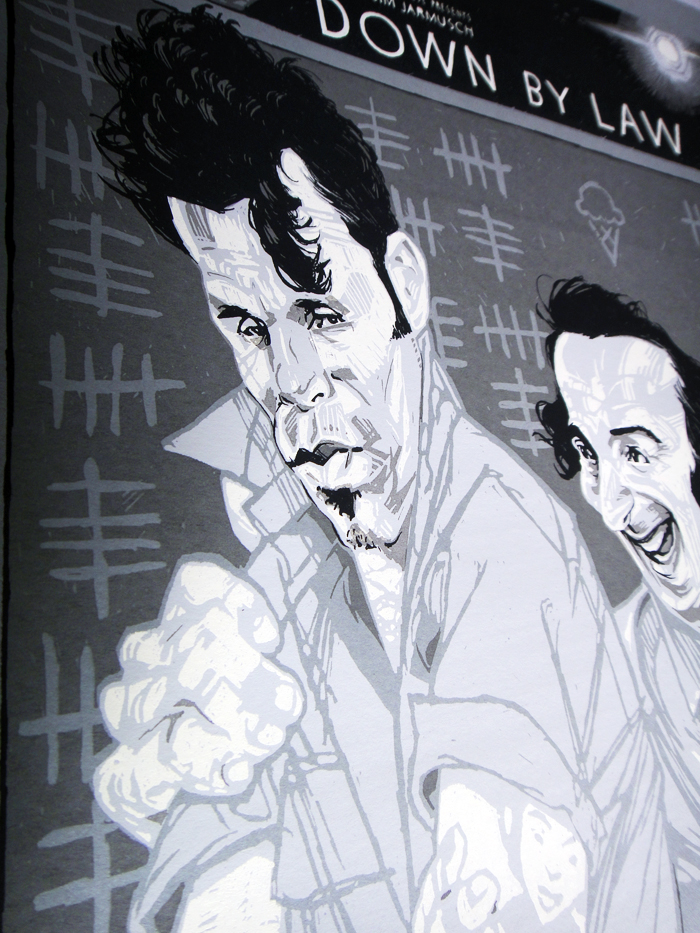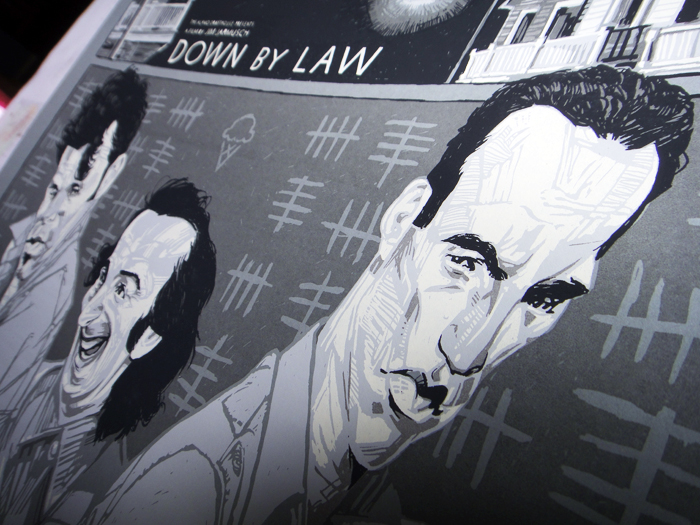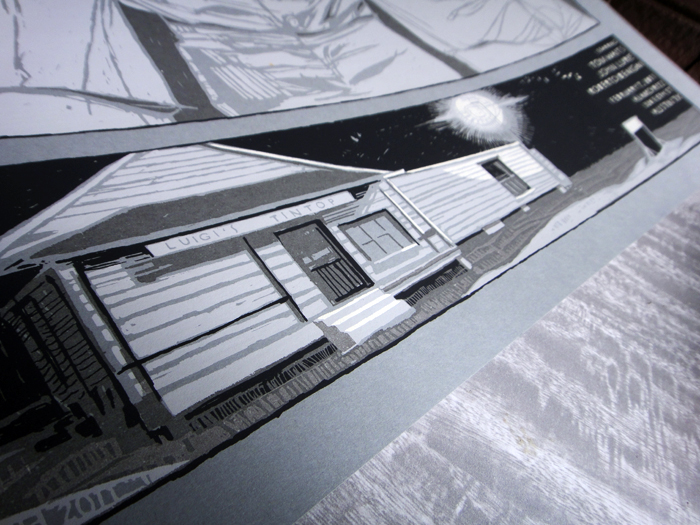 When fate lands three hapless men'"an unemployed disc jockey (Tom Waits), a small-time pimp (John Lurie), and a strong-willed Italian tourist (Roberto Benigni)'"in a Louisiana prison, their singular adventure begins. Described by director Jim Jarmusch as a 'neo'"Beat noir comedy,' Down by Law is part nightmare and part fairy tale, featuring fine performances and crisp black-and-white photography by esteemed cinematographer Robby Müller.
Disc Features
New high-definition digital transfer, enhanced for widescreen televisions
Thoughts & reflections by Jim Jarmusch
2002 video interview with director of photography Robby Müller
1986 Cannes Film Festival press conference with Jarmusch and stars John Lurie, Roberto Benigni, and Nicoletta Braschi
1986 John Lurie interview with commentary
Outtakes
Music video of Tom Waits singing Cole Porter's 'It's All Right with Me,' directed by Jarmusch
Q&A with Jarmusch
Jarmusch's phone calls with Waits, Benigni, and Lurie
Isolated music track
Production Polaroids
Location stills
Original theatrical trailer
Optional French dub track, featuring Roberto Benigni
Optional French subtitles
English subtitles for the deaf and hearing impaired