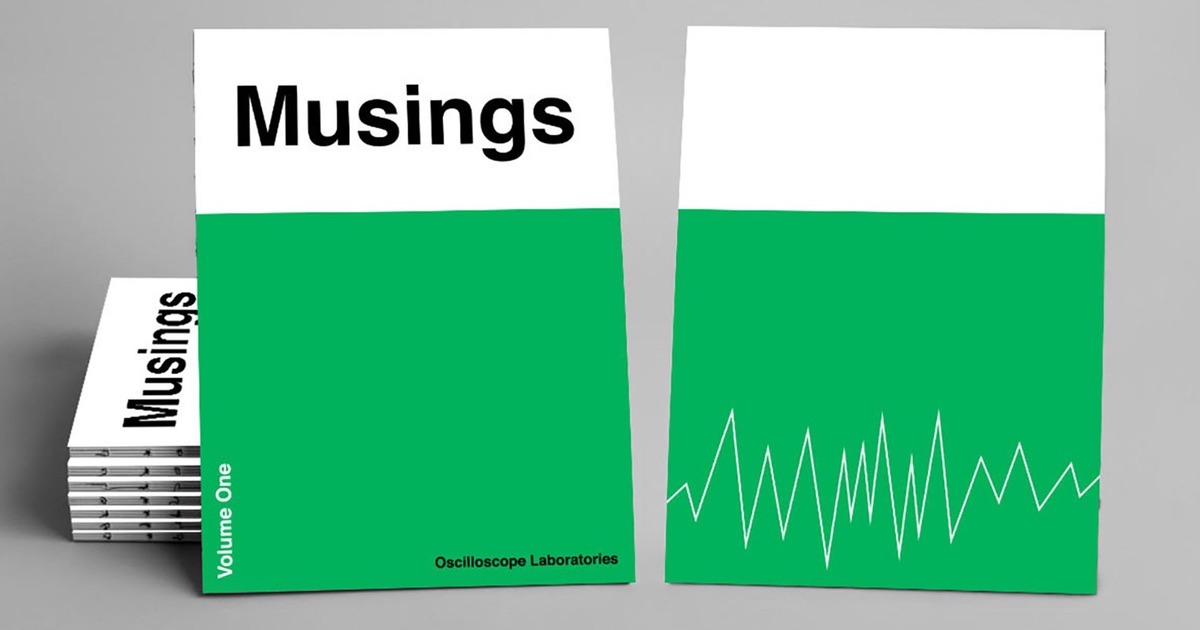 After releasing films in theaters and on DVD and Blu-ray for over 11 years now, the folks at Oscilloscope Laboratories are branching out into the book publishing world with three, limited edition books this November.
---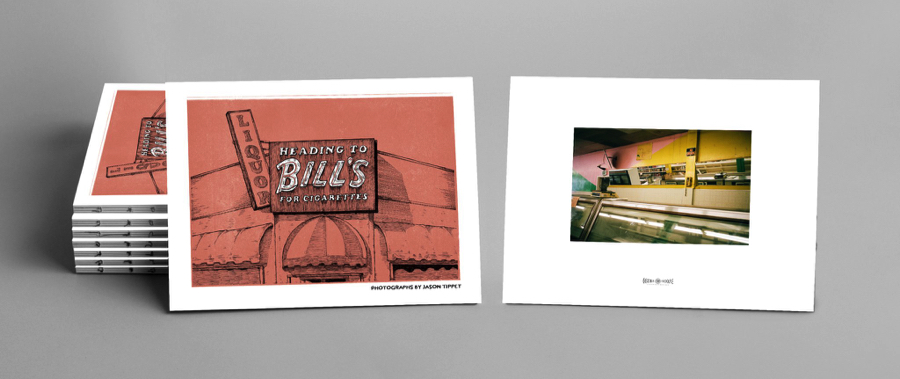 HEADING TO BILL'S FOR CIGARETTES
The first monograph from award-winning filmmaker Jason Tippet (ONLY THE YOUNG), HEADING TO BILL'S FOR CIGARETTES is a beautiful collection of 35mm, documentary-style photographs and a chronicle of the mundane absurdities that make Atwater Village in East Los Angeles both totally charming and utterly bizarre.

Those who know, know: Atwater was the L.A. haunt of the Beastie Boys back in the day and the home of G-Son Studios, as well as where they met resident turned long-time collaborator Money Mark, who provided the introduction to this very book.

Strictly limited to 1000 copies of each volume. Printed in Canada. Smyth sewn binding. 80 pages each.
---
MUSINGS: THE PRINTED COLLECTION
Musings was created in 2015 as a place where film writers could have the freedom to write about overlooked and misunderstood film topics, without any sort of commercial agenda. These are the essays they write because they want to, not because they have to.

The pieces sampled in the Musings anthologies are full of insight and scholarship, ranging from pocket histories to artist profiles to deep dives into particular films. It's that kind of writing—thoughtful, evocative, and, most of all, full of passion—that brings this collection to life.
---
Check out the full press release from Oscilloscope:
Oscilloscope Laboratories announced today that it will expand into the publishing realm with the release of three new titles: MUSINGS (Volumes 1 & 2) and Jason Tippet's HEADING TO BILL'S FOR CIGARETTES. The books will be released by O-Scope ahead of the upcoming holiday season.

MUSINGS features original, independent, quality film writing from esteemed journalists such as Scott Tobias (NPR, The Dissolve, The Onion), Alison Nastasi (Flavorwire​, MTV, Pitchfork​), Judy Berman (Time, New York Times, Washington Post), Mike D'Angelo (​The A.V. Club, Nerve)​, Keith Phipps (​Slate, The Atlantic, Vulture)​, and Bilge Ebiri (New York Times, New York Magazine, Village Voice) just to name a few. Writers who contributed to MUSINGS were tasked with delving into neglected corners of cinema they were eager to illuminate, highlighting the films, filmmakers, and movements that don't always get much attention in mainstream publications. The pieces sampled in the MUSINGS anthologies are full of insight and scholarship, ranging from pocket histories to artist profiles to deep dives into particular films. It's that kind of writing—thoughtful, evocative, and, most of all, full of passion—that brings this collection to life.

Says MUSINGS editor Scott Tobias, "MUSINGS has given me an opportunity to reach out to some of the best film writers around. This anthology reflects their individual passions and obsessions, and I'm proud to have given them the space to do their best work."

O-Scope is also pleased to simultaneously release HEADING TO BILL'S FOR CIGARETTES, the first book from the award-winning filmmaker Jason Tippet. O-Scope previously released Tippet's feature film ONLY THE YOUNG (co-directed with Elizabeth Mims). HEADING TO BILL'S is a beautiful collection of Tippet's 35mm photographs; an ode to the quirky characters of Atwater Village in East Los Angeles. (Not coincidentally, O-Scope is the company founded by Adam Yauch, MCA of Beastie Boys, who as a group were early adopters of the Atwater neighborhood. It's there that they first met their long time collaborator Mark "Money Mark" Nishita, who provides the book's introduction here.) Tippet could accurately be described as a sort of William Eggleston for the Instagram generation: from a fed-up dude hurling a Big Gulp at a Tesla parked on Glendale Boulevard to the unique soul playing the melodica in his driver's-seat-cum-rehearsal-space, Tippet's photos document the surreal, everyday happenings that permeate the neighborhood he calls home.

"I always get caught up with unique situations, and I'm attracted to them, I have such a strong love for underdogs," says Tippet. "I appreciate people that struggle, they're more interesting to me, and it's a type of person I'm drawn to photograph. Most of the subjects here are people I see all the time around the neighborhood. They're like local celebrities to me. I hope when readers flip through the book they have a connection to these people and the neighborhood and get a feeling of what it's like to spend a day here."

About the releases, O-Scope president Dan Berger said, "As anyone in the independent film business knows, we're operating in a time of constant change and uncertainty and it felt like an opportune moment for us to shore up our financials with a tried-and-true cash windfall, so we published a few physical books."

MUSINGS VOLUMES 1 & 2 and HEADING TO BILL'S FOR CIGARETTES will be available in limited edition starting in November via Oscilloscope's online store as well as at select bookstores nationwide. The releases will also be supported by events in local markets. For more information please reach out to O-Scope's books publicist, Liz Lagno (​[email protected]​).

MUSINGS Contributors include:

Volume 1: ​Scott Tobias, Noel Murray, David Roth, Steven Goldman, Chris Evangelista, Judy Berman, Alissa Wilkinson, K. Austin Collins, Matthew Dessem, Mike D'Angelo, Alison Nastasi, Daniel Carlson, Keith Phipps, and Genevieve Valentine

Volume 2: ​Keith Phipps, Bilge Ebiri, Manuela Lazic, Vadim Rizov, Sheila O'Malley, Daniel Carlson, Steven Goldman, Soheil Rezayazdi, Charles Bramesco, Steven Goldman, April Wolfe, John Redding & B. A. Hunt, Joshua Rothkopf, Judy Berman, Alison Nastasi, Scott Tobias, and Angelica Jade Bastién