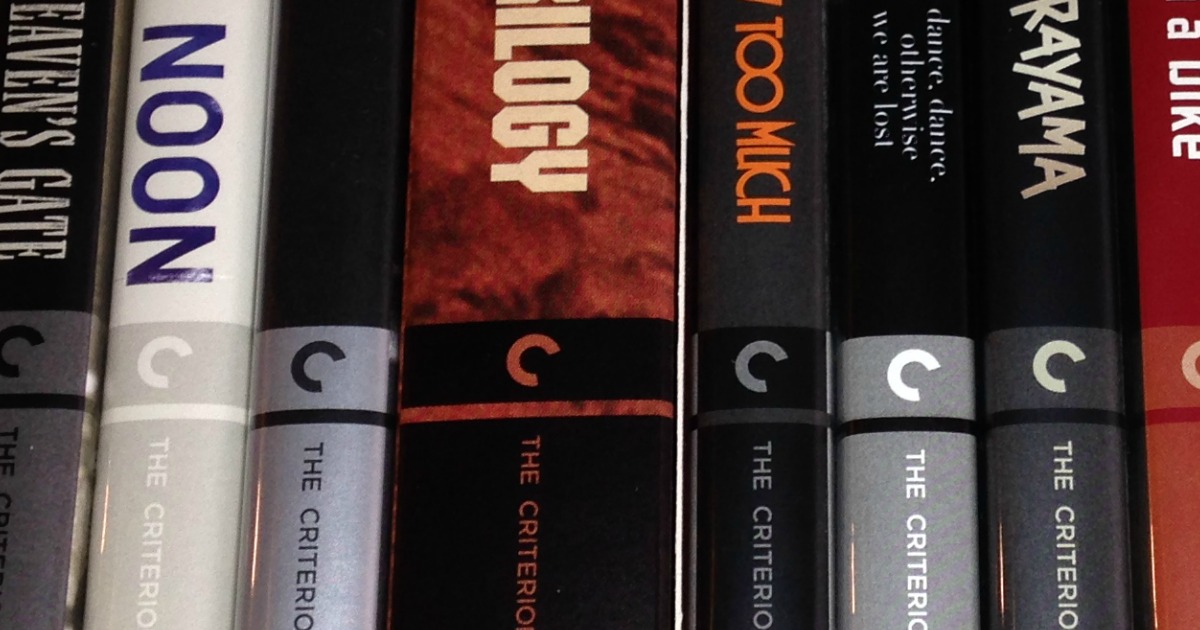 Here is your daily digest of Criterion-related links.
---
NEWS
Sundance has announced even more of their line-up
Following yesterday's lineups for its U.S. and World Cinema Dramatic and Documentary Competitions and the out-of-competition NEXT <=> section, the Sundance Film Festival presents a second round for the out-of-competition sections Spotlight and Park City at Midnight, as well as the films and installations to be featured in the New Frontier program.
---
REVIEWS
Over at the Film Stage, Peter Labuza reviews the L'avventura Blu-ray
Now out in a pristine 4K transfer for its Criterion Blu-ray debut, L'Avventura continues to seduce, confound, and haunt in its still-atypical, dream-like depiction of the lost souls of Europe.
For the NY Times, Manohla Dargis reviews Mario Monicelli's The Passionate Thief, which begins its theatrical tour in New York, from Rialto. Fingers crossed that Criterion can release this on video.
The voluptuary Roman god Bacchus probably started the party that continued at Nero's orgies and kept going in the feverish blowouts by Federico Fellini, Luchino Visconti and, more recently, Paolo Sorrentino. The party goes all night in "The Passionate Thief," a 1960 film from Mario Monicelli that tracks an accidental trio — played by the fantastic, weird combo of Anna Magnani, Ben Gazzara and Totò — who scramble and scheme through Rome on a New Year's Eve filled with shrieks of laughter, desperate actions and consuming pleasures. Shot in black and white, the movie has been gorgeously restored and is having its first New York theatrical run at Film Forum.
For the Home Theater Forum, Matt Hough reviews The Night Porter on Blu-ray
Liliana Cavani's The Night Porter is one of those films whose notorious reputation in no way reflects what's really going on within the movie (unlike, say, Pier Paolo Pasolini's Salò, or The 120 Days of Sodom whose infamous reputation is fully justified by its content). Pauline Kael called it "gothic porn," but it's actually neither of those things; rather, it's an ambitious if ultimately flawed attempt to bring past and (then) present together in a psychosexual tale of perverse lust and need. There is some wonderful craft here even if the story itself penned in part by the director needed a thorough rewrite.
Jonathan Rosenbaum has republished a piece on Orson Welles' Mr. Arkadin
…the bottom line about Mr. Arkadin /Confidential Report is that insofar as it's "a film by Orson Welles," it remains unfinished and incomplete in all its versions — making it all the more confusing (if none the less understandable, at least from a capitalist and consumerist standpoint) that Criterion's box set is called The Complete Mr. Arkadin. And thanks to much of this confusion, this is the second essay I've published defending a particular version of Arkadin over all of the others.
For the Guardian, Peter Bradshaw reviews Wong Kar-wai's The Grandmaster
The Grandmaster is a distinctive piece of work, a deeply felt homage to the art form of kung fu and the art form of movies about kung fu. But it also feels like a slightly self-conscious piece of ancestor-worship, straining against an inertia of its own making. The Grandmaster is not a masterpiece, and compared to the blazing and compelling emotional reality of Wong's magnificent In the Mood for Love (2000), it looks artificial and slight.
And for Little White Lies, David Jenkins reviews The Grandmaster as well
The Grandmaster perhaps earns the dubious honour of being the first martial arts movie that comes across as completely non-violent, like Wong didn't view the cause or effect of the various altercations as demonstrations of power and dominance. It's as if the various styles are modes of articulation and this is a movie about discourse of a more primal variety.
Over at the LA Times, Betsy Sharkey reviews Miss Julie
Despite a scattering of wonderfully wrought moments, there is far more disconnection than connection. The dialogue drifts toward monologues and melodrama, separating the characters just as they should be drawing closer. "Miss Julie" aches for a firmer hand stirring its passions. Instead the film falls apart faster than its players.
---
INTERESTING
For Variety, Justin Chang reflects on when a foreign film will ever win the Best Picture award at the Oscars again.
Still, in the spirit of year-end optimism, wouldn't it be grand if the Academy looked past its reflexive xenophobia and threw a best picture nomination in the direction of Dardennes' "Two Days, One Night," Ceylan's "Winter Sleep," Ruben Ostlund's "Force Majeure," Pawel Pawlikowski's "Ida," Andrey Zvyagintsev's "Leviathan," Anthony Chen's "Ilo Ilo" or Lukas Moodysson's "We Are the Best!" — all of which can easily fit alongside this year's finest studio and specialty-division offerings. I'd throw in a mention for Jean-Luc Godard's "Goodbye to Language," but the Academy might have to go up to 30 nominees for that to come to pass.
Over at Fandor, Jonathan Marlow interviews Robert Downey Sr. coinciding with the Cinefamily series that kicks off today.
Marlow: I've read a rumor on a number of occasions that you've wanted to revisit Putney Swope and do a new take on it. Is that still something of interest to you?
Downey Sr.: Kind of. But I wouldn't want to make a sequel. I've come up with something else and I can't talk about it. In fact, I'm still working on it and on the train [t0 Los Angeles] I'll be hopefully finishing it. [The 2005 documentary] Rittenhouse Square taught me a lot about how everything could work. It's not real… but it's real, if you know what I mean. Anything can happen in a documentary. That's what I like.
Indiewire sat down to chat with Liv Ullmann for Miss Julie
For years you've been known as Ingmar Bergman's great muse. What's your feeling toward the word muse specifically—it's both a huge compliment, but also a limiting one.
It doesn't bother me. He was a fantastic director he showed me a great deal of trust. Ingmar said something beautiful to me a long time ago, when I said something like this to him, like oh, they're always asking me about you and he said: "don't you understand, Liv, you are my Stradivarius." And you know, I don't mind that, to be someone's Stradivarius. I'm grateful that I got to work with someone like that, and I know myself—I know who I am deep down and I take pride in who I am.
A24 has released the first trailer for Noah Baumbach's While We're Young
Baumbach's most commercially minded film to date since he took off in 1995 with "Kicking and Screaming," "While We're Young" costars Adam Driver and Amanda Seyfried. Baumbach's blisteringly brilliant "Squid and the Whale" screenplay was Oscar-nommed in 2006.
Can't get enough of the new Star Wars trailer? Here's a Wes Anderson parody
Since this is Anderson we're talking about, of course there are daddy issues, this time involving one of the Stormtroopers.
Check out this Japanese poster for Ingmar Bergman's Face To Face