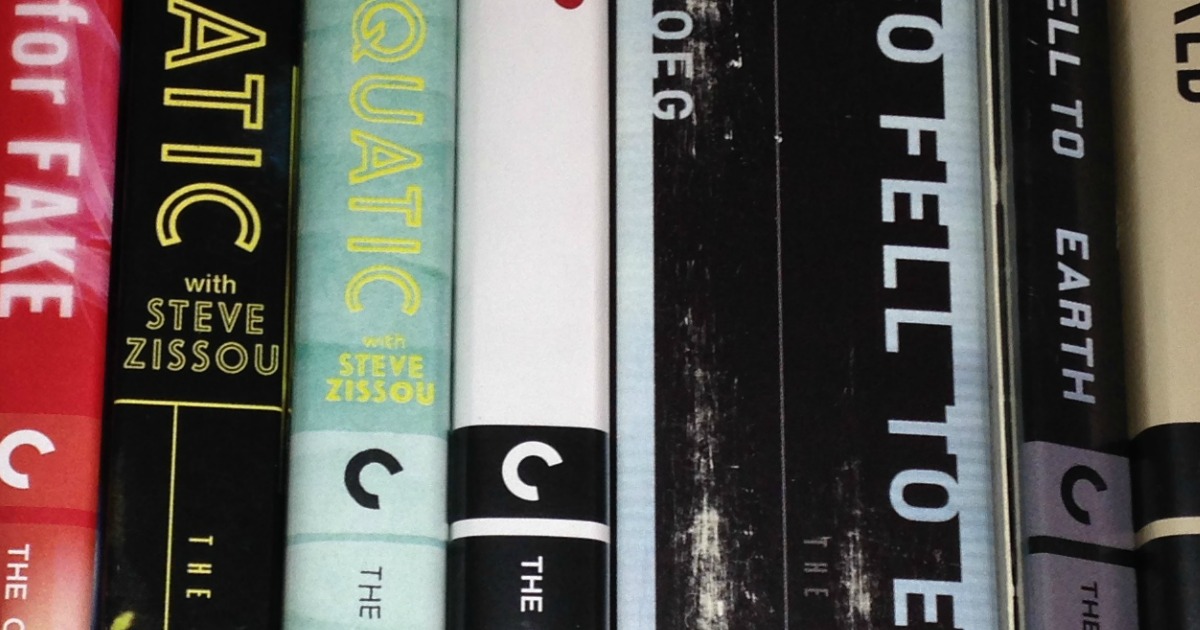 Your daily collection of Criterion-related links.
---
News
Steve McQueen is working on an adaptation of the British series, Widows
On the heels of news that he's teamed up with Harry Belafonte to produce a film based on the life of the great Paul Robeson, the revered filmmaker/artist has also re-teamed with his "12 Years a Slave"producer and financier New Regency, for a big screen adaptation of the British TV series "Widows," which aired in 1983, and told the story the widows of 3 crime bosses killed during a robbery attempt, who are being pressured by the police, as well as a rival group of thieves intent on taking over their husbands' crime business, and all that the widows do in reaction to, and to eliminate both problems, including bringing on a 4th woman and pulling off a heist of their own.
---
Reviews
DVDBeaver has posted their review of the upcoming Criterion Collection Blu-ray release of The Night Porter
I have never embraced the film as much as I did in this viewing. It is the best I have ever seen it look. Brilliant and 'uncomfortably voyeuristic' film experience. The Criterion Blu-ray is strongly recommended!
For Blu-ray.com, Dr. Svet reviews the new UK Blu-ray for the Dardennes' latest, Two Days, One Night, which will presumably get a release here in the States from Criterion.
There are no surprises here — Two Days, One Night is yet another fantastic and thought-provoking film from Jean-Pierre and Luc Dardenne. It offers a slice of a troubling reality we are all familiar with. The film is now available on Blu-ray courtesy of British distributors Artificial Eye. As expected, the technical presentation is outstanding.
---
Tech
Netflix is still the king of streaming
Netflix accounts for the largest percentage of North American downstream streaming traffic at 34.89%, while subscription streaming competitors Amazon Prime Instant Video and Hulu Plus trail significantly at 2.58% and 1.41%, respectively
---
Interesting
Jessica Hische has released the font that she created for Moonrise Kingdom
Jessica Hische's typeface for Moonrise Kingdom set the tone for a sweet movie about youthful innocence. Inspired by director Wes Anderson's quaint aesthetic and the titles from La Femme Infidéle (1969), Tilda is formally dressed, without hiding its raw, intentional naïveté. Unusual for a script typeface, it comes in two size-specific styles to preserve its delicate qualities for uses big and small, on page or screen.
The Hollywood Reporter has a really great piece on Richard Linklater's Boyhood
The 1970 Pontiac GTO that Mason Sr. drives belongs to Linklater — it was first used in 1993's Dazed and Confused. "That car was a thorn in my side," jokes production designer Rodney Becker, who had to get it out of storage and tune it up each year, only to have to replace all the tires when they blew out on the drive to Houston for the Astros game.
Over at Film School Rejects, Landon has a pretty great lists of "filmmaking tips" from Jean-Luc Godard
Godard has been such a dedicated lifelong philosopher and provocateur of the medium that multiple entries of this column could be filled with his observations on cinema. But like cinema itself, Godard's work and his relationship to form has shifted dramatically – in his politics and aesthetics, yes, but mostly in an attempt to continue to meet and challenge of cinema wherever it may find itself next. That's how this octogenarian remains one of the most inventive filmmakers alive.
For the LA Times, Sam Adams has a really nice piece on Timothy Spall (Mr. Turner)
For the role, Spall, who says that he could "always draw a bit," spent two years studying painting with portraitist Tim Wright, which may seem excessive even by Method standards, but that level of commitment is integral to Leigh's process, which Spall has been a part of for more than three decades. Rather than beginning with a script, Leigh builds from the characters outward, working intensively with his actors so that the story grows out of their interactions and is not superimposed upon them.
Sam Weber, the artist behind the recent cover art for the Criterion edition of Eraserhead, will be illustrating Dune!
available 2015 from The Folio Society
Over at the Flicker Alley blog, Serge Bromberg chats about Chaplin
This week, Serge Bromberg, film preservationist and founder of Paris-based Lobster Films, hosted the world premieres of new restorations of Charlie Chaplin's A NIGHT AT THE SHOW (1915) and THE BANK (1915) to audiences in New York and Los Angeles. Serge was kind enough to sit down with us to discuss his decade-long journey restoring Chaplin's early work, including CHAPLIN AT KEYSTONE and CHAPLIN'S MUTUAL COMEDIES; the upcoming ESSANAY collection; and why his favorite film discovery is always "the next one."
---
Now available to stream
On Fandor:
Frank Henenlotter's That's Sexploitation!
In the era before R-rated movies, pornographic theaters and online prurient material, bawdy movies and erotic films were shuffled into the margins of the movie industry, created by independent producers and sold by hucksters and promoters with promises of salacious thrills and forbidden sights. Cult filmmaker Frank Henenlotter, a historian and fan of this licentious slice of cinematic history, joins legendary sexploitation film producer and promoter David F. Friedman on a tour through its colorful history.