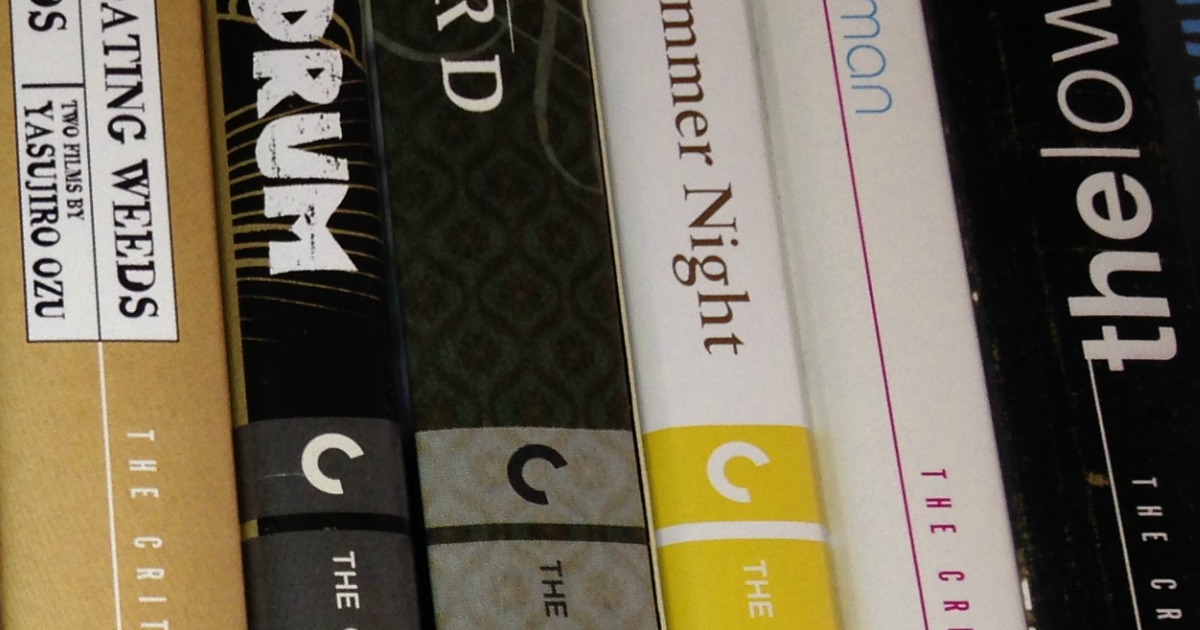 This past weekend saw many great deals, and lots of great Criterion-related links. Here's what I found:
---
NEWS
Won't someone please let Wong Kar-wai work on a Bollywood film?
"I think there is loads of talent in Bollywood and I am a big fan of Bollywood films," Kar-wai said in an interview with news agency Press Trust of India. "Bollywood films are full of fun. If time allows me or if any projects are there I would like to work with people like Shah Rukh Khan or Aamir Khan. I feel working with them would be very nice."
Has Von Trier run out of juice?
"I don't know if I can make any more films, and that worries me," he said, adding: "There is no creative expression of artistic value that has ever been produced by ex-drunkards and ex-drug addicts. Who the hell would bother with a Rolling Stones without booze or with a Jimi Hendrix without heroin?"
---
REVIEWS
Mike Clark has posted his review of It Happened One Night over at Home Media Magazine
Night is famous for all the actors who turned it down — from Margaret Sullavan and Miriam Hopkins to Robert Montgomery and so on to seemingly everyone this side of Marie Dressler and Wallace Beery. In fact, director Frank Capra and writer Robert Riskin had to beg subsequent Oscar-winner Claudette Colbert to take the role just as she was packing for a four-week Sun Valley vacation, the same four weeks they agreed would be the shooting schedule (minimal sets and Colbert's minimal wardrobe changes made this just barely possible).
For the Dissolve, Noel Murray reviews Les Blank: Always For Pleasure
Blank had a terrific eye, capturing what a Bayou sunset looks like when it's diffused by trees and reflected in rippling water, or how the steam rises off a torn-off hunk of freshly baked bread just before it gets smeared with roasted garlic. But his greatest gift was his ability to get his camera in close on people without scaring them into silence.
Also at the Dissolve, Scott Tobias reviews Antonioni's L'avventura
It can be easy to forget, more than 50 years later, the degree to which Antonioni's film rewrote the language of cinema, questioning its addiction to storytelling and opening up the possibility for other, more enigmatic and poetic forms of expression.
---
INTERESTING
Shadow And Act has collected some great images from this weekend's live reading of Do The Right Thing
Led by a 25-person cast that included "Fruitvale" stars Michael B. Jordan and Melonie Diaz, John Turturro, Frankie Faison, Yolonda Ross and others, the event was held free and open to the public at Lincoln Center's Elinor Bunin Munroe Film Center Amphitheater in New York.
Indiewire has a nice piece on the reading as well.
Kristin Thompson has put together a fantastic list of DVDs & Blu-rays that you must own from this past year.
The Cahier Du Cinema have revealed their 2014 favorites.
David Thomson doesn't want us to forget about Hiroshima Mon Amour
The limitation of film is to insist on the radiance of its own monopoly. So Hiroshima Mon Amour has to be about everything: film, love, words, and the state of the world. It cannot admit that there is a rest of life passing by, humble, shabby, unradiant, uncinematic, on its way to being forgotten. And so we have an unforgettable film and a momentous event, but soon enough they will be unremembered.
Jonathan Rosenbaum has posted his picks as well.
Horse Money and The Owners need to travel more, and Locke, which feels like a classic heroic Western, deserves to be recognized as more than just a stunt or tour de force. Adieu au language re-invents 3-D and cinema, and Horse Money, like The Owners, Citizenfour, and Today (not to mention Borgen, in its own fashion). re-invents both the world and its moral prerogatives.
Rosenbaum has also re-posted a 2008 article on Fassbinder's Katzelmacher
An important part of what makes Katzelmacher so exemplary in establishing Fassbinder's style and vision, which he would then develop over most of the remainder of his career, is that even though the characters' behavior tends to be stereotypical, the characters themselves seldom are. For all their crankiness and narrowness, they live and breathe, virtually glorying in their contradictions.
Check out Rachel Glassman's video: Malick Motifs
Regardless of whether you laud him or ridicule him, it's no doubt that Terrence Malick is truly a visionary filmmaker. Here are some of his many motifs, shot types, themes and imagery that he tends to use in his films.
---
NOW AVAILABLE TO STREAM
On Netflix