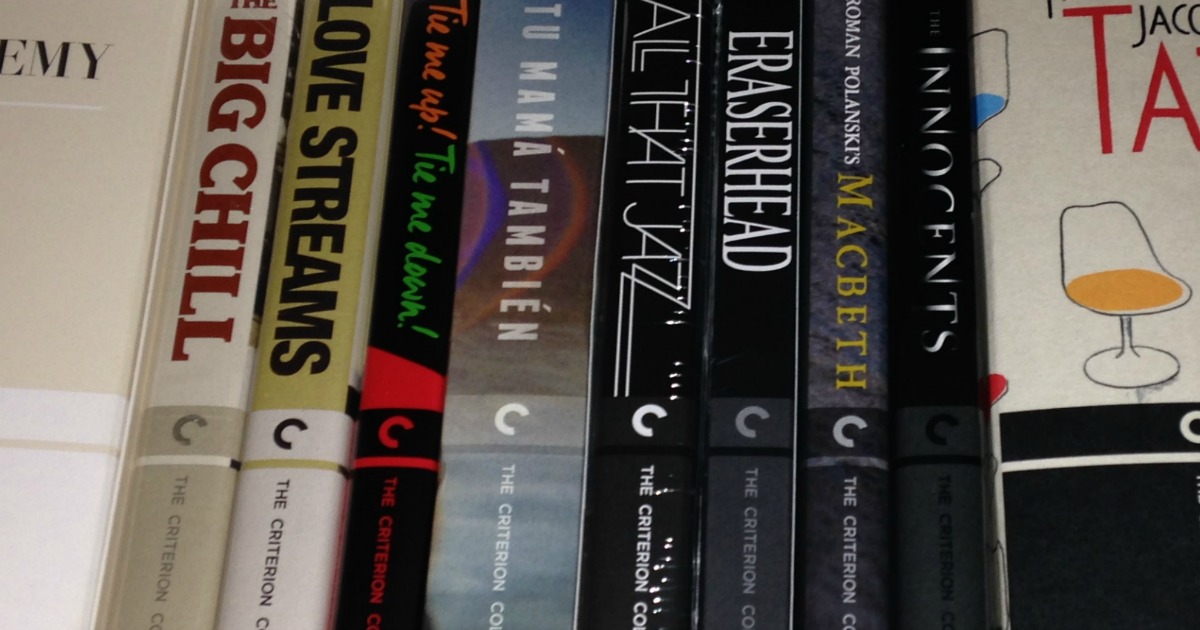 Here are a few Criterion-related links to read as you prepare for your holiday gatherings, or while you wait in line for your Black Friday deals.
---
News
Eric Rohmer is coming to the BFI Southbank
BFI Southbank celebrates the work of one of film's most consistently rewarding artists, Eric Rohmer, with a comprehensive season spanning over two months.
Part one in January 2015 features an extended run of The Green Ray (Le Rayon vert 1986), an illustrated talk by season programmer Geoff Andrew, screenings of much loved classics such as My Night with Maud (1969) and Claire's Knee (Le Genou de Claire 1970) as well as the opportunity to witness a selection of Rohmer's documentaries for television that have never been screened in the UK.
Part Two of the season, taking place February and March, is set to include Rohmer's Tales of The Four Seasons quartet of films, My Girlfriend's Boyfriend (L'Ami de mon amie 1987), Pauline at the Beach (Pauline à la plage 1982) and Full Moon in Paris (Les Nuits de la pleine lune 1984) as well as further short films and rare examples of his television documentary work.
The Palm Springs film festival is preparing to give Richard Linklater an award
The 26th annual Palm Springs International Film Festival (PSIFF) will give "Boyhood" filmmaker Richard Linklater the Sonny Bono Visionary Award at its annual Awards Gala on Saturday, January 3 at the Palm Springs Convention Center.
---
Reviews
For the LA Times, Michael Rechtshaffen reviews the latest work from Carlos Saura, Flamenco Flamenco
Masterfully keying the compact performances into a striking lighting scheme that often bathes the musicians and dancers in warm golden or somber indigo hues representing the cycle of life, Saura's spare, elegant staging and the fluid, intimate cinematography by the great Vittorio Storaro ("Apocalypse Now") create an intoxicating effect.
For the NY Times, J Hoberman reviews the Monte Hellman westerns
Perhaps because of their oblique narratives or Mr. Hellman's laconic style or because the movies were widely (but not too widely) seen only after they were sold to television in 1968, "The Shooting" and "Ride in the Whirlwind" have been identified as harbingers of druggy, countercultural westerns like "El Topo" or "McCabe and Mrs. Miller." In fact, Mr. Hellman's movies belong to another tradition altogether. Their long, tense interactions and existential situations refine the stripped-down westerns that Budd Boetticher made in the late 1950s. In their despair of meaning and noncomic absurdity, they seem a cornfed equivalent to the modernist cinema of Michelangelo Antonioni and Ingmar Bergman. (Akira Kurosawa is an influence as well.)
Peter Sobczynski reviews the Monte Hellman westerns as well, for RogerEbert.com
Although the two films were written by different people—"The Shooting" was scripted by Adrien Joyce, the nom de plume for Carole Eastman, who would go on to write "Five Easy Pieces"—they have striking thematic similarities that go far beyond the fact that they were produced virtually at the same time and contain many of the same key participants. Both films involve hunts of an enigmatic nature in which the participants are rarely certain of either who they are hunting or why they are being hunted—regardless, the end result is the same in both cases and it isn't good. Both films feature characters who are unlike the traditional types one normally finds in the genre—everyone is tough and mean on the surface but confused underneath about who they are and what they are doing. Both films feature quirky, hard-boiled dialogue that wouldn't sound out of place in an extremely fatalistic noir…
---
Interesting
Anne Thompson has written a great piece on Mike Leigh and Mr. Turner
… But the film is stunning visually. D.P. Dick Pope talked endlessly for years about with Leigh. And he researched the palette Turner used in his paintings on public display at the Tate Britain, he said at cannes, "his colors and the way he used them and devised a palette based on that, to try and serve the story and the pictures with the colors he used at that time. The best light in Britain is in Cornwall, where we filmed Margate, which has been famous with artists for generations. We were blessed with wonderful glorious weather, every day. It was the most magic summer I've ever experienced."
Go see a live script reading of Spike Lee's Do The Right Thing on Black Friday
On the east coast, Coogler and filmmaker Shaka King will present a screenplay reading of Spike Lee's "Do The Right Thing," with a contemporary cast that includes Michael B. Jordan and John Turturro.