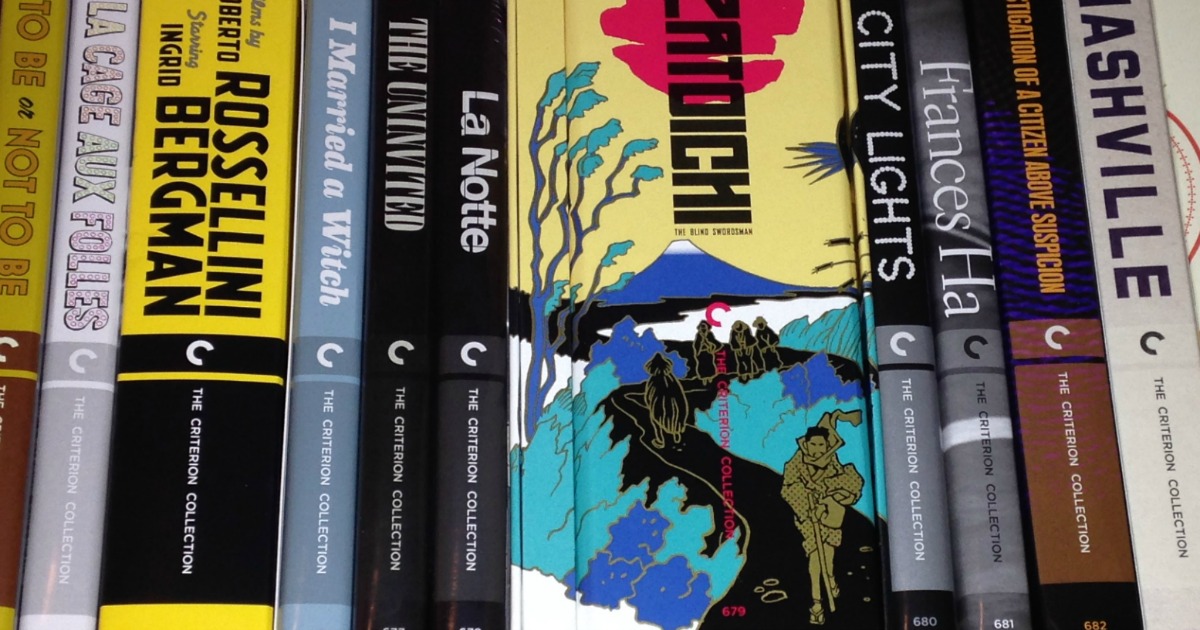 Rounding up today's Criterion-related links.
---
Reviews
Nicholas Bell, reviewing today's L'avventura release, for IonCinema
A master class of European art-house filmmaking, L'avventura is a titan from a changing tide of titles that signified a major break from cinematic styles and customs. An original game changer, Antonioni spun cinema into a direction of new possibilities, down avenues well-traveled now by generations of filmmakers since.
And for Slant, Clayton Dillard reviews L'avventura as well
If any film in the history of European art cinema deserves a 4K transfer, it's L'Avventura, and the Criterion Collection hasn't dropped the rock. Every inch of these frames have been scrubbed of debris and artifacts, with white and black levels stunningly balanced and enriched throughout, according to the grain and colors of an original 35mm negative. As such, the film is now more of a marvel to behold on home video than every before, with the extended sequence on the island and subsequent search for Anna absolutely clean and clear for frame-by-frame visual inspection.
Over at CinemaRetro, Raymond Benson reviews It Happened One Night
It Happened One Night is an excellent lesson in screenwriting, structure, dialogue, and pacing. It's a near-perfect picture, and it's still funny today.
And at CageyFilms, Kenneth Godwin has this to say about Criterion's It Happened One Night Blu-ray
Criterion's Blu-ray edition of It Happened One Night presents the film in its best-ever video incarnation. Not surprisingly, the visual quality is variable – shot quickly, much of it away from the controlled environment of the studio, and much of it at night, the exteriors are sometimes a bit soft and grainy, although much of the film offers deep, rich blacks and a sometimes startling subtlety in the lighting of cameraman Joseph Walker (shooting his twelfth feature with Capra).
For The Digital Bits, Tim Salmons has published his review of Master of the House
All in all, this is another terrific release from Criterion. I daresay I wasn't even aware of Master of the House before picking this disc up, and it's that reason why Criterion exists in the first place: to bring world-class cinema, especially unseen cinema, to the masses for a better appreciation of it. And with this release, they won me over completely, and I have a feeling that they will win you over too.
---
Interesting
The New Republic has been re-publishing several older articles recently. They decided to re-publish Pauline Kael's 1966 article on the French New Wave
Godard is what is meant by a "film-maker." He works with a small crew and shifts ideas and attitudes from movie to movie and even within movies. While Hollywood producers straddle huge fences trying to figure out where the action is supposed to be—and never find out—Godard is in himself where the action is.
Calum Marsh has a great piece, timed with this week's line-up of Criterion films on Fandor, on Maurice Pialat and Cassavetes
There are two things nearly everybody says about Maurice Pialat. The first is that his work is defined by conflict—by tensions in theme and style that are never quite resolved. Kent Jones calls it his "push/pull" quality. In Film Comment, Max Nelson speaks of the director's "meticulous crudity:" An apparent inelegance that is in fact totally precise. And Fernando F. Croce, writing in Slant Magazine, describes the "emotional contradiction" at the heart of Pialat's films, which offer "a vision of startling roughness in perpetual bloody conflict with extraordinary delicacy." The other thing nearly everybody says about Maurice Pialat is that he is the John Cassavetes of France. (Or rather everybody says that everybody says this—a critical shorthand whose ubiquity has been somewhat self-fulfilling. Scarcely have the words "has often been called" preceded a comparison so prevailingly.) These observations are closely related. They elucidate a kinship: A shared affection, in the films of Pialat and Cassavetes both, for the antagonisms we cannot reconcile.
The Guardian has a nice interview with Jim Jarmusch
"I love making films. I love collaborating with people. I love editing, where you shape it. I love the whole process. But it is a million questions that have to be answered constantly," said Jarmusch. "Music is very different. To me it's just a release. It's communicating with just a few other people, not with words and just seeing where it goes."
Our friend Michele Rosenthal has a gorgeous illustration for Persona on her Criterion Affection blog.
PERSONA is a puzzle of identity, gender, and existential angst that I have neither the space nor qualification to unravel. But even at face value, there's no escaping the film's mysterious emotional impact.
---
Now available to stream
On Fandor:
On Netflix: