This week's DVD and Blu-ray releases are truly some bankruptcy inducing titles. With two truly epic Blu-ray's from Criterion to talk about, as well as a slew of new releases and catalog titles from various distributors, you'll have to choose wisely, or perhaps just take out a loan on your house to pay for them all.
I know, I know. Tuesday was days ago, and we're almost upon Tuesday again, where we'll see a whole list of new titles. As those who follow me on Twitter know, I had a rather large event happen on Wednesday, which threw a wrench into my blogging plans. Nevertheless, I wanted to get these titles up, as I think they are incredibly important, and should be considered if you're looking to drop some cash on DVDs and Blu-rays.
Before I get into this week's new releases, I wanted to mention a title that came out last week, that I had a chance to examine in a new way for me.
---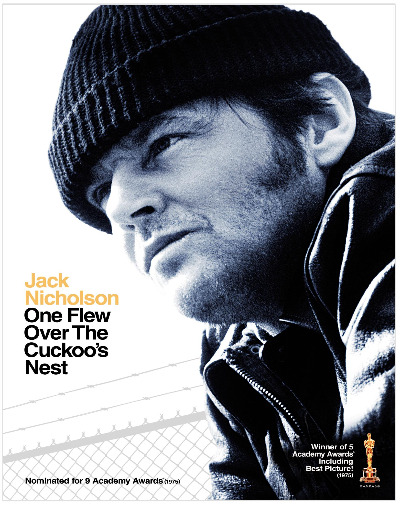 One Flew Over The Cuckoo's Nest (iTunes download)

A couple weeks back, the folks at Warner Bros decided to release yet another DVD/Blu-ray edition of Milos Forman's incredibly important and influential film, One Flew Over The Cuckoo's nest. While I've read good things about the transfer of the film on this new release, I experienced the film in a whole new way: on my iPad, through iTunes.
I've had my iPad for a few months now, but I've done little movie watching on it. I've played around with the Netflix streaming app, watched some YouTube clips, and tested out Hulu Plus, all of which have failed to convince me that watching a movie in my lap is a compelling experience. Because I have a Netflix account, and I love physical media, I haven't spent too much time considering buying or renting movies from iTunes. When the opportunity arose to review this iTunes release of One Flew Over The Cuckoo's Nest, I thought this might be the movie that convinces me to jump into it with both feet.
First off, let me just briefly say how incredible this movie is. It's been years since I've taken the time to rewatch this adaptation of Ken Kesey's novel of the same name. The film follows Jack Nicholson's McMurphy, a criminal who has found himself in a mental institution, with an array of characters to interact with. The film is a horrifying tale of manipulation, power struggles, and a look at what is considered "crazy." Basically, this film is a classic, and you should watch it if you haven't seen it. We talk about it for a little bit in the upcoming Disc 2, that we recorded this past week.
As far as the process of acquiring the film from iTunes, and watching it on my iPad goes, I'm a little mixed about the experience. iTunes makes it incredibly easy to buy a movie, a simple click of the button and you own it. The download times though, are another story. While I'm very happy with the quality of the video, which requires a larger file size that something you'd see streaming on Netflix or YouTube, it took a really long time to finish downloading the movie. I basically had to wait hours before I could watch the film, and I have a pretty stable and fast internet connection. This is something that needs to change, and now that Apple is moving to streaming-only with their new Apple TVs, I think people will be much happier with the overall experience. Again, I'm torn about this, as I'm sure most people are. You sacrifice quality for speed, and it was apparent here.
Whenever I get on my soapbox about the decline of interest in physical media, whether it's DVDs or Blu-rays, I always bring up the joys of the supplements. As is very apparent in my reviews on the podcast, I love commentaries, documentaries, and other bonus materials that come along with discs.
I also want to mention the overall experience with the film on my iPad. I still haven't found the most enjoyable way of watching a full length feature film on the device, but I had a lot more fun with this movie, just by skipping around on the timeline, and revisiting some of the key plot points, and all of the incredible character moments. It was interesting, using my hands to interact with the timeline, instead of a remote control. I guess that physical manipulation eased the pain of not being able to handle the disc itself.
Again, while I'm still partial to physical discs, and if you're like me, you'll probably be picking up the new Blu-ray, the iTunes process didn't disappoint overall. I can handle slow downloads, because I have so much other stuff I can be doing while I wait. If I was in a hurry, and I needed to watch this film immediately, I would probably just go to the store and buy or rent the film. If you have a few hours to wait while it downloads, this is a perfectly acceptable way to watch what is an absolutely incredible film.
http://www.amazon.com/gp/product/B003NF97L2?ie=UTF8&tag=criter-20&linkCode=as2&camp=1789&creative=390957&creativeASIN=B003NF97L2
(re-release on Blu-ray and now available on iTunes)
http://bit.ly/WBDD_Cuckoo
---
Thin Red Line
This is a release that we've been talking about on the podcast, since February of this year. We got the lion drawing in the newsletter, pictures posted on twitter from Criterion, and so on. This release also had even more drama in the form of the cover art. It had infamously been announced with their black "cover art coming soon" images, much to the chagrin of all of the Criterion fanboys online (myself included). The next day when Criterion sent out their press releases for the September titles, they included a piece of art that seemed like a finished piece (it hadn't indicated it was temporary). Criterion however, didn't update the official page for several weeks, but inevitably came up with the covers you see to your left. I'm honestly a fan of both designs, and the original cover is hinted at on the booklet that comes along with the release.
Rudie wrote up a review of the DVD, which you can read here, earlier this week when the disc was released. I had a chance to check out the Blu-ray the other night, and I have to say that this is definitely going to find it's way onto my top ten list of Criterion's releases in 2010. The image quality on the Blu-ray is stunning, and the audio sounds perfect. In our recent podcast, I jokingly said that this Blu-ray made me wish I had a larger TV, and there is a lot of truth in that joke.
This film is far and away a more haunting and poetic depiction of war than it's rivaling film, Saving Private Ryan. I won't go so far as to say one is necessarily "better" than the other, as I think Spielberg's World War II film is in itself an experience that everyone should have. The Thin Red Line, though, is something that will stick with you much longer internally. You'll see the horrors of war in the eyes of every incredible performer on the screen, and come to appreciate even more, how Terrence Malick has reshaped what could be a very traditional film. While I haven't made it through all of the supplements on the Blu-ray yet, it is something I'm going to pace myself with. This is a film that I'm so happy to own in my collection, so it will be there anytime I need to revisit it.
After directing two of the most extraordinary movies of the 1970s, Badlands and Days of Heaven, American artist Terrence Malick disappeared from the film world for twenty years, only to resurface in 1998 with this visionary adaptation of James Jones's 1962 novel about the World War II battle for Guadalcanal. A big-budget, spectacularly mounted epic, The Thin Red Line is also one of the most deeply philosophical films ever released by a major Hollywood studio, a thought-provoking meditation on man, nature, and violence. Featuring a cast of contemporary cinema's finest actors'"Sean Penn, Jim Caviezel, Nick Nolte, Elias Koteas, and Woody Harrelson among them'"The Thin Red Line is a kaleidoscopic evocation of the experience of combat that ranks as one of the greatest war films ever produced.
Disc Features
New, restored high-definition digital transfer, supervised and approved by director Terrence Malick and cinematographer John Toll (with DTS-HD Master Audio soundtrack on the Blu-ray edition)
New audio commentary by Toll, production designer Jack Fisk, and producer Grant Hill
Interviews with several of the film's actors, including Kirk Acevedo, Jim Caviezel, Thomas Jane, Elias Koteas, Dash Mihok, and Sean Penn; composer Hans Zimmer; editors Billy Weber, Leslie Jones, and Saar Klein; and writer James Jones's daughter Kaylie Jones
New interview with casting director Dianne Crittenden, featuring archival audition footage
Fourteen minutes of outtakes from the film
World War II newsreels from Guadalcanal and the Solomon Islands
Melanesian chants
Original theatrical trailer
PLUS: A booklet featuring an essay by film critic David Sterritt and a 1963 reprint by James Jones
---
I still haven't gotten a chance to go through the film yet, but I can't wait. I have the Blu-ray sitting on my desk, taunting me with David Bowie staring me down.
You can check out James' review of the Blu-ray from last week here.
In this captivating, skewed World War II drama from Nagisa Oshima, David Bowie regally embodies Celliers, a British officer interned by the Japanese as a POW. Rock star Ryuichi Sakamoto (who also composed this film's hypnotic score) plays the camp commander, obsessed with the mysterious blond major, while Tom Conti is the British lieutenant colonel Lawrence, who tries to bridge the emotional and language divides between captor and prisoner. Also featuring actor-director Takeshi Kitano in his first dramatic role, Merry Christmas Mr. Lawrence is a multilayered, brutal, at times erotic tale of culture clash, and one of Oshima's greatest successes.
Disc Features
New, restored high-definition master (with DTS-HD Master Audio soundtrack on the Blu-ray edition)
The Oshima Gang, a 1983 making-of featurette
New video interviews with producer Jeremy Thomas, screenwriter Paul Mayersberg, actor Tom Conti, and actor-composer Ryuichi Sakamoto
Hasten Slowly, an hour-long 1996 documentary about author Laurens van der Post, whose autobiographical novel was the basis for the film
Original theatrical trailer
New and improved English subtitle translation
PLUS: A booklet featuring an essay by film critic Chuck Stephens and reprinted interviews with director Nagisa Oshima and actor Takeshi Kitano
---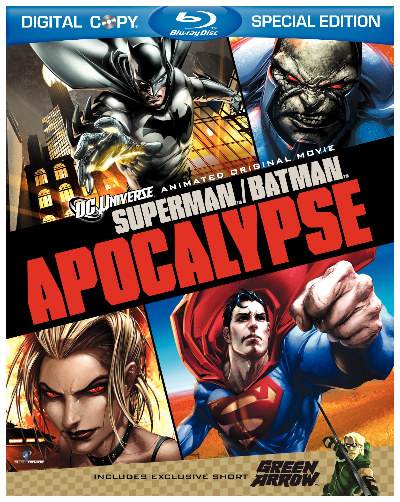 Superman / Batman Apocalypse Blu-ray

We talk about this release on an upcoming Disc 2, so if you want to hear James and I nerd out over the recent run of DC animated films, in some more depth, you'll have your chance. A few months back DC and Warner Bros released the incredible entry into the Batman line, Under The Red Hood. You can listen to me talk about the film on this past Disc 2, as well as briefly on my appearance on Fat Guys At The Movies.
Superman Batman Apocalypse adapts the run of comics illustrated by the late Michael Turner (Fathom), which re-told the Supergirl origin story.
When a spaceship splashes down in Gotham Harbor, Batman and Superman encounter a mysterious Kryptonian with powers as great as Superman's. When Darkseid gets wind of this, he has the Kryptonian abducted and brought under his control on Apokolips. It's up to Batman and Superman to retrieve the Kryptonian, forcing them to infiltrate Darkseid's hostile world where superpowerful threats lurk around every corner. This story is based on Jeff Loeb's popular mini-series from the Superman/Batman comic books.
Overall, I enjoyed the release more than the previous Batman and Superman team-up: Public Enemies, but not quite as much as Under The Red Hood. I love seeing Darkseid on the screen, as well as his war torn planet, Apokolips. Like Under The Red Hood, the Blu-ray comes with several episodes of the Superman animated series, which I always love revisiting. The disc also features another of DC's short films, highlighting a secondary character, unrelated to the feature, this time: Green Arrow.
Check out the rest of the supplements:
A first look at the next installment of the DC Universe movie.

DC Showcase Short Film: Green Arrow

The New Gods Featurette – chronicles the tale of Darkseid and why he reigns supreme as one of the most brilliant, and
toughest challengers the Super Heroes must face, and what his threat for tomorrow could bring.

New Gods: Mr. Miracle pod

New Gods: Orion pod

Supergirl: The Last Daughter of Krypton Vintage Featurette

Bonus Episodes Handpicked by Bruce Timm

Superman The Animated Series -"Little Girl Lost Part 1"

Superman The Animated Series -"Little Girl Lost Part 2"

Superman The Animated Series -"Apokalips Now! Part1"

Superman The Animated Series -"Apokalips Now! Part 2"
---
Babies
Earlier this year I was treated to an advanced screening of Thomas Balmes latest work, Babies, and I totally dug it. You can read my review of the theatrical release here, but it is now available on DVD and Blu-ray. The disc was released earlier last month as a Target exclusive, but is available in wide release as of last Tuesday. I'd say that if you are at that stage of your life where you or your significant other is a little baby-crazy, you'll enjoy yourself. It shows a short period in the early months of four different, unrelated children, around the world.
I wasn't sent a review copy of this release, so I don't know how well they handle the supplements, but the film itself is certainly worth a rental.
Here are the techical specs for the release:
BONUS FEATURES EXCLUSIVE TO Blu-rayâ"¢ Hi-Def: Unleash the power of your HDTV with perfect picture and purest digital sound.
BD-LIVEâ"¢: Access the BD-Liveâ"¢ Center through your Internet-connected player to watch the latest trailers and more!

MY SCENES: Bookmark your favorite scenes from the movie.

pocket BLUâ"¢: USHE's groundbreaking pocket BLU app uses iPhoneâ"¢, iPod ® touch, iPad ®, Blackberry ®, Androidâ"¢, Windows and Macintosh computers to work seamlessly with a network-connected Blu-rayâ"¢ player and offers advanced features such as:

Advanced Remote Control: A sleek, elegant new way to operate your Blu-rayâ"¢ player. Users can navigate through menus, playback and BD-Liveâ"¢ functions with ease.
Video Timeline: Users can easily bring up the video timeline, allowing them to instantly access any point in their favorite film.
Mobile-To-Go: Users can unlock a selection of bonus content with their Blu-rayâ"¢ discs to save to their device or to stream from anywhere there's a Wi-Fi network, enabling them to enjoy content on the go, anytime, anywhere.
Browse Titles: Users will have access to a complete list of pocket BLUâ"¢-enabled titles available and coming to Blu-rayâ"¢ Hi-Def. They can view free previews and see what additional content is available to unlock on their device.
Keyboard: Enter data into a Blu-ray player with your device's easy and intuitive keyboard.
BONUS FEATURES (DVD and BLU-RAYâ"¢):
THE BABIES '" THREE YEARS LATER FEATURETTE: Director Thomas Balmes revisits all the babies '" who are now four years old '" and their parents.
EVERYBODY LOVES'¦ YOUR BABIES SWEEPSTAKES WINNERS: See the winning photos and videos from our fans '" whether it was their first words, playing with siblings, or simply sleeping.
---
Astonishing X-Men Motion Comic
As with the Superman Batman Apocalypse disc, James, Rudie, and I get into a discussion on motion comics, and their effectiveness in an upcoming Disc 2 that should be hitting your podcast feed soon. I certainly love the idea that these stories will be finding new audiences with these releases, but I don't think I'm sold on the technology yet. I would honestly much rather see a fully animated version of Joss Whedon's run on Astonishing X-men, but I can certainly appreciate how much cheaper it must be to release these titles as motion comics. This release is much more engaging than the Watchmen motion comics that were released before the movie. It's an interesting space this exists in, not quite a comic, and not quite animated.
Remaining true to the heritage of panel-by-panel graphic storytelling, boasting groundbreaking graphics, sensational soundscapes and, of course, the explosiveness of the Mighty Marvel Universe, here comes the all-new, all-awesome Marvel Knights animation series.

Dream-team creators Joss Whedon (TV's Buffy the Vampire Slayer) and John Cassaday (Planetary, Captain America) present the explosive, all-new flagship X-Men series – marking a return to classic greatness and the beginning of a brand-new era for the X-Men! Cyclops and Emma Frost re-form the X-Men with the express purpose of "astonishing" the world. But when breaking news regarding the mutant gene unexpectedly hits the airwaves, will it derail their new plans before they even get started? As demand for the "mutant cure" reaches near-riot levels, the X-Men go head-to-head with the enigmatic Ord, with an unexpected ally – and some unexpected adversaries – tipping the scales!

Gifted is the first 6 episodes of the Astonishing X-Men 3-part series.
---
Discs not reviewed, but interested. (Basically, I don't have much to say about these, other than they are on my wishlist.)

---
Thundarr The Barbarian
The Warner Archive continues to treat me with excellent animated releases. A few weeks back they unleashed the Pirates of Darkwater on DVD, and now Thundarr. Not only is this post-apocalyptic animated series a nice trip down memory lane, it is a nice blend of all of the pop culture conventions swirling around the collective unconscious of the era.

Man's civilization is cast in ruin when a runaway planet speeds between the Earth and the Moon, unleashing cosmic destruction. Two-thousand years later, Earth is reborn from the ashes with a savage landscape, strange creatures and a primitive sense of justice. But one man fights to spread peace throughout the land: he is Thundarr the Barbarian and you can own All 21 Exciting Adventures in a 4-Disc Collection starring Thundarr and his companions Ookla the Mok and sorceress Princess Ariel. Using their strength, courage and wits plus Thundarr's magical Sunsword, they journey from village to village, liberating slaves and battling all kinds of beasts, mutants, wizards, thieves and robots. The future of Earth may be shrouded in darkness, but Thundarr the Barbarian bursts into action as a shining symbol of hope for humanity.
---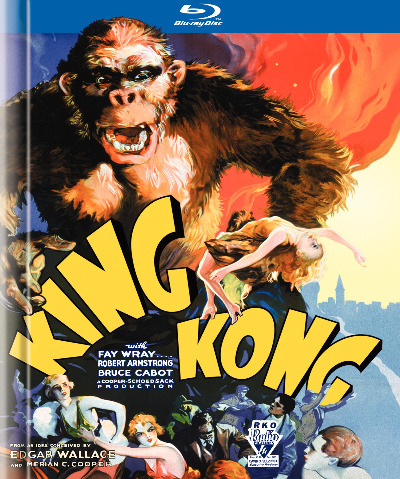 King Kong
This is a title that I will continue to buy on every format invented. I have a copy of the Criterion edition of the Laserdisc, and I can't wait to own it now in high definition.

Captured on blu-ray at last comes 'the greatest of all horror films' with 'masterly special effects' (Danny Peary, Guide for the Film Fanatic). Memorable moments abound: a moviemaking expedition on a fantastic isle filled with dinosaurs and other prehistoric creatures; the giant simian's lovestruck obsession with the film shoot's blonde starlet (scream queen Fay Wray); Kong's capture; his Manhattan rampage; and the fateful finale atop the Empire State Building, where Kong cradles his palm-sized beloved and swats at machine-gunning airplanes. 'It was beauty killed the beast.' But in these and other great scenes, King Kong lives forever.
---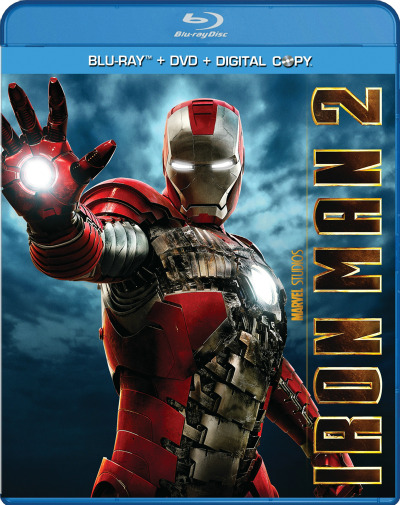 ---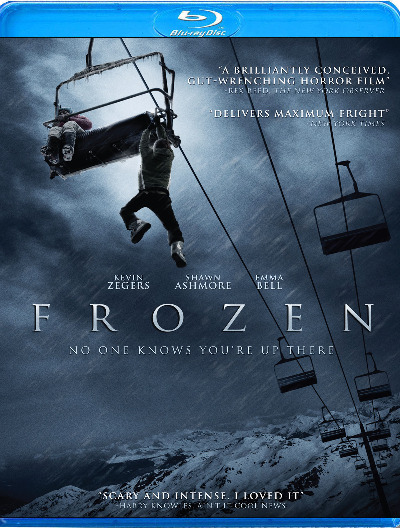 Frozen
At the Sundance Film Festival earlier this year, Rudie and Travis got a chance to see Adam Green's film Frozen, which is now available on DVD and Blu-ray.
Check out Travis' review of the film here:
---
Magic And Bird: A Courtship Of Rivals
Rudie will be reviewing this shortly. As I've said many times on the podcast, I'm not a sports guy. That said, I really really enjoyed Hoop Dreams, and so when a good story is presented to me, whether it's a sports movie or not, I'll be fair. As a kid growing up in the 80s, I was certainly aware of Larry Bird and Magic Johnson, but not to the extent of the other more athletic kids at my school.
For years, the passion they shared for winning made Earvin "Magic" Johnson and Larry Bird the most bitter of rivals. It also made theirs the most compelling rivalry in sports, driving the NBA to new heights of popularity in the 1980's. This all-new documentary tells the riveting story of two superstars who couldn't have been more different — until they forged an unlikely friendship from the superheated rivalry that had always kept them apart.
---