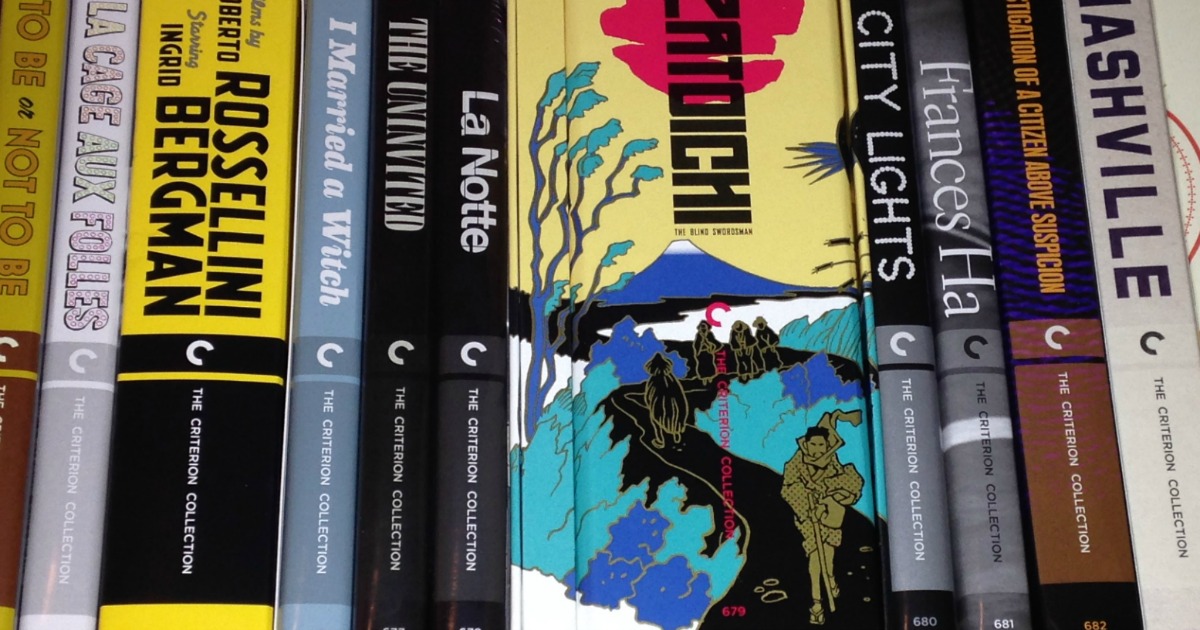 Here are some Criterion Collection related links, worth checking out:
News
In case you missed it, Criterion unveiled their Three Reasons for La Dolce Vita
Roma-Go-Go. The paparazzi and their prey. The not-so-sweet life.
The BFI is releasing Rossellini's War Trilogy on Blu-ray next year. Let's hope Criterion's edition happens in 2015 as well.
This limited edition Blu-ray box set includes Rossellini's celebrated War Trilogy, made during and immediately after World War II – Rome, Open City, Paisà and Germany Year Zero – as well as his controversial 1948 film L'Amore starring Anna Magnani and Federico Fellini. These are the films that established Roberto Rossellini as one of the most important and influential filmmakers of all time. All of the films in this strictly limited Blu-ray box set (of 3000 numbered units) have been restored in 4K.
Universal is unveiling a new print of Spartacus at TCM Fest. We've all been waiting for a decent Blu-ray to be released, this might be the first sign that one is in the works.
TCM will celebrate the film's 55th anniversary with a new print of Stanley Kubrick's glorious 1960 Roman epic "Spartacus," starring Kirk Douglas as the title rebel warrior, with Tony Curtis, Jean Simmons, Laurence Olivier, Charles Laughton, John Gavin and Peter Ustinov, who won the Best Supporting Actor Oscar in 1961
Olivier Assayas' new film has already been cancelled.
Benaroya Pictures, whose films include Margin Call, Kill Your Darlings, and the Werner Herzog's upcoming Queen of the Desert co-starring Pattinson, say they were forced to shut down production after other producers on the project failed to meet financing deadlines.
Reviews
Over at DVDBeaver, Gary has our first look at The Shooting and Ride In The Whirlwind
What an amazing package. Hellman is truly one of the most interesting and under-rated directors of all time. The supplements feature him so prominently. The films are wonderful, well above-average westerns – unique, poetic and 'real'. The Criterion Blu-ray is filled with so much value from two great films with commentaries and extensive interview extras. We give it a very strong recommendation! 
Fun
Mark Mothersbaugh has a new art book out today (order on Amazon), and Wes Anderson wrote the introduction:
Mr. Mothersbaugh works in virtually every form and medium, and his work has always been unified and singular (perhaps a result of the simple fact that it all comes from the same exotic and densely populated alien planet: his brain). For forty years, he has set about creating a body of work that amounts to his own Magic Kingdom. -Wes Anderson
The world of podcasting is growing by leaps and bounds—and I'm leaping into it this week with a new show called Maltin on Movies with Baron Vaughn.
Susan Doll writes about The Most Dangerous Game, over at Movie Morlocks
Cooper and Schoedsack were experts at creating exotic worlds that evoke but do not duplicate the African jungles, the South Sea Islands, or the Caribbean. Misty swamps, dangerous waterfalls, and dense foliage turn the jungle into an antagonist that stands in the way of the characters and their safety.
Not really "Criterion-related" but Art Of The Title has broken down the title sequence to Cosmos: A Spacetime Odyssey, one of my favorite things in 2014.
With the incredible advances in science and technology over the last 34 years, the 'ship of the imagination' (this time piloted by astrophysicist Neil deGrasse Tyson) can now travel through time and space. From the microscopic building blocks of life all the way to a distant galaxy in the furthest reaches of outer space, this fantastic main title journey is only made possible thanks to seamless VFX transitions so perfect that they rival the best Hollywood films.
Now available to stream on Netflix