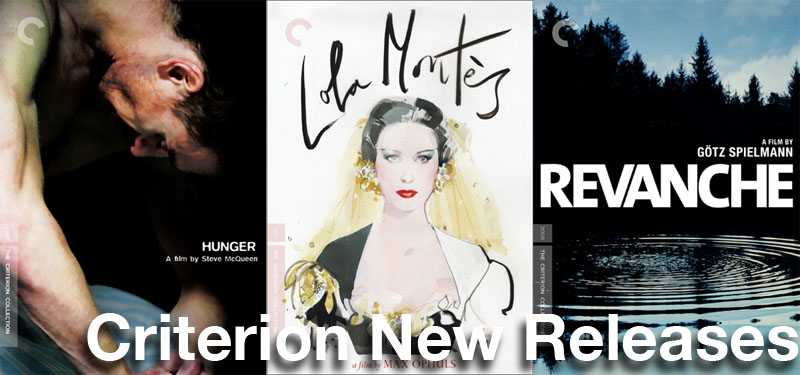 Tuesday's have always been a DVD / CD / Blu-ray collectors day to treasure. Being a fan of Criterion, their new release Tuesdays are even sweeter. Its triply sweet today, getting Götz Spielmann's Revanche, Max Ophuls' Lola Montes, and Steve McQueen's Hunger.
Of the three released today, I'd throw my weight towards Revanche, as it was my favorite of the three, it being the one I want to watch again, no questions asked. You can hear me discuss Revanche on the last couple of podcasts, our episode on The 400 Blows,   yesterday's episode 24, and last week's Disc 2. Something I mentioned in one of the podcasts, was that I immediately found myself attracted to Spielmann's use of the camera, and lack of music found within the film. While I'm usually one who demands a commentary track, I found all of the bonus materials a perfectly enjoyable alternative, where I was able to learn all about the directors thoughts on filmmaking in general, and a look behind the making of Revanche. [Note from the Editor: today, Netflix Watch Instantly added Revanche to it's streaming lineup!]
While I did enjoy Steve McQueen's Hunger, it is certainly a challenging film to get through. You can hear some of my thoughts on the film in a Disc 2 from last November, just after the release was officially announced. Hunger was also one of the films from the initial announcement in September, that IFC and Criterion would be joining forces.
The Lola Montes release has to be the most surprising of the three made available today. This is mostly because I went into my viewing of the film having not seen any of Max Ophuls films, and was warned early on by Travis' experience with his previous Criterion discs. I think what really intrigued me was the trailer. It is masterfully cut together as well as showcases just how gorgeous this remastered print is on DVD and Blu-ray. You can find the trailer below, and I'd highly recommend you click on the "view in HD" button, just to get an idea of what's in store for the Blu-ray.
---
---
---
---