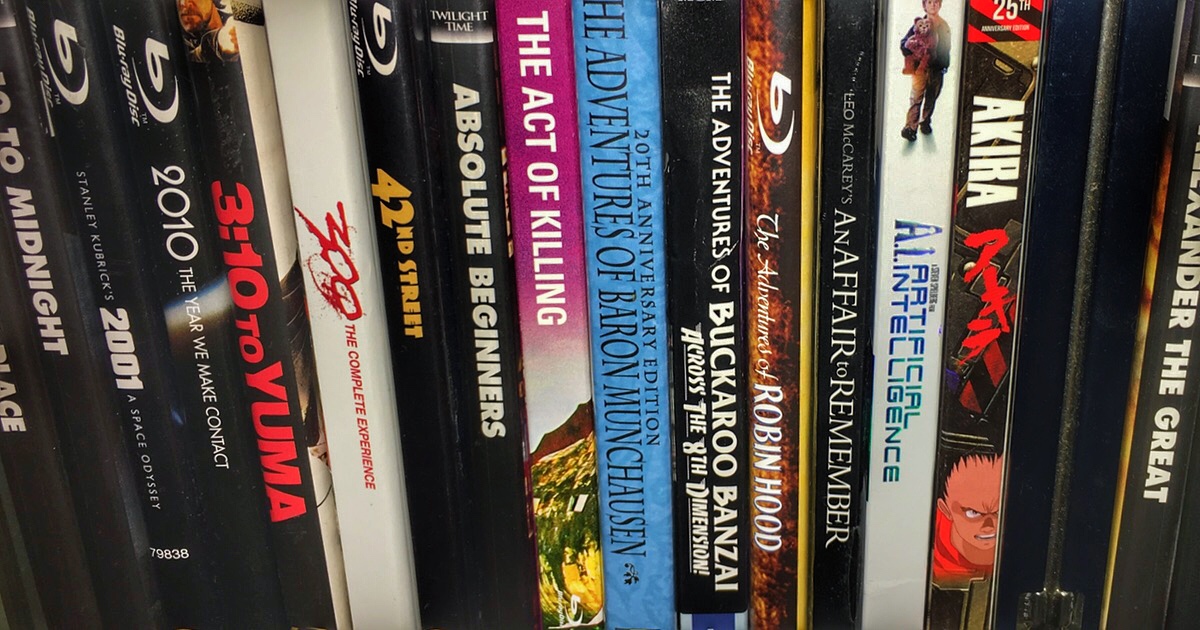 It's a new month, and with that, some retrospection. Each month, hundreds of home video releases hit the streets, and who better to curate the best of the best than us here at The CriterionCast. So with that, here are the five best home video releases of July 2019, as per yours truly:
5. Luis Bunuel x2 (Kino Lorber)
Starting off this recap of July 2019's best home video releases are a pair of the latest releases to come out of the much publicized partnership between Kino Lorber and StudioCanal. Via Kino's mainline home video label (not the Studio Classics line that sees some StudioCanal films also get released as Kino's apparently focused on flooding the market with these things), the company released two films by Luis Bunuel. The pair of The Milky Way and Death In The Garden were released into the wild during July, and are truly exciting updated releases of some of Bunuel's great, unsung masterworks. Milky Way is arguably the more well known given its status as a former Criterion Collection DVD, and it's the prototypical Bunuel film. Transgressive, provocative and of literary origins, Milky Way is a captivating and biting satire about Catholicism and its fanatical nature. Made 13 years earlier, Death In The Garden is widely considered one of Bunuel's most underseen gems, a Simone Signoret-starring black comedy about faith in the face of a growing revolt in an Amazonian mining town. Both films look absolutely incredible on Blu-ray, with the lush Amazon-setting really popping off the screen in Death In The Garden. Both releases also look quite similar in the supplemental materials with commentaries (critic Samm Deighan on Death and critic Nick Pinkerton on Milky Way), essays (critics Peter Tonguette and Adam Nayman in the same order) and interviews (critic Tony Rayns and writer Jean-Claude Carriere). Despite being 13 years apart, both films feel oddly similar in their relationship to faith, and make for interesting bedfellows thanks to Kino's placement here on the July release slate.
4. Fragment Of An Empire (Flicker Alley)
Next up is the first of two releases from Flicker Alley this month. Fragment Of An Empire is the final silent film from legendary Russian filmmaker Fridrikh Ermler, and tells the story of Filimonov, a former Great War soldier who, upon returning to life as a civilian, is revealed to be suffering from amnesia. Upon discovering he had a life prior to the moment he's living at the start of the film, he tries to go back home only to see that the world that gave birth to him has evolved on an almost DNA level. The film stars legendary Russian actor Fiodor Nikitin, a method performer who actually spent time as a doctor's assistant in order to dive head first into this role as an amnesiac war veteran, and thanks to a new restoration from 2018, Fragment is an incredibly thrilling, wildly radical rumination on Soviet society in the wake of grad societal change. The film's most radical moments come in the beginning of the film, as viewers bare witness to Filimonov's mental break, with things like sewing machine's triggering thoughts of machine gun fire in our lead's uneasy mind. There's a particular scene involving a man begging for help from a mysterious, haunting gas mask-wearing figure nailed to a cross, that's one of the most terrifying, haunting sequences you'll ever seen in silent cinema. These sequences feel all the more shattering thanks to a new, incredibly rich restoration, based primarily on a top notch 35mm nitrate print from Eye Filmmuseum in Amsterdam. The black and white photography is rich and textured, and despite being the very roots of modern filmmaking, the use of montage filmmaking here feels, in 2019, oddly thrilling and experimental. Supplemental material is in no short order here either, as besides a poster gallery and compelling composed "Souvenir Booklet" (which has a must-read essay from Russian film scholar Peter Bagrov, an essential read for those wanting to know more about the historical context of the film) there's a restoration demonstration and, most importantly, a commentary track with Bagrov and a member of the restoration team Peter Byrne. This commentary track is a must-listen much in the same way the essay in the booklet is, as the pair of Bagrov and Byrne give much needed context to both the historical moment from whence this film came and also the type of work taken on in order to really bring this film back to life on a filmic level.
3. The BRD Trilogy (The Criterion Collection)
Next up is a wishlist item for many diehard Criterion Collection fans. Long considered one of the great "Out Of Print" releases, Criterion has brought back their incomparable box set of Rainer Werner Fassbinder's brilliant BRD Trilogy. Collecting the films The Marriage of Maria Braun, Veronika Voss and Lola, this box set is a mammoth, historic deep dive into one of the great runs in the career of a master filmmaker. Billed as Fassbinder's attempt to dig into the history of postwar Germany, this trio of films are some of the filmmaker's most enticing works, with films like Maria Braun not only becoming something of a box office hit but fully extending the director's interest in melodrama and classic Hollywood cinema. Lola is maybe the most radical film here, with the director taking inspiration from Josef von Sternberg's masterpiece The Blue Angel, only to amplify the color photography, turning the film into something of a surrealist, impressionistic capitalist satire. All three films are true-blue masterpieces, and this box set does them a true service. Criterion brings new 4K restorations of Braun and Lola, and while it appears as though the new "Blu-grade" is a simple port of the DVD, some supplements here are absolutely worth revisiting. The commentaries are important texts (Wim Wenders and Michael Ballhaus on Braun, Tony Rayns on Veronika and scholar Christian Braad Thomsen on Lola) and the inclusion of the feature length biographical documentary I Don't Just Want You To Love Me is truly exciting. The booklet as well, with production histories from author Michael Toteberg and an essay from Kent Jones, is an important text that helps give further cultural context to the films and contextualizes this trilogy as the foundation on which Fassbinder "would build his house." A must-own Criterion Collection release.
2. L'Argent (Flicker Alley)
The second the Flicker Alley pairing here, L'Argent is one of the great discoveries I as a film critic have made this year. From director Marcel L'Herbier and based on the Emile Zola novel of the same name, L'Argent draws from the stock market narrative of Zola's legendary novel and tells the story of two bankers caught in the throes of battle over the control of a large bank and their stock market positioning. Saccard and Gundermann attempt to undermine one another in ways that range from the seemingly innocuous (buying stock of a different bank only to sell them which in turn tanks the stock) to Saccard's attempt to seduce a pilot's wife while sending him away to secure support for his bank with holders in Latin America. An opulent, almost baroquely composed silent film, L'Argent is a kinetic, lushly composed film with gorgeous black and white photography that was L'Herbier's attempt to combat the rise of more bombastic film offerings from France and the US, doing so by crafting a film full of gorgeous costumes, eye-popping set design (there's a sequence involving a room built by walls mimicking the map of the world that's one of the more strange moments in all of silent film) and the use of nearly 1500 extras. It's simply unlike anything you've ever seen. And thankfully, the new Blu-ray is also quite special. With a new 4K restoration, the Blu-ray comes with a photo gallery and "Souvenir Booklet," which includes a superb essay from scholar Mireille Beaulieu. Also included here is a L'Herbier-directed short film about a banker seducing a vampire which is enthralling (entitled Prometheus Banker), a restoration comparison between the 1971 and 2019 versions and a making of documentary directed by L'Herbier's assistant Jean Dreville, which is a groundbreaking dive into the production of the film that pairs L'Herbier's comments from 1971 with actual footage of the film being made. It's an incredible document and really elevates this Blu-ray into a special stratosphere.
1. Klute (The Criterion Collection)
However, there's only ever one possible release that could top this month's list. Released in July, Criterion once again leapt into the world of New Hollywood cinema with their incredible release of 1971's masterful Klute. From director Alan J. Pakula, Klute tells the story of Bree Daniels (Jane Fonda), a call girl who becomes engrossed in a missing persons case being run by detective John Klute (Donald Sutherland), turning what appears to be an attempt at something resembling a neo-realist story of an escort in a 1970s New York that slowly evolves into something much more paranoid, much more stylized. Pairing Pakula with Gordon Willis, the film has an incredibly esoteric style, being moody in a way that feels right not just for New York from this time period but more broadly an America slowly coming undone. Fonda is impossibly brilliant here, giving an incredibly nuanced and human performance as Bree Daniels, a woman whose style would go on to influence a generation, and whose self-assured edginess would spark a new type of screen presence. Sutherland often gets overlooked here due to the shooting star that is Fonda, but he's also quite great, and pairs perfectly opposite her. As far as supplemental material, there seems to be no end to it on this release. The new 4K restoration is bewilderingly gorgeous, really bringing back to life the brilliance of Willis' photography, and archival interviews with Pakula and Fonda are quite compelling. There are two new programs that are some of the best supplements of the year from Criterion, with Jane Fonda in conversation with actress Illeana Douglas really being the place to start. The second one is much more broad, including interviews with scholars (Annette Insdorf), filmmakers (Steven Soderbergh) and actors (Charles Cioffi), all talking about Pakula and his influence on cinema. Finally, and this one had myself eager to see it, there's a short documentary entitled Klute In New York, which looks at the film's production and particularly the New York it aspired to be a document of. Anyone fascinated by the history of the Big Apple will find this to be an utterly enthralling text, an exciting look at a city in a moment of evolution. Simply put, this type of release is why The Criterion Collection is the best home video label on the planet.