This past week saw the release of Criterion's monthly newsletter, once again complete with a cryptic image for the fans to pick at, trying to determine what's in store for us in a future release into the Collection. This month's drawing, however, is not as clear in terms of its hidden meaning.
The image, featured below, is of a blue "wacky lizard man," complete with a suit and tie. The wacky lizard man is pointing in one direction, while presumably looking in the opposite direction.
---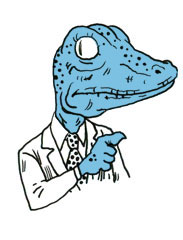 ---
My initial thought was that we'd get to see John Huston's 1964 film, Night of the Iguana, finally get a proper release into the collection. That theory had a lot of things going for it. For one, John Huston, who is already represented in the Collection by Under the Volcano (which we discussed here) as well as Wise Blood. Secondly, the film is based on a play by Tennessee Williams, who was also recently brought into the Criterion Collection with 1960's the Fugitive Kind. Lastly, the film is an MGM release, and we all know how well they're doing these days, as well as how many films are being released, and rumored to be released, by Criterion.

I was the only one really pulling for this title, as everyone on Twitter and the Criterion Forum seemed to have another title in mind. Everyone seems to think that we'll get a Criterion Collection Blu-ray release of Terry Gilliam's 1998 film, Fear And Loathing In Las Vegas. I'm including some screenshots from the Criterion DVD below, to showcase the scene leading many to equate the blue lizard man with this film. I suppose the only thing holding me back on leading the charge on this guess is just the fact that this lizard man is not as terrifying as the monsters from Fear and Loathing. I suppose Jason Polan's style would be hard to make terrifying, so I can definitely go along with it.

Fear And Loathing In Las Vegas has to be one of Criterion's best selling titles, as it is one of the few Criterion Collection releases you'll see at stores like Target or Walmart, and of course Best Buy. While it has been released by Universal on HD-DVD and Blu-ray, the Criterion DVD is still in print, and while I haven't heard back from Criterion regarding the status of a future Blu-ray release, I'd say it's a strong possibility. If Criterion were to remaster the film in high definition, and bring along all of the supplements contained on the prior double disc release, it would make Gilliam fans some happy campers. With the recent non-Criterion release of Time Bandits on Blu-ray not exactly making any waves with the critics, seeing this Gilliam film in 1080p, with all of it's monstrous, drug induced imagery, would certainly be a worthy purchase.

What do you think? Does the blue lizard man lead you to think we'll be getting Fear And Loathing In Las Vegas on Blu-ray? Would you upgrade your copy of the film? Leave your thoughts in the comments below.
---
---
---
'We were somewhere around Barstow when the drugs began to take hold.' It is 1971, and journalist Raoul Duke barrels towards Las Vegas to cover a motorcycle race, accompanied by a trunkful of contraband and his slightly unhinged Samoan attorney, Dr. Gonzo. But what is ostensibly a cut-and-dried journalistic endeavor quickly descends into a feverish psychedelic odyssey and an excoriating dissection of the American way of life. Director Terry Gilliam and an all-star cast (headlined by Johnny Depp and Benicio Del Toro) show no mercy in bringing Dr. Hunter S. Thompson's legendary Fear and Loathing in Las Vegas to the screen, creating a film both hilarious and savage.
Disc Features
SPECIAL EDITION DOUBLE-DISC SET:
Digital transfer, approved by director Terry Gilliam and enhanced for 16×9 televisions
New Dolby Digital and DTS 5.1 sound mixes
Three audio commentary tracks: director Terry Gilliam; stars Johnny Depp and Benicio Del Toro, and producer Laila Nabulsi; and author Hunter S. Thompson
Deleted scenes, with commentary by Terry Gilliam
Collection of storyboards and production designs
Stills gallery
A selection of Hunter S. Thompson correspondence, read on-camera by Johnny Depp
Hunter Goes to Hollywood, a short documentary video by filmmaker Wayne Ewing
A look at the controversy over the screenwriting credit
Original trailer and TV spots
Rare materials on Oscar Zeta Acosta, the inspiration for Dr. Gonzo
Collection of original artwork by illustrator Ralph Steadman
Excerpt from 1996 Fear and Loathing audio CD with Maury Chaykin, Jim Jarmusch, and Harry Dean Stanton
Fear and Loathing on the Road to Hollywood: A 1978 BBC feature documentary with Thompson and Steadman
English subtitles for the deaf and hearing impaired