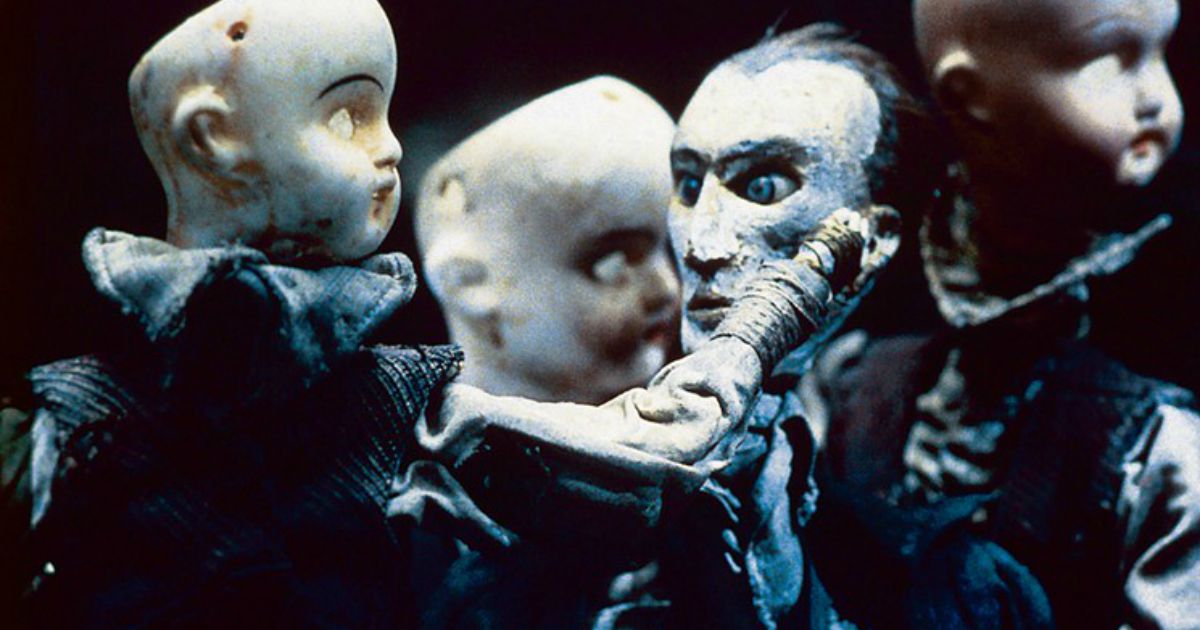 It's a cliche to say that there aren't many filmmakers quite like insert-director's name, but in the case of the American identical directing duo known as the Quay Brothers, there truly isn't another voice in the world of cinema that is quite like theirs.
For over 30 years, the pair of Pennsylvania-born filmmakers have been turning out some of cinema's most original and breathtakingly unforgettable feature films, mixing a love for Eastern European literature with an equally deep affinity for puppetry and stop motion animation. Marked by a dark sense of humor and an assured hand in mixing live action and animation, the Brothers Quay have, with films like The Piano Tuner Of Earthquakes, become some of the most interesting names in the world of film, genre be damned.
However, as the medium of short film becomes more and more widespread and well regarded, a new retrospective looking at the pair's short pieces is kicking off an 11-city run, all curated by one of today's most beloved auteurs.
Teaming up with Zeitgeist Films is Christopher Nolan and his company Syncopy, with Nolan taking a front seat for this new tour. Not only has he curated a selection of three of the Quay Brothers' greatest shorts, but he himself has made a brand new film, Quay, which will take the viewer into the world of the directing duo, and their London-based studio. After this tour, the relationship between the two companies will continue, as on October 20, there will be a new release of the directors' collected short films, on Blu-ray.
---
---
However, for the tour, we are privy to a new program of three Quay Brother shorts, all of which are stunningly restored in 35mm. First there is the 2000 short film, In Absentia. As with all of the shorts you'll be seeing here, not only is this a hauntingly crafted bit of melancholic drama, but it is far closer to a tone poem than a true narrative picture. Teaming up with avant-garde composer Karlheinz Stockhausen, the film is set in an asylum, and tells the story of a woman who seems to be unable to get out of her what she wants to write in a letter, as her pencil continues to break. Shot in black and white, with bursts of color occasionally, in Cinemascope, this is one of the most beautiful animated shorts you'll ever see, and despite being heavy on the score, the film never seems manipulative, instead playing as a deeply provocative look at longing and emotion. It's an absolute treasure.
Next is a 1991 short known as The Comb. As you'll see almost right away, the film is a departure in many ways, primarily in their experimentation with a broader color palette. One of their warmest films, this story of one person's subconscious is still decidedly dark in tone and atmosphere, but has almost a Kafka-esque vitality to it, with reds playing a major part in the film's photography. Based on a work from writer Robert Walser, the film is beautifully scored and proves that these two filmmakers are able to do with roughly 20 minutes what most need two hours to do. And rounding out the trio of shorts is their first 35mm opus, the brilliant Street Of Crocodiles, which is not only their best short to date, but also a definitive text when attempting to break the code that is their filmography. Nightmarish and unshakably brooding, the film is alive with not only the grain of the 35mm, but a grittiness that comes from the puppet design, and the sets, which seem to be steeped in a cloud of dust and grime. Based on a book by Polish author Bruno Schulz, this short defies description, and is one of the most original and vibrant pieces of filmmaking to come in the last 30 years, feeling even more vital today than it could have in 1986.
Christopher Nolan's new short film will round out this tour, and for those interested in digging into these two filmmakers can check out play dates below, and make sure to find the Blu-ray of The Quay Brothers: Collected Short Films, which will include 12 more shorts, when it arrives from Zeitgeist and Syncopy on October 20.
THE QUAY BROTHERS – ON 35MM, a 70-minute program featuring stunning new 35mm prints of three short films by Stephen and Timothy Quay, alongside the world premiere of Christopher Nolan's short film QUAY, will make its debut in a one week run at New York City's Film Forum onWednesday, August 19. Nolan and the Quays will be together for opening night discussions (theQuays will be present throughout the first weekend).

This program will travel to 10 additional cities, including Dallas (Alamo Drafthouse Richardson, 9/3-7), LA (Cinefamily, 9/4-10 with appearances by Nolan), Houston (Museum of Fine Arts, 9/12-13), Austin (Alamo Drafthouse Ritz, 9/17), Cleveland (Cleveland Cinematheque, 9/24-27), Boston (Brattle Theatre, 9/25-10/1), Detroit (Detroit Institute of Art, 10/9-11), Seattle (SIFF Film Center, 10/9-15), Chicago (The Music Box Theatre, 10/16-22) and Toronto (TIFF Bell Lightbox Theater, 10/27). All four films will be shown EXCLUSIVELY in 35mm.