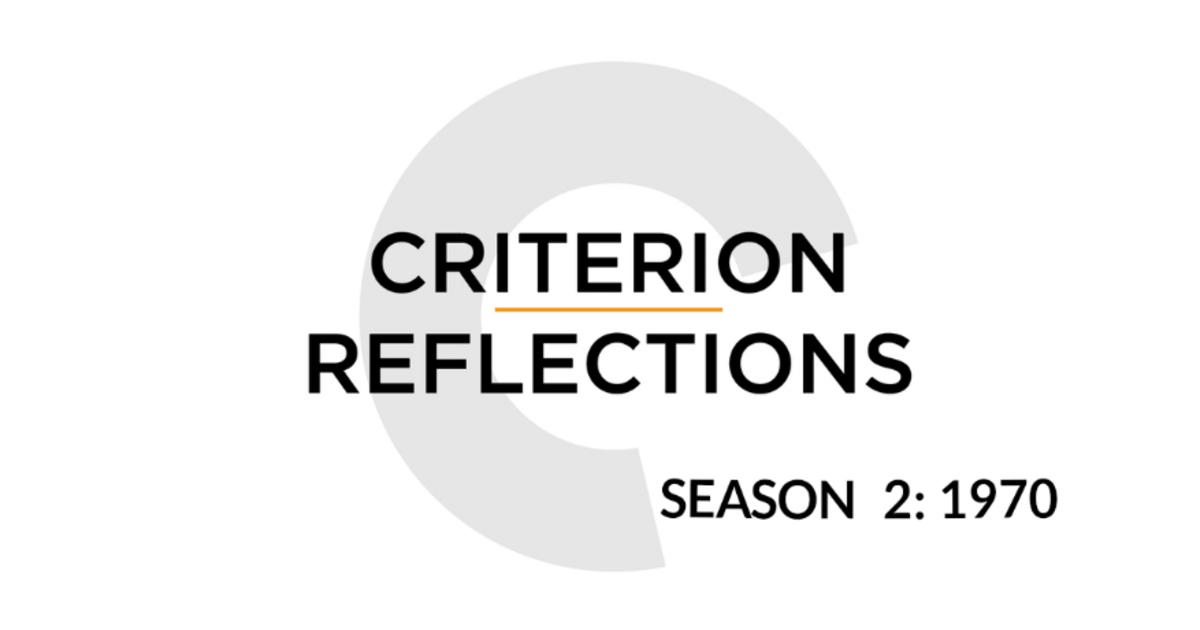 Podcast: Download (Duration: 3:54 — 4.0MB)
Criterion Reflections is David Blakeslee's ongoing project to watch all of the films included in the Criterion Collection in chronological order of their original release. Each episode in the second season of the podcast will feature conversations with a variety of guests offering insights on movies that originally premiered in 1970 and were destined to eventually bear the Criterion imprint. In this short teaser episode, David drops a few names and looks ahead to an amazing variety of films as he prepares to explore the unforgettable, confrontational cinema of the 1970s!
Here's the lineup, with release dates according to IMDb and links to more information about the films. This list is subject to change if Criterion adds more 1970 titles over the next few months:
Baal (1/7/70)
Zatoichi Meets Yojimbo (1/15/70)
The Honeymoon Killers (2/4/70)
Investigation of a Citizen Above Suspicion (2/12/70)
Tristana (3/29/70)
Gods of the Plague (4/4/70)
Multiple Maniacs (4/10/70)
The Scandalous Adventure of Buraikan (4/18/70)
Long Live the Bride and Groom (4/20/70)
The Confession (4/29/70)
The Shadow Within (6/6/70)
Beyond the Valley of the Dolls (6/17/70)
The Man Who Left His Will on Film (6/27/70)
A Test of Violence (6/30/70)
Crimes of the Future (6/30/70)
Zatoichi Goes to the Fire Festival (8/12/70)
Bed and Board (9/1/70)
Five Easy Pieces (9/11/70)
The American Soldier (10/9/70)
Equinox (10/15/70)
Valerie and Her Week of Wonders (10/16/70)
Le Cercle Rouge (10/20/70)
Dodes'Ka-Den (10/31/70)
Ciao, Federico! (10/31/70)
Bombay Talkie (11/18/70)
Gimme Shelter (12/6/70)
Claire's Knee (12/11/70)
Donkey Skin (12/20/70)
The Ear*
Maidstone*
The Grandmother*
The Machine of Eden*
Zorns Lemma*
* No release date currently available on IMDb
MORE!
CONTACT US:
If you are interested in joining me as a guest on an upcoming episode, don't be shy! I am willing to connect with you on Skype and listen to your pitch. Contact me via social media and let me know about you – that's how most of my guests first got involved!
Criterion Reflections logo designed by Brandon Blakeslee