Podcast: Download (35.5MB)
This is the podcast dedicated to The Criterion Collection. Ryan Gallagher  and  James McCormick  are joined by Melissa Molina from Latino Review to  discuss Criterion Collection news & rumors and new releases. They also discuss Criterion # 356, Jane Campion's 1989 film, Sweetie.
---
Though she went on to create a string of brilliant films, Jane Campion will always be remembered for her stunning debut feature, Sweetie, which focuses on the hazardous relationship between the buttoned-down, superstitious Kay and her rampaging, devil-may-care sister, Sweetie'"and on their family's profoundly rotten roots. A feast of colorful photography and captivating, idiosyncratic characters, the tough and tender Sweetie heralded the emergence of this gifted director, as well as a renaissance of Australian cinema, which would take the film world by storm in the nineties.
---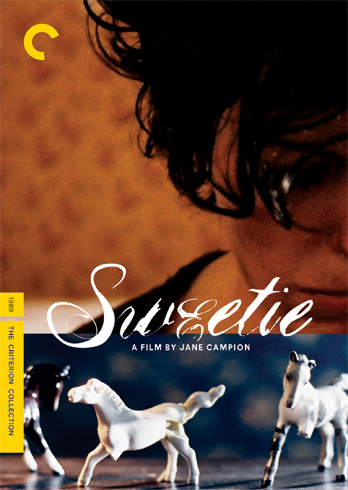 ---
---
What do you think of the show? Send your feedback to [email protected], call their voicemail line: 209-877-7335, follow them on twitter @CriterionCast or comment on the blog, http://CriterionCast.com.
Thank you for listening, don't forget to subscribe to the podcast and leave your reviews on iTunes.
On the next episode they will celebrate their 2 Year Anniversary!
---
Show Notes:
News Discussed:
Film Discussion:
---