Podcast: Download (40.1MB)
This week on the podcast, the team is joined by West Anthony to finish their month-long Technicolor arc by discussing Michael Powell and Emeric Pressburger's The Tales Of Hoffmann.
They also discuss the Oscar nominations, the latest Netflix news, and the January Criterion Collection titles.
Due to recent [unannounced] changes by our host, Mevio, this episode won't show up in our iTunes feed yet. This is frustrating, but not fatal. We'll be moving to a new host this weekend, and the iTunes feed will be just fine. Thanks for your patience.
About the film:
Michael Powell and Emeric Pressburger create a phantasmagoric marriage of cinema and opera in this one-of-a-kind take on a classic story. In Jacques Offenbach's fantasy opera The Tales of Hoffmann, a poet dreams of three women'"a mechanical performing doll, a bejeweled siren, and the consumptive daughter of a famous composer'"all of whom break his heart in different ways. Powell and Pressburger's feverishly romantic adaptation is a feast of music, dance, and visual effects, and one of the most exhilarating opera films ever produced.
Buy The Film On Amazon: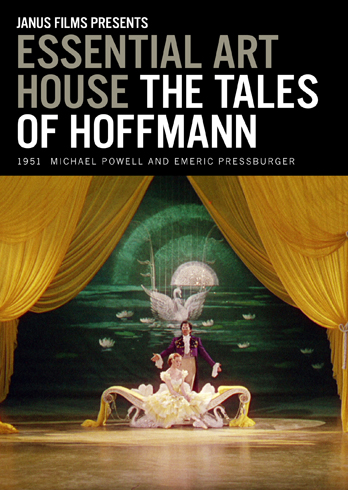 Netflix Link / Hulu Link
Trailer:
Episode Links:
Next week on the podcast: Masahiro Shinoda's Pale Flower