Podcast: Download (39.5MB)
This new podcast focuses on Criterion's Eclipse Series of DVDs. Hosts David Blakeslee and Robert Nishimura give an overview of each box and offer their perspectives on the unique treasures they find inside. To start things off, David and Robert discuss Silent Ozu: Three Family Comedies, a trio of formative works from early in the career of Yasujiro Ozu.
[Technical disclaimer: After the episode was recorded, we became aware of some slight but potentially distracting audio issues involving dropped sound and background noise. We chose to publish the track "as is," but please be assured that we will correct these problems in future episodes.]
About the films:
In the late twenties and early thirties, Yasujiro Ozu was working steadily for Shochiku studios, honing his craft on dozens of silent films in various genres, from romantic melodramas to college comedies to gangster pictures'"and, of course, movies about families. In these three droll domestic films'"Tokyo Chorus, I Was Born, But . . . ,  and  Passing Fancy, presented here with all-new scores by renowned silent-film composer Donald Sosin'"Ozu movingly and humorously depicts middle-class struggles and the resentments between children and parents, establishing the emotional and aesthetic delicacy with which he would transform the landscape of cinema.
Subscribe to the podcast via RSS or in iTunes (coming soon)
---
Buy The Film On Amazon: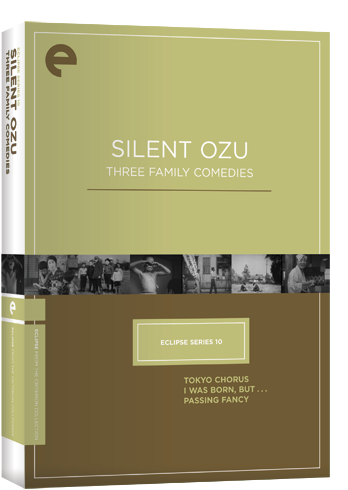 Hulu Plus Links:
---
Episode Links:
Tokyo Chorus:
I Was Born But…
Passing Fancy
---
Next time on the podcast:  Eclipse Series 26: Silent Naruse
Music for the show is from Fatboy Roberts' Geek Remixed project.
Contact us: