Podcast: Download (57.2MB)
This podcast focuses on Criterion's Eclipse Series of DVDs. Hosts David Blakeslee and Trevor Berrett give an overview of each box and offer their perspectives on the unique treasures they find inside. In this episode, David and Trevor discuss Eclipse Series 38: Masaki Kobayashi Against the System, four films (three early, one mid-career) that help provide a well-rounded understanding of one of Japan's greatest directors and cultural iconoclasts.
About the films:
One of the most important filmmakers to emerge from Japan's cinematic golden age, Masaki Kobayashi is remembered in great part today for his three-part epic The Human Condition (1959–61), but that is just one of the blistering films he made in a career dedicated to criticizing his country's rigid social and political orders. He first found his voice—rebellious, angry, engaged—in the fifties, following his life-altering experiences as a soldier in World War II; the four films collected here, made during the same period as The Human Condition, reflect Kobayashi's coming into his own as an artist. He fought to get these powerful dramas made at a studio more oriented at the time toward quiet family melodramas, and they are unforgettable depictions of a postwar Japan troubled by identity crises and moral corruption on scales both intimate and institutional.
Subscribe to the podcast via RSS or in iTunes.
Timeline for the podcast:
Introduction/Background (00:00:01 – 00:18:27)
The Thick Walled Room (00:18:28 – 00:48:22)
I Will Buy You (00:48:23 – 01:08:26)
Black River (01:08:27 – 01:28:59)
The Inheritance (01:29:00 – 01:58:15)
Conclusion (01:58:16 – 02:04:51)
Buy The Box Set On Amazon: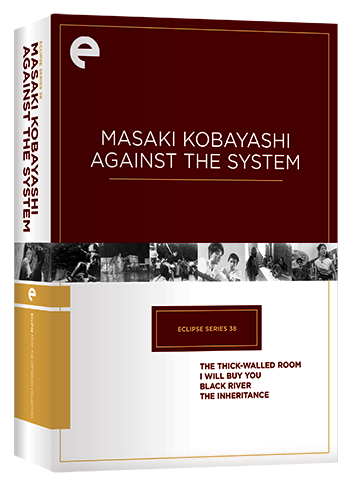 Episode Links:
Director Overview:
Box Set Reviews: 
The Thick Walled Room:
I Will Buy You:
Black River:
The Inheritance
Next time on the podcast: Eclipse Series 30: Sabu!
Contact us:
Twitter
Email: theeclipseviewer (at) gmail.com
David Blakeslee ( Twitter / Website )
Trevor Berrett ( Twitter / Website )