Podcast: Download (Duration: 1:50:16 — 50.6MB)
This podcast focuses on Criterion's Eclipse Series of DVDs. Hosts David Blakeslee and Trevor Berrett give an overview of each box and offer their perspectives on the unique treasures they find inside. In this episode, David and Trevor discuss Eclipse Series 15: Travels With Hiroshi Shimizu.
About the films:
Of all the directors who made names for themselves during the Japanese studio golden age of the 1930s, Hiroshi Shimizu was one of the most respected—and, today, one of the least well-known. A curious, compassionate storyteller who was fascinated by characters on the outskirts of society, Shimizu used his trademark graceful traveling shot to peek around the corners of contemporary Japan. In these four lyrical, beautifully filmed tales, concerning geisha, bus drivers, and masseurs, Shimizu journeys far and wide to find the makings of a modern nation.
Subscribe to the podcast via RSS or in iTunes.
Timeline for the podcast:
Introduction/Background (00:00:01 – 00:26:44)
Japanese Girls at the Harbor (00:26:45 – 00:47:40)
Mr. Thank You (00:47:41 – 01:07:17)
The Masseurs and a Woman (01:07:08 – 01:23:22)
Ornamental Hairpin (01:23:23 – 01:41:56)
Conclusion (01:41:57 – 01:50:15)
Buy The Box Set On Amazon: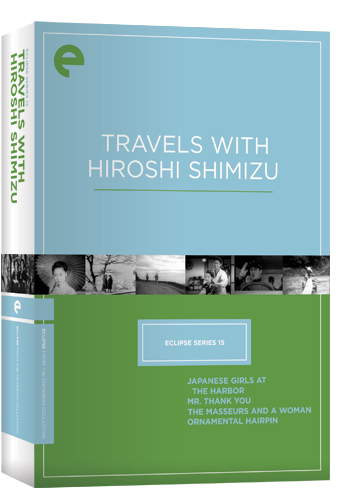 Episode Links
Director Overview:
Box Set Reviews:
Japanese Girls at the Harbor:
Mr. Thank You:
The Masseurs and a Woman:
Ornamental Hairpin:
Next time on the podcast: Eclipse Series 14: Rossellini's History Films – Renaissance and Enlightenment
Contact us: