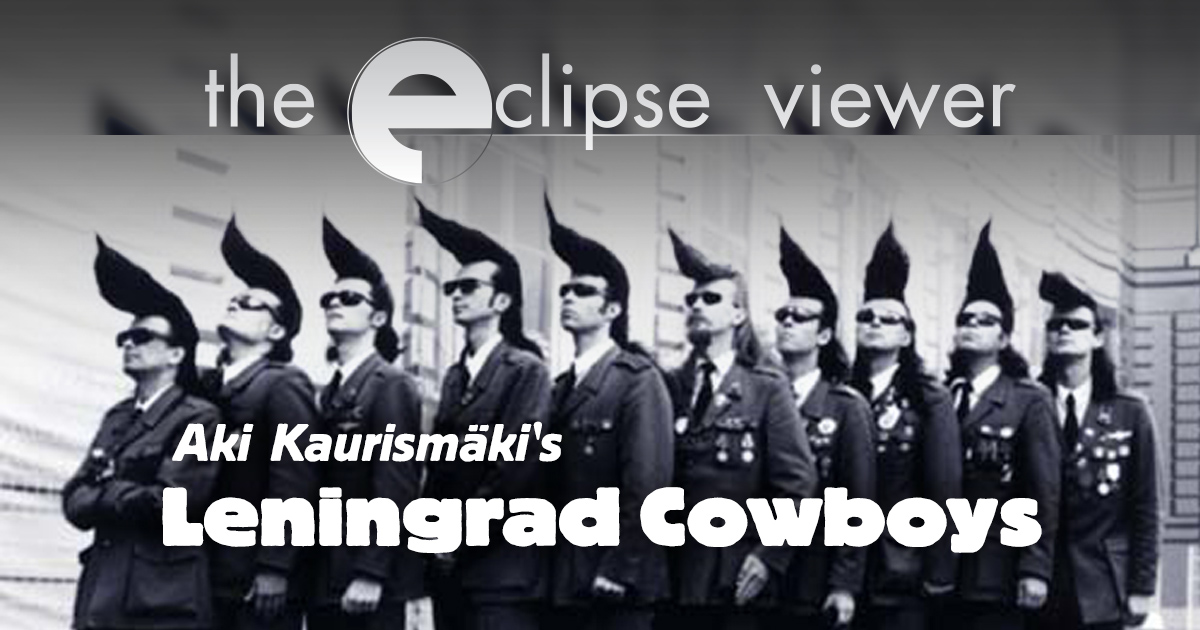 Podcast: Download (Duration: 1:20:20 — 37.3MB)
This podcast focuses on Criterion's Eclipse Series of DVDs. Hosts David Blakeslee and Trevor Berrett give an overview of each box and offer their perspectives on the unique treasures they find inside. In this episode, David and Trevor discuss Eclipse Series 29: Aki Kaurismäki's Leningrad Cowboys.
About the films:
In the late eighties, Aki Kaurismäki, a master of the deadpan, fashioned a waggish fish-out-of-water tale about a U.S. tour by "the worst rock-and-roll band in the world." Leningrad Cowboys Go America's posse of fur-coated, outrageously pompadoured hipsters struck such a chord with international audiences that the fictional band became a genuine attraction, touring the world. Later, Kaurismäki created a sequel, Leningrad Cowboys Meet Moses,and filmed a gigantic outdoor concert that the band put on in Helsinki, for the rollicking documentary Total Balalaika Show. With this Eclipse series, we present all three crackpot musical and comic odysseys, along with five Leningrad Cowboys music videos also directed by Kaurismäki.
Subscribe to the podcast via RSS or in iTunes.
Buy The Box Set On Amazon: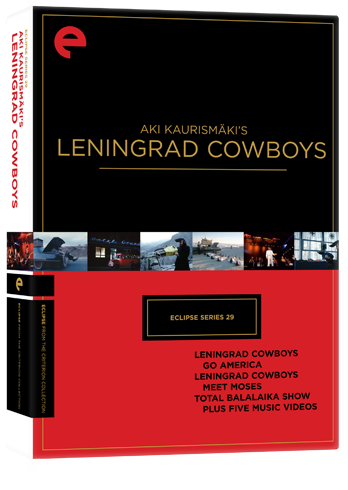 Episode Links
Aki Kaurismäki
Leningrad Cowboys
Official Band Site / Facebook / Twitter / YouTube
Spotify / Discogs / Setlist / AllMusic
Box Set Reviews
David's Journey Through the Eclipse Series review
Criterion Confessions review by Jamie S. Rich
DVD Verdict review by Gordon Sullivan
PopMatters review by Jose Solis
Slant Magazine review by Bill Weber
Cine Outsider review by Slarek (UK release)
Leningrad Cowboys Go America
New York Times review by Vincent Canby
Washington Post review by Hal Hinson (1991)
Spirituality and Practice review by Frederick and Mary Ann Brussat
Not Coming to a Cinema Near You review by Tina Hassannia
Leningrad Cowboys Meet Moses
Variety review by David Stratton
Total Balalaika Show
Full original concert (1′ 48″) on YouTube
Next time on the podcast: Eclipse Series 40: Late Ray 
Contact us