Podcast: Download (48.8MB)
This podcast focuses on Criterion's Eclipse Series of DVDs. Hosts David Blakeslee and Trevor Berrett give an overview of each box and offer their perspectives on the unique treasures they find inside. In this episode, David and Trevor conclude their conversation about Eclipse Series 1: Early Bergman, a collection of five films that helped Ingmar Bergman establish one of the richest bodies of work in 20th century cinema.
About the films:
Before The Seventh Seal and Wild Strawberries established him as one of the great masters of cinema, Ingmar Bergman created a series of devastating but less well-known psychological character studies, marked by intricate, layered narratives, gritty environments, and haunting visuals. These early films, which show the stirrings of the genius to come, remain the hidden treasures of a European cinema on the cusp of a golden age.
Subscribe to the podcast via RSS or in iTunes.
Timeline for the podcast:
Introduction/Background (00:00:01 – 00:09:14)
Thirst (00:09:15 – 00:39:00)
To Joy (00:39:01 – 01:18:45)
Conclusion (01:18:46 – 01:46:22)
Buy The Box Set On Amazon: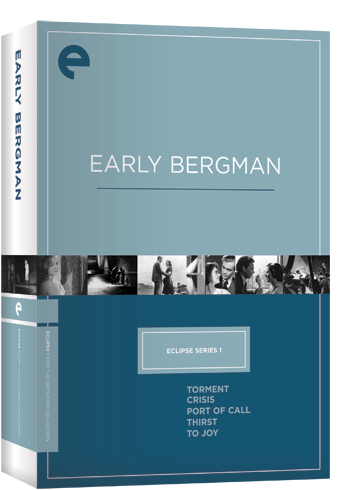 Episode Links:
Director Overview:
Ingmar Bergman in The Criterion Collection
Career overview in The Guardian by Joe Queenan
The Private World of Ingmar Bergman in W Magazine by Diane Solway
Breaking Down Bergman, an ongoing, comprehensive series of video reviews on YouTube
Thirst:
To Joy:
Next time on the podcast: Eclipse Series 38: Masaki Kobayashi Against the System
Contact us:
Twitter
Email: theeclipseviewer (at) gmail.com
David Blakeslee ( Twitter / Website )
Trevor Berrett ( Twitter / Website )