Podcast: Download (0.0KB)
This podcast focuses on Criterion's Eclipse Series of DVDs. Hosts David Blakeslee and Robert Nishimura give an overview of each box and offer their perspectives on the unique treasures they find inside. In this episode, David and Robert discuss Larisa Shepitko, two films by the brilliant but little known Soviet director whose artistic output was cut off prematurely by her death in 1979.
About the films:
The career of Larisa Shepitko, an icon of sixties and seventies Soviet cinema, was tragically cut short when she was killed in a car crash at age forty, just as she was emerging on the international scene. The body of work she left behind, though small, is masterful, and her genius for visually evoking characters' interior worlds is never more striking than in her two greatest works: Wings, an intimate yet exhilarating portrait of a female fighter pilot turned provincial headmistress, and The Ascent, a gripping, tragic wartime parable of betrayal and martyrdom. A true artist who had deftly used the Soviet film industry to make statements both personal and universal, Shepitko remains one of the greatest unsung filmmakers of all time.
Subscribe to the podcast via RSS or in iTunes.
Timeline for the podcast:
Introduction (00:00:01 – 00:08:13)
Wings (00:08:14 – 00:39:59)
The Ascent (00:53:36 – 01:26:00)
Conclusion (01:26:01 – 01:34:25)
---
Buy The Box Set On Amazon: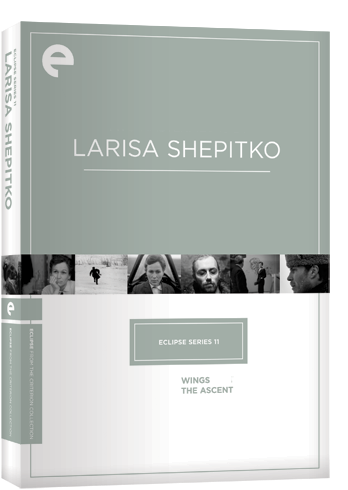 Hulu Plus Links:
---
Episode Links:
Shepitko Overview:
Biographical Feature from The Guardian
Tribute to Shepitko and Elem Klimov (her husband) from Seagull Films
Larisa (1980), a 20 minute documentary directed by Shepitko's husband Elem Klimov after her death. (in Russian, with Spanish subtitles)
Wings:
You and I:
The Ascent:
Vimeo profile, with film clips mentioned in this episode:
---
Next time on the podcast: Eclipse Series 5: The First Films of Samuel Fuller
Music for the show is from Fatboy Roberts' Geek Remixed project.
Contact us: