Podcast: Download (57.2MB)
This podcast focuses on Criterion's Eclipse Series of DVDs. Hosts David Blakeslee and Robert Nishimura give an overview of each box and offer their perspectives on the unique treasures they find inside. In this episode, David and Robert are joined by special guest West Anthony to discuss The First Films of Samuel Fuller, a collection of three films that Fuller released between 1949 and 1951.
About the films:
His films have been called raw, outrageous, sensational, and daring. In four decades of directing, Samuel Fuller created a legendarily idiosyncratic oeuvre, examining U.S. history and mythmaking in westerns, film noirs, and war epics. And characteristically, it all began with a bang: after printing the legend with the elegant B-pictures  I Shot Jesse James  and  The Baron of Arizona,  he got himself into hot water with the  FBI  on  The Steel Helmet,  the first American movie to portray the Korean War. These three independent films showed off Fuller's genre diversity, gutter wit, and subversive force, and pointed the way to a controversial career in studio moviemaking.
Subscribe to the podcast via RSS or in iTunes.
Timeline for the podcast:
Introduction (00:00:01 – 00:07:21)
I Shot Jesse James  (00:07:22 – 00:41:07)
The Baron of Arizona  (00:41:08 – 01:16:14)
The Steel Helmet  (01:16:15 – 01:59:33)
Conclusion (01:59:34 – 02:04:40)
---
Buy The Box Set On Amazon: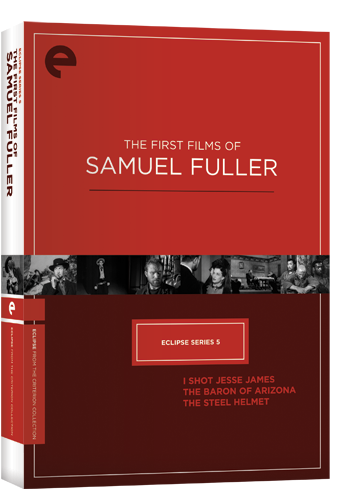 ---
Episode Links:
Fuller Overview:
"Why Samuel Fuller?"  Senses of Cinema essay by Tag Gallagher
The Narrative Tabloid of Samuel Fuller by Grant Tracey from Images Journal
Samuel Fuller Spills His Guts by Jonathon Rosenbaum
I Shot Jesse James:
The Baron of Arizona:
---
Next time on the podcast: Eclipse Series 35: Maidstone and Other Films by Norman Mailer
Contact us: