Podcast: Download (39.9MB)
This podcast focuses on Criterion's Eclipse Series of DVDs. Hosts David Blakeslee and Robert Nishimura give an overview of each box and offer their perspectives on the unique treasures they find inside. In this episode, David and Robert are joined by Josh Brunsting as they begin a two-part discussion of  The Actuality Dramas of Allan King.  This episode will focus on the three earliest films in this five-disc set, released between 1967 and 1973.
About the films:
Canadian director Allan King is one of cinema's best-kept secrets. Over the course of fifty years, he shuttled between features and shorts, big-screen cinema and episodic television, comedy and drama, fiction and nonfiction. It was with his cinema-verité-style documentaries, though'"his 'actuality dramas,' as he called them'"that King left his greatest mark on film history. These startlingly intimate studies of people whose lives are in flux'"damaged children, warring spouses, the terminally ill'" always done without narration or interviews, are riveting and at times emotionally overwhelming. Humane, cathartic, and important, Allan King's spontaneous portraits of the everyday demand to be seen.
Subscribe to the podcast via RSS or in iTunes.
Timeline for the podcast:
Introduction (00:00:01 – 00:06:54)
Warrendale  (00:06:55 – 00:34:49)
A Married Couple  (00:34:50 – 00:58:41)
Come On Children  (00:58:42 – 01:19:50)
Conclusion (01:19:51 – 01:27:01)
---
Buy The Box Set On Amazon: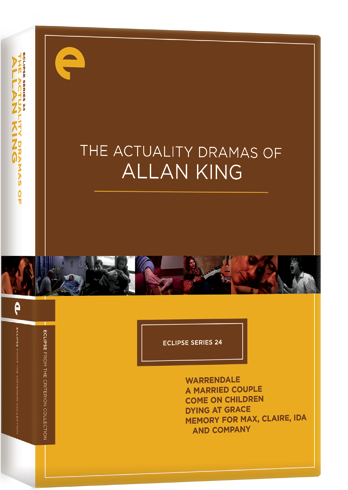 ---
Episode Links:
King Overview:
Warrendale:
[youtube http://www.youtube.com/watch?v=PcORA1Uq5LM?rel=0&w=640&h=480]
A Married Couple:
---
Next time on the podcast: Eclipse Series 24: The Actuality Dramas of Allan King  (Part 2 of 2)
Contact us: