Podcast: Download (47.2MB)
This podcast focuses on Criterion's Eclipse Series of DVDs. Hosts David Blakeslee and Trevor Berrett give an overview of each box and offer their perspectives on the unique treasures they find inside. In this episode, David and Trevor talk about Three Popular Films by Jean-Pierre Gorin, the French director's so-called "Southern California Trilogy," a collection of three films released between 1980 and 1992.
About the films:
Jean-Pierre Gorin, widely known for his collaborations with Jean-Luc Godard in the Dziga Vertov Group (including Tout va bien), established his personal voice with this trio of fascinating, nontraditional documentaries. Made in Southern California after the filmmaker relocated there in the midseventies, Poto and Cabengo, Routine Pleasures, and My Crasy Life illuminate hidden corners of our culture. With these films, Gorin revealed himself as a major chronicler of American life at its most hauntingly enigmatic.
Subscribe to the podcast via RSS or in iTunes.
Timeline for the podcast:
Introduction/Tout va bien/Letter To Jane (00:00:01 – 00:17:47)
Poto and Cabengo (00:17:48 – 00:41:07)
Routine Pleasures (00:41:08 – 01:11:35)
My Crasy Life (01:11:36 – 01:35:05)
Conclusion (01:35:06 – 01:42:51)
---
Buy The Box Set On Amazon: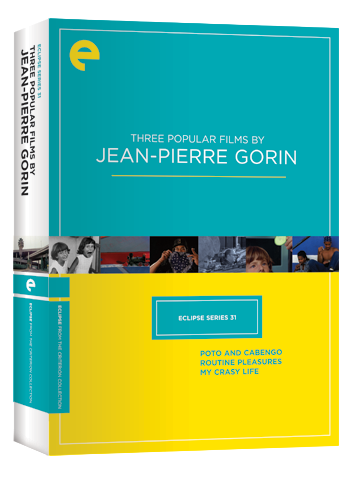 ---
Episode Links:
Gorin Overview:
Three Popular Films Set Reviews:
Poto and Cabengo:
Routine Pleasures:
---
Next time on the podcast: Eclipse Series 9: The Delirious Fictions of William Klein
Contact us: