Podcast: Download (49.3MB)
This podcast focuses on Criterion's Eclipse Series of DVDs. Hosts David Blakeslee and Trevor Berrett give an overview of each box and offer their perspectives on the unique treasures they find inside. In this episode, David and Trevor talk about The Delirious Fictions of William Klein, three features shot in the 1960s and 70s by the celebrated and influential fashion photographer.
About the films:
William Klein's explosive New York street photography made him one of the most heralded artists of the sixties. An American expatriate in Paris, Klein has also been making challenging cinema for more than forty years, yet with the exception of his acclaimed documentary Muhammad Ali, the Greatest, his film work is barely known in the United States. In his three fiction features—Who Are You, Polly Maggoo?, Mr. Freedom, and The Model Couple—he skewers the fashion industry, American empire, and governmental mind control with hilarious, cutting aplomb. Today Klein's politically galvanizing social critiques seem even more acute than the works of the better-known New Wavers. These are colorful, surreal antidotes to all forms of social oppression.
Subscribe to the podcast via RSS or in iTunes.
Timeline for the podcast:
Introduction/Background (00:00:01 – 00:18:00)
Who Are You, Polly Maggoo? (00:18:01 – 00:45:00)
Mr. Freedom (00:45:01 – 01:13:50)
The Model Couple (01:13:51 – 01:36:40)
Conclusion (01:36:41 – 01:47:28)
Buy The Box Set On Amazon: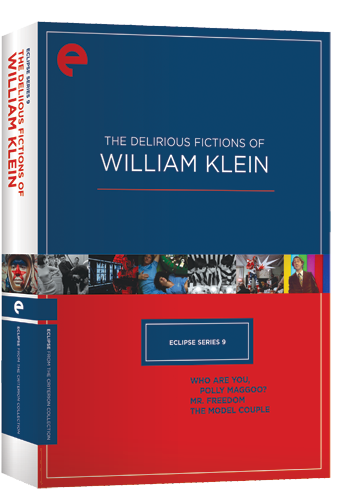 Episode Links
Director Overview:
Broadway By Light (1958 short film by William Klein):
Retrospective on William Klein in FT Magazine
2008 Interview with William Klein in Cineaste Magazine by Jared Rapfogel
Klein page on Masters of Photography
Box Set Reviews:
Criterion Confessions review by Jamie S. Rich
DVD Savant review by Glenn Erickson
DVD Verdict review by Gordon Sullivan
Who Are You, Polly Maggoo?:
David's Journey Through the Eclipse Series Review
The Real Polly Maggoo (2013 essay by Dorothy McGowan from Harpers Magazine)
Cinema Enthusiast review by Catherine Stebbins
Shock Cinema review by Steven Puchalski
Mr. Freedom:
David's Journey Through the Eclipse Series Review
New York Times review by Vincent Canby
Kitty Sneezes review by Rev. Syung Myung Me
CHUD review by Mike Flynn
Through the Shattered Lens review by Lisa Marie Bowman
The Model Couple:
David's Journey Through the Eclipse Series Review
New York Times review by Janet Maslin
Kitty Sneezes review by Rev. Syung Myung Me
Next time on the podcast: Eclipse Series 12: Aki Kaurismäki's Proletariat Trilogy
Contact us:
Twitter
Email: theeclipseviewer (at) gmail.com
David Blakeslee ( Twitter / Website )
Trevor Berrett ( Twitter / Website )