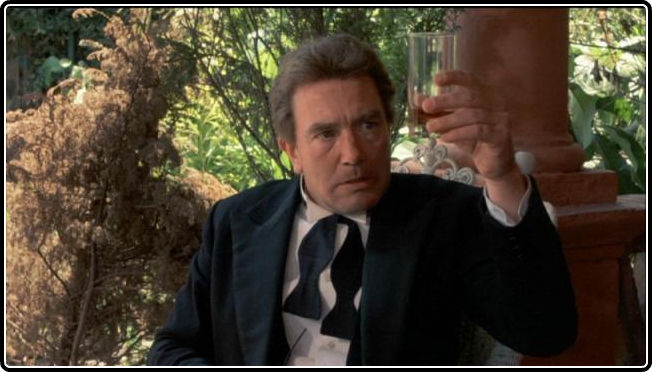 Podcast: Download (73.8MB)
This is the podcast dedicated to The Criterion Collection. Rudie, Ryan & Travis discuss Criterion News & Rumors, Criterion New Releases, they analyze, discuss & highlight CC #410, John Huston's 1984 film, UNDER THE VOLCANO, plus Criterion Trivia, and 'Variations of a Theme'.
This week's theme: Alcoholism in Movies
Criterion Trivia Question for the month of October: 'What was the name of the small town in New Mexico where Thomas Jerome Newton had fallen to earth in the Sci-Fi classic, Nicolas Roeg's The Man Who Fell To Earth?"
Please send your answer to [email protected]. You have until October 31th 2009 to be eligible to win. Please include in your email, Your Name; Your Location; and Your Mailing Address. One winner will be selected out of all the correctly answered entries. The selection of October's winner will take place during the first episode in November 2009. The winner will receive a $10 gift certificate for The Criterion Store (criterion.com) from The CriterionCast (us).
What do you think of our show? Is there a Criterion Film you would like us to review? Please send you're feed back: [email protected] or call our voicemail line @ 347.878.3430 or follow us on twitter @CriterionCast or Comment on our blog http://criterioncast.com
Thank You! for listening. Don't forget to subscribe to our podcast and please leave your reviews in our itunes feed.
Our next episode we will cover CC #51 Terry Gilliam's BRAZIL.
The Private World of Ingmar Bergman by Diane Solway from W Magazine.
Show Notes:
(00:00 – 00:15; "A United Theory" by God Help The Girl)
(00:16 – 01:36; The CriterionCast – Episode 010 – Under The Volcano)
(01:37 – 01:45; News & Rumors)
(01:46 – 09:45; Ingmar Bergman's FÃ¥rö Island)
(09:46 – 20:33; Paying for Hulu?)
(20:34 – 27:06; DiCaprio & Maguire in The Third Man Remake?)
(27:07 – 30:16; 8 1/2 On Criterion Blu-Ray)
(30:17 – 31:20; Break Music by Carlos Segovia)
(31:21 – 57:26; Under The Volcano – CC #410)
(57:27 – 58:29; Break Music by Carlos Segovia)
(58:30 – 59:11; Trivia)
(59:12 – 1:15:49; Variations On a Theme – Alcoholism In Movies)
(1:15:50 – 1:16:21; Wrap Up & Contact Info)
(1:16:22 – 1:17:09; Feed Change)
(1:17:10 – 1:17:18; Podcast Credits)
(1:17:19 – 1:18:40; Next – Terry Gilliam's Brazil – CC #51)
(1:18:41 – 1:18:51; Goodbyes)
(1:18:52 – 1:19:49; "Working Poor" by Horse Feathers)
(1:19:50 – 1:20:34; Outtakes!!)
Credits:
Intro Music by God Help The Girl. Learn more on iTunes and their website, http://GodHelpTheGirl.com.
Break Music by Carlos Segovia. Learn more @ GhostRamps.com.
Outro Music by Horse Feathers. Learn more on iTunes and their MySpace Page http://MySpace.com/HorseFeathersMusic.