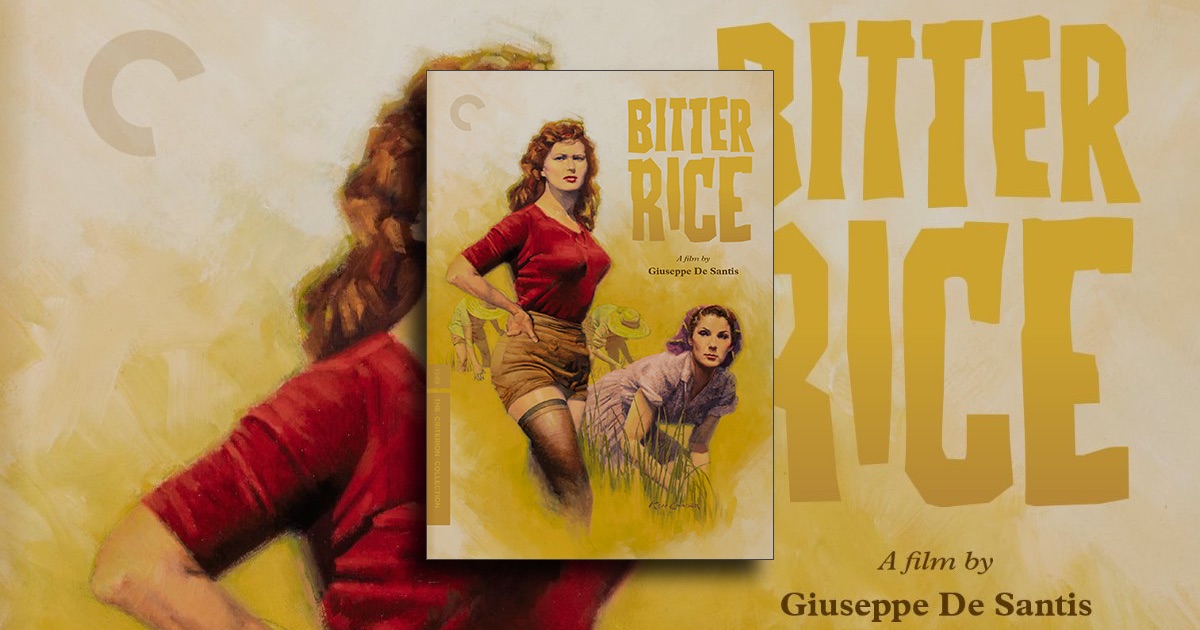 This week the Criterion Collection released Giuseppe De Santis's 1949 film, Bitter Rice.
Both a socially conscious look at the hardships endured by underpaid field workers and a melodrama tinged with sex and violence, this early smash for producer extraordinaire Dino De Laurentiis and director Giuseppe De Santis is neorealism with a heaping dose of pulp.
Bitter Rice is currently available to stream on Hulu Plus. Order the Blu-ray from Amazon.
Throughout the year, Press Notes will collect various links to reviews of new Criterion Collection releases from around the web, published on the release date and updated as new reviews are posted.
---
The new transfer is very good. I did some direct comparisons with the old R2 Italian DVD release and can confirm that the improvements in terms of detail, clarity, and especially depth are quite remarkable. Even in areas where it is obvious that time has left its mark the improvements are substantial. The image is also much better balanced – there is a wider range of nuanced grays that is simply missing on the old DVD release. Grain is retained quite well, but there are some inherited density fluctuations. The most obvious ones occur before or after select transitions, though they never become overly distracting. There are no traces of compromising sharpening adjustments.
Svet also notes a potential error with the disc:
On my disc there appears to be a small mastering defect. There is a short sequence with multiple quick skips/dropped frames which begins at 01.17.59 and ends around 01.18.10. They can be seen as the ill girl slowly walks down the stairs. At the moment I do not know if the defect appears only on my disc, but I have contacted Criterion and will make a clarification when I have proper information. I have a market version of Bitter Rice.
I recall enjoyed the Italian DVD transfer – many years ago – but even back then seeing the edge-enhancement. It's brittle, boosted and – compared to Criterion's new Blu-ray – is marginally cropped. The 1080P is diffused and contrast a bit muted but it still a gigantic improvement over the old SD. The Criterion is dual-layered with a max'ed out bitrate and probably as good as the film will ever look for home theater consumption.
The Criterion Collection's Blu-ray of Bitter Rice looks terrific — somebody finally accessed original materials (a new restoration) to replace the unwatchable older prints. I can't tell if this is any longer than what New Yorkers saw in 1950, but there are a couple of cuts in the girl-fight scenes that would seem highly censorable — not to mention a Silvana Mangano dance gesture or two that might have given the censor a conniption fit. The attractive B&W images surely make those rice field more pleasant than they were in real life. The audio is in fine shape; it includes some cues of what sound like real working songs. In a fine scene, the women make up lyrics to express their complaints, like the tobacco factory workers in the opera Carmen.
Bitter Rice (Blu-ray) Criterion Collection receives a humble but effective hi-def release, sporting only a small handful of supplements and a discounted price tag. The HD transfer is mostly terrific, offering impressive depth and detail despite a few moments of obvious damage. A pleasant layer of natural grain has been left intact.
Criterion's excellent recuperation seems crafted especially for fans of Italian neorealism who enjoy a bit of genre spice because Bitter Rice is a steamy dish.
Bitter Rice probably won't be a highlight of the year for me, as Il Sorpasso was a few years ago, but I still found it engaging and remarkably well crafted, despite all of the shifts and transitions — indeed, because of them. It is definitely a film I'll return to soon.
By the Criterion Collection's standards, this Blu-ray for Bitter Rice is slightly over par, primarily due to a high-definition transfer that looks and sounds just fine, but lacks the "oomph" seen and heard from any number of the company's show-stopping releases from the past few years. While grain and depth of field are often sharp, the color timing and saturation often waver, lacking the consistency that a finer, more attuned 2K or 4K restoration would have undoubtedly found. Moreover, there are noticeable marks and scratches within the frame throughout. The monaural track is serviceable, if unremarkable, in its presentation of both score and dialogue.
Bitter Rice, as curated by Criterion, speaks to the strengths of what the company does, and how it does it. Here we have an increasingly obscure career highlight of an important filmmaker, rescued and made available in classy, informative, and entertaining fashion. Not forsaking its politics for its effective dime novel plot, or vice verse, Giuseppe De Santis' Bitter Rice is something of a masterpiece. There's something for almost everyone, and it's a delight to discover.
Criterion's Blu-ray looks and sounds good, especially in high-contrast nighttime and interior scenes. Included on the disc is an hour-length, biographical documentary on director Giuseppe de Santis made by his frequent collaborator—and Bitter Rice screenwriter—Carlo Lizzani (who also appears in a separate, seven-minute interview specifically about this film.) Bitter Rice is an easy recommendation, particularly as it's one of Criterion's budget titles.