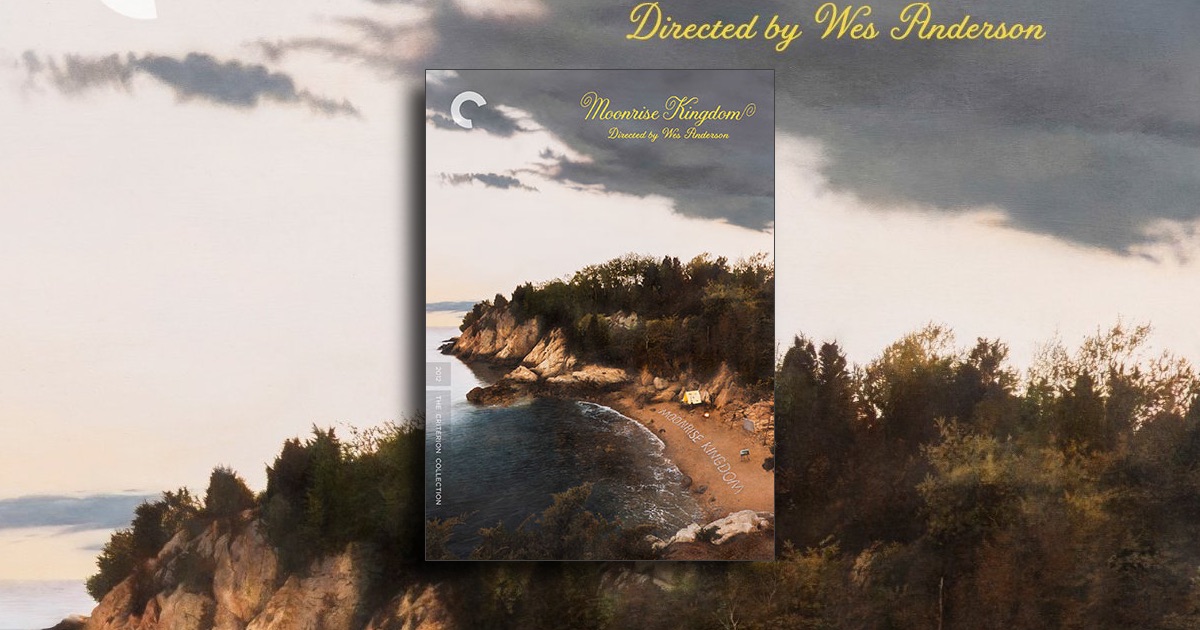 When Wes Anderson's Moonrise Kingdom finished its theatrical run in 2012, and was released by Focus Features on Blu-ray that fall, many immediately (and rightfully) called for Criterion fans to wait for the inevitable director-approved edition. It is certainly no secret that Wes Anderson wants all of his films to get spine numbers in the Collection. This has been confirmed by Criterion at past Wexner talks, as well as other interviews. It's just a matter of waiting until Criterion is ready, and the licensing agreements are set. We still have another year or two until we get our Criterion edition of The Grand Budapest Hotel. Today, fortunately, Moonrise Kingdom finally joins the Criterion Collection on Blu-ray and DVD.
An island off the New England coast, summer of 1965. Two twelve-year-olds, Sam and Suzy, fall in love, make a secret pact, and run away together into the wilderness. As local authorities try to hunt them down, a violent storm is brewing offshore . . .
This year's Wacky New Year's Drawing featured a village beneath a rising moon, tipping us off that Moonrise Kingdom was on the way (it may have been discussed at last year's Wexner talk as well). In April, Criterion announced it would come to the collection on July 21st, but didn't have the artwork ready. A few months went by and finally Criterion announced that the release was to be delayed until September. The incredible artwork from Michael Gaskell was unveiled back in June, and it was certainly worth waiting for.
This release features Criterion's first digipak (cardboard packaging) of the year (so far). It contains a number of other pieces of ephemera as well: a map, a postcard / photo, a booklet, even a flyer to the "summer pageant"! I posted some shots of the packaging here. While past years have seen many digipaks released, this year has been exclusively the jewel case style (the scanavo plastic cases). It seems likely that the Apu Trilogy box set will also feature a digipak release, similar to past box sets (like the Roberto Rossellini / Ingrid Bergman box).
I've gathered some quotes and links from around the web for this excellent new release from Criterion below.
Order the Blu-ray or DVD from Amazon.
---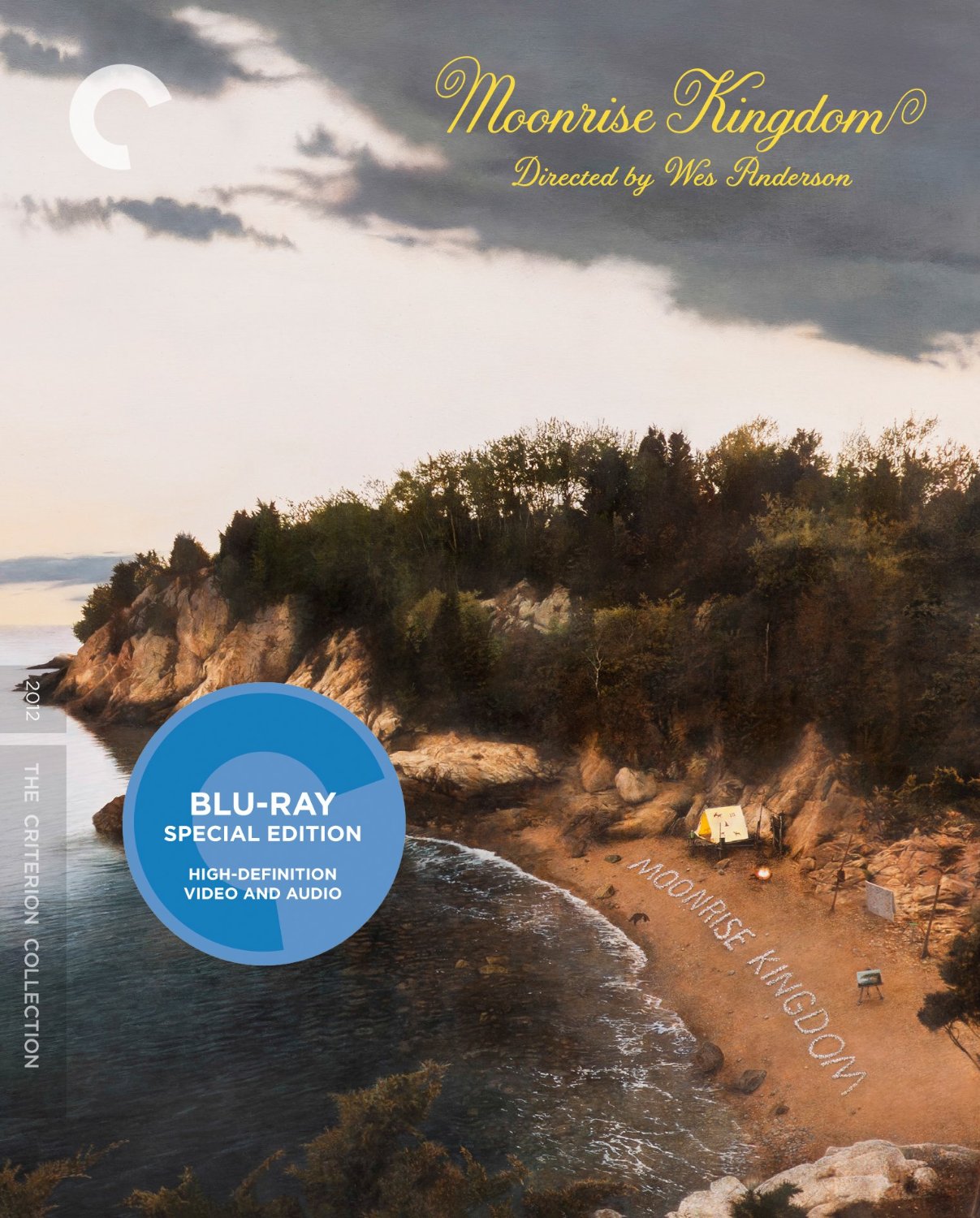 ---
Blu-ray.com by Svet Atanasov
The film looks strikingly lush and fluid. A lot of post-production work was done on it, but the level of detail and clarity is consistently pleasing. Some minor contrast fluctuations are present, but they are part of the original cinematography. The unique color scheme is beautifully reproduced. Obviously, the rich yellows and browns give the film a very specific warm appearance, but there is good range of different colors. Overall image stability is outstanding. Finally, there are no serious transfer-specific anomalies to report in our review.
Cinema Retro by Raymond Benson
Visually, the restored 2K digital transfer, supervised by Anderson, is the kind of picture one would use to demonstrate the joys of Blu-ray to a novice.
Criterion Confessions by Jamie S. Rich
Every frame of Moonrise Kingdom is carefully planned. Robert D. Yeoman's camera is placed just so, and the actors–who are uniformly excellent–are positioned in front of it in an exact way. The things they carry with them and the clothes they wear are tailored to fit Anderson's storybook world, and logic and reality bend to conform to his boundless imagination.
Criterion Forum by Chris Galloway
The video presentation and the supplements leave a bit to be desired: the video suffers from some compression and noise in the darker sequences and the supplements (save for the commentary and maybe the Norton videos) feel like material most studios would have put together themselves. The packaging is great but I'm not sure if it's a good thing when that is a releases' standout aspect.
DVD Beaver by Gary Tooze
The Criterion is advertised as a "Restored 2K digital transfer, supervised by director Wes Anderson". As far as my eye and software extend – it looks almost exactly the same as the previous Universal. It remains 'bathed in golden yellows' mimicking the theatrical appearance. The Criterion is less technically robust than the Universal but I can't ascertain any difference in the visuals.
DVD Talk by Francis Rizzo
Once again, Criterion meets Anderson on his level, matching his brilliant story of young love with another exemplary set loaded with quality that goes beyond the disc itself. The most well-rounded of Anderson's canon, Moonrise Kingdom offers a little of everything, all wrapped up in a stunning display of his exquisite signature style, while the disc looks and sounds terrific and the supplements and bonus inserts make for a satisfying package for any fan to enjoy. After waiting a few years, the faithful should get a copy immediately.
Slant by Chuck Bowen
Criterion offers yet another gorgeous restoration of a Wes Anderson film, one of his best in this case, stalwartly continuing to ensure that one of America's finest directors is properly recognized for the master artist that he's become.