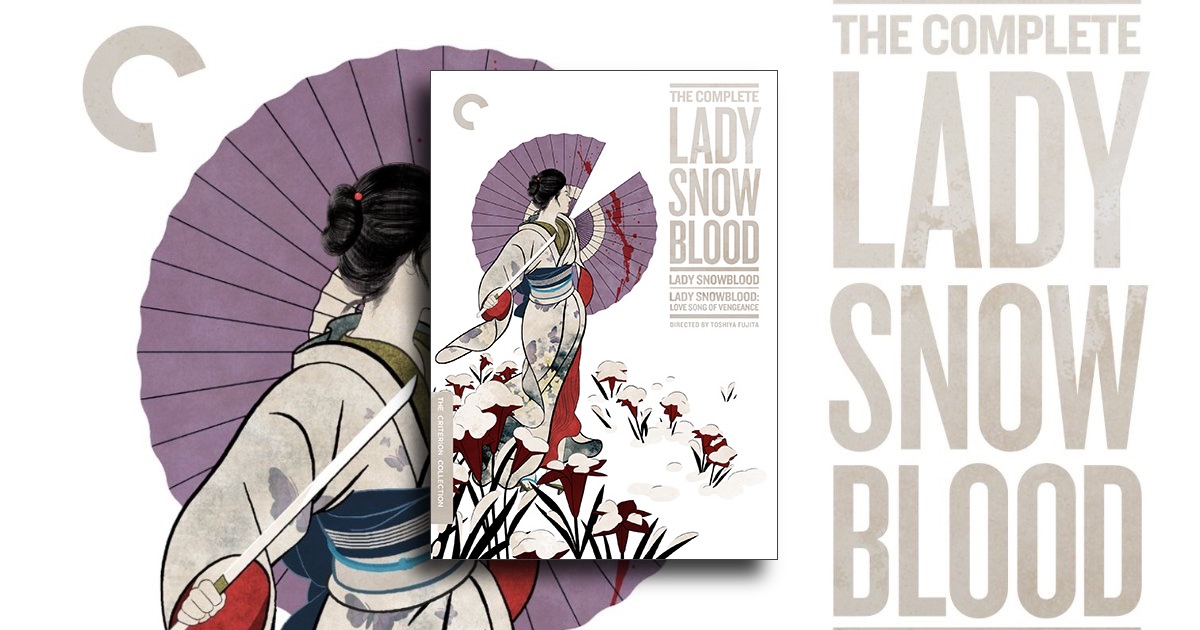 Today the Criterion Collection released their first Blu-ray "box set" for 2016: Toshiya Fujita's films, Lady Snowblood and Lady Snowblood: Love Song of Vengeance, collected as The Complete Lady Snowblood.
While not quite a box set in my eyes, it is still a fantastic collected edition of two influential films. The Lady Snowblood films were added to the Criterion Collection's iTunes channel last year, and we're all keeping our fingers crossed that the Lone Wolf and Cub films will join the collection in 2016.
A young woman (Meiko Kaji), trained from childhood as an assassin and hell-bent on revenge for the murders of her father and brother and the rape of her mother, hacks and slashes her way to gory satisfaction in turn-of-the-twentieth-century Japan. Rampant with inventive violence and spectacularly choreographed swordplay, Toshiya Fujita's pair of influential cult classics Lady Snowblood and Lady Snowblood: Love Song of Vengeance are bloody, beautiful extravaganzas composed of one elegant widescreen composition after another. The first Lady Snowblood was a major inspiration for Quentin Tarantino's Kill Bill saga, and both of Fujita's films remain cornerstones of Asian action cinema.
---
---
Order the Blu-ray from Amazon.
Throughout the year, Press Notes will collect links to reviews of new Criterion Collection releases from around the web, published on the release date and updated as new reviews are posted.
---
These films were initially released on Blu-ray by Arrow Video in the UK. Both were sourced from dated masters and while they looked rather good it was easy to see various inconsistencies and source limitations. On this upcoming release the films look notably healthy and a lot fresher. This is hardly surprising, however, as both are sourced from new 2K restorations. In terms of detail and depth the improvements are quite dramatic; fluidity is also substantially better. Contrast and brightness are also better balanced. In fact, there are segments with some pretty substantial improvements. The most dramatic changes, however, are in the area of color reproduction. There are entirely new color identities (and nuances) that change the atmosphere of select sequences and as a result the viewing experience is different.
The transfer itself is also very clean. It does share the disc with another film and a handful of features, but the encode actually looks pretty good, and I didn't detect the usual issues I've come across lately, at least in darker scenes, where blocking patterns are evident. Film grain is present and looks adequately rendered and natural largely. And despite the issues I mentioned previously, where some details get washed out in dark objects because of the contrast boosting, detail levels are very good throughout in brighter areas. The source can have some minor fluctuations and there can be some softer shots, but generally speaking the image is pretty sharp and I was very pleased with this aspect.
Wow. I can't recall a more dramatic difference in Blu-ray visuals. The Criterion is cited as a 'new 2K digital restorations of both films'. You can see the Criterion is significantly brighter – almost excessively so (occasionally losing detail), crushed blacks – it is saturated and leans towards a bluish hue. I have no idea of the original theatrical appearance but the Criterion looks much crisper to me – and it gave me significantly richer presentation – colors are exuberant (especially blood). There is slightly more information in the frame on the Criterion. Technically, they are similar – both films share a dual-layered disc. I expect some fans will appreciate the new Criterion look – it breathes some vibrant life into Lady Snowblood. I would think the preferred look might be in-between the two transfers.