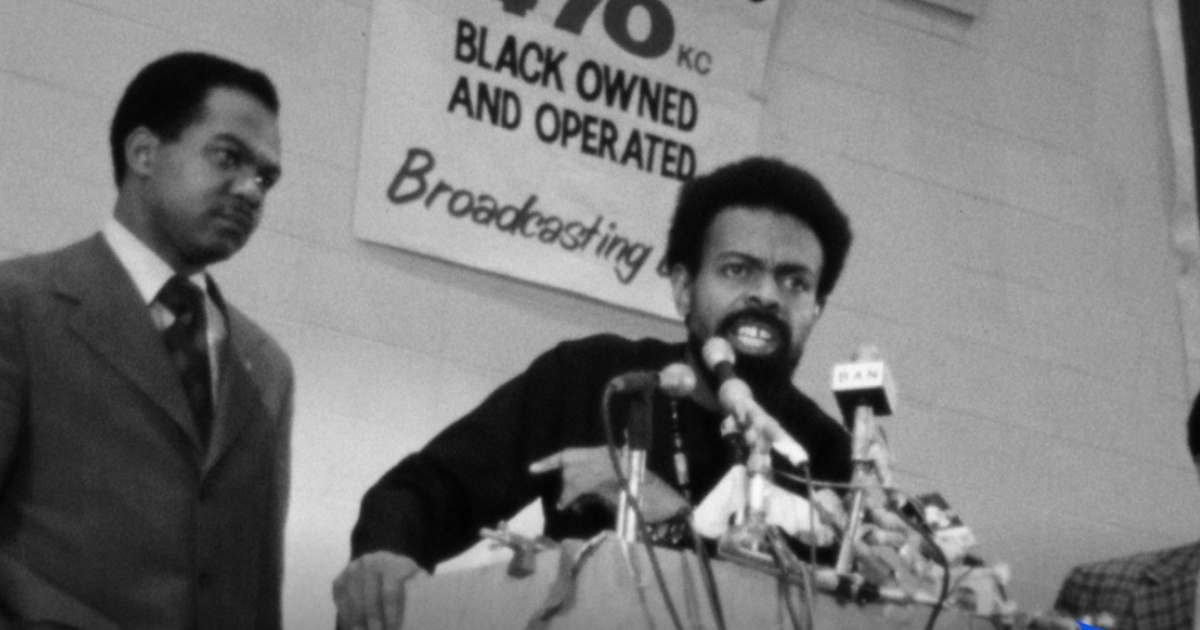 So, with one quarter of 2021 now in the books, it's time to take stock of what 2021 has given us so far with regards to home video releases. Hundreds are released each month so here are the seven best from the first quarter of the year that you absolutely need to own.
7. Jazz on a Summer's Day (Kino Lorber)
Starting off this list of must own Blu-rays of 2021 (again, so far. This is going to be a quarterly collection), we have the essential music documentary yet to see store shelves this year. From director Bert Stern comes Jazz on a Summer's Day, a brilliant and engrossing look into the historic 1958 Newport Jazz Festival. The annual festival has become the proving ground for the latest and greatest in jazz music, and there have rarely been a more exciting collection of artists than this specific vintage. Newly restored in 4K by IndieCollect, this film features performances from performers ranging from Louis Armstrong and Thelonious Monk to Anita O'Day and Dinah Washington. Shot in lush color and told through vibrant, kinetic close ups, this film blends performance footage with that of the men, women and children who attended the festival, all blurring together into some strange, fly-on-the-wall atmosphere. There's a thrilling texture here, with sweat dripping from the performers faces, all making the mood feel startlingly urgent. Crescendoing in a towering performance of the Lord's Prayer by Mahalia Jackson, Jazz on a Summer's Day is a must watch, let alone a must own, for any fan of verite cinema or of the great American artform that is jazz.
Essential Supplement: Booklet essay by Nate Chinen – There are few writers who are currently discussing jazz music with more brilliance or insight than Chinen, whose Playing Changes: Jazz for the New Century is one of the essential jazz texts of the last decade. His essay is engaging without ever talking down to the audience, giving the viewer a deep insight into the festival, its importance and the power of seeing these performances in new, high-def glory. It's a fun, beautifully penned piece for a film that's equally as supple.
6. Lust, Caution (Kino Lorber)
Next up is another release from Kino Lorber, this time one that's a pinch more modern and a pinch less supplement-forward. However, when it's a film like Lust, Caution, supplements may not be the most important thing. Ang Lee's masterful erotic thriller, Lust, Caution comes basd on a beloved Eileen Chung novella of the same name, and stars Tang Wei as Wong Chia Chi, a young woman loosely based on Zheng Pingru, a Chinese spy who was caught up in the second Sino-Japanese War. Here Wong Chia Chi encounters Mr. Yee (Tony Leung) who is seen as a traitor, working as a Chinese operative for the shadow Japanese government. In turn, Wong Chia Chi is tasked by a group of university students to more or less trap him in a honey pot style sting. When things go wrong, however, both lives change forever in what remains Ang Lee's most erotic and genuinely thrilling picture. A master of the lyrical image, this is one of Lee's most accomplished films as well visually, a dynamic, engrossing erotic thriller that doesn't feel like anything the director has done before or since.
Essential Supplement: Commentary by Eddy Von Mueller –
This is more or less a recommendation by default. The only supplement on this disc aside from a trailer and a short featurette, this commentary is worth a listen, as it dynamically puts in context this film with regards to Lee's fuller body of work, as well as how it diverts from the beloved novella. It's a fascinating, compelling deep dive into one of the more fascinating experiments of this century.
5. Liberte (Second Run)
Next up is one of two Second Run releases that dropped in Q1 of 2021 of films that have become some of the more talked about films of the last half decade. First up is Albert Serra's brilliant Liberte. The culmination of a years-long project, Liberte is the director's third attempt at bringing to life the story of a band of Libertines who, on the eve of the French Revolution, take to the woods along with German progressive Duc de Walchen to let their inhibitions fly, if you will. Watching as these relationships devolve into primal, grotesque interactions of power and perversion, Serra's film is a head-first dive into the sickened world of the .000001% in the moments leading up to their destruction. Near the end of the film a character utters the line "finally, an image that satisfies me," and it's in this detachment from human norms where Serra's latest becomes truly provocative. Once a theater production as well as a multi-channel art installation, this is clearly one of Serra's most important works, a film that feels at once unquestionably gorgeous and yet baroquely grotesque. There's truly not another film like it (Bonello's House of Tolerance is probably the closest cinema's come to this blending of surreal and perverse this decade) that's as intensely radical and defiantly political as Serra's latest.
Essential Supplement: An interview with Albert Serra by film critic Manu Yáñez-Murillo – Anytime one's able to get in the mind of Albert Serra, it's more than worthy of one's time. This is a fascinating exploration of the renowned artist's creative process, with the writer being well aware of the director's history as both a visual artist and a fiction film director. Just a delightful piece of scholarship.
4. I Was At Home, But… (Second Run)
Next up is Angela Schanelec's incredible I Was At Home, But…, a film we've covered here at some length, but would be criminals to not mention now that it arrives on home video. Also available on Cinema Guild Blu-ray (as is the Serra picture). Schanelec's latest tells the story of a middle-aged mother of two dealing with the death of her husband, and how this loss can cripple even the strongest of units. I Was At Home, But… is a tender, sometimes funny and frequently devastating rumination on grief and family, art and motherhood, all in the body of a formalist masterpiece by one of today's greatest filmmakers. The film crescendos with a sequence scored to M. Ward's shattering cover of David Bowie's "Let's Dance," a scene that sees our lead collapse when face to face with the literalization of her grief, her fallen lover's grave, and it turns on a dime into a flashback that becomes almost spiritually transcendent. A crafter of challenging, provocative and austere pictures, Schanelec has become a rapturously regarded name among the festival scene (we were quite smitten with her previous film, The Dreamed Path), yet with very few of her films available in any noteworthy quality here in the states, mass recognition has been hard to come by. Hopefully that will change after this hits more homes.
Essential Supplement: Three shorts by the director –
It's rare any Schanelec films get thrown onto Blu-ray, so the ability to get three A+ shorts (including the brilliant Prague, March '92) makes this a must own for any fan of Schanelec's or anyone interested in diving head first into her filmography.
3. Nationtime (Kino Lorber)
Of all the films listed here, this may be the one I recommend the strongest. Not just because it's one of the best films here, but because it is as urgent and essential a documentary as you're bound to see, especially of those made nearly half a century before this moment we're living in right now. From director William Greaves comes Nationtime. In 1972 nearly 10,000 people ranging from activists to artists joined forces in the National Black Political Convention taking place in Gary, Indiana, with speakers ranging from Rev. Jesse Jackson to Amiri Baraka. Narrated by Sidney Poitier, this film attempts to bring to light the event in all of its urgency and power, giving life to an underprivileged group and their attempt to form a genuine and united political front. At once a thrilling time capsule of political revolution, the film also feels timely in its portrayal of the Black Power movement in its relative infancy, at least on a united and politically-focused front. Newly restored in 4K, the film has the backing of Jane Fonda and the Hollywood Foreign Press Association as well as IndieCollect who restored the film. It's a complete knockout.
Essential Supplement: The restoration – Sort of a cop out given the actual depth of the release, but it is genuinely thrilling to see this event brought back to life in such pristine glory. It's a deeply important moment in our history culturally, particularly in relation to where we are as a country in 2021, and to witness these moments through such a tactile restoration is really quite moving. Expect the same thing from this team's breathtaking restoration of Fonda's FTA later this year.
2. Laurel Or Hardy: Early Solo Films Of Stan Laurel and Oliver Hardy (Flicker Alley)
Now this is a pick that's almost exclusively library-focused. Not in the typical sense, but that one needs to purchase this to add a fascinating bit of depth to their personal home video libraries. Best known as one of comedy cinema's great duos, Stan Laurel and Oliver Hardy are rarely discussed as solo entities. However, Flicker Alley wants to somewhat change that, with a towering 35 films featured on this 2-disc Blu-ray set. All films were produced prior to the pair joining forces, and each film comes to you in a glorious new restoration, with highlights ranging from the genius The Whole Truth starring Stan Laurel to the Oliver Hardy knockout Hello Trouble. One of the more dense and fascinating career retrospectives not released by Criterion, Laurel Or Hardy is a textured and well rounded deep dive into the careers of two of comedy's great yucksters, just in the moments before they forever changed the medium. The restorations are universally incredible, particularly the earliest films in the set, like the 1914 Babe Hardy film Mother's Baby Boy. Hardy's earliest work here, this film is remarkable if only to see one of the screen's great comic actors trying to come into his voice. It's a relatively flat film narratively, but as a curio it's really not like anything else on this list.
Essential Supplement: Image Gallery – This is a personal pick, but as someone who likes to play music while lounging around his home, this collection of production and publicity stills is a really entrancing slideshow. It's not at all as stimulating as the Rob Stone-penned booklet which is itself a must read nor is it as entertaining as the Serge Bromberg-written restoration discussion, but what it absolutely is is an entertaining and fascinating collection of curios from an early point in the careers of two titanic film figures.
1. The World of Wong Kar-Wai (The Criterion Collection)
Concluding this list is the biggest must-own release of the year so far. The World Of Wong Kar Wai is The Criterion Collection's cross section of the early part of Wong Kar Wai's career, running through the feature films between 1988's masterful As Tears Go By to 2004's career-best 2046. The latter is the big inclusion here, with 2046 being one of the filmmaker's more underrated masterpieces, rarely seen despite being not just a spiritual sequel to his beloved In The Mood For Love but also an enthralling experiment in science-fiction storytelling. One of modern cinema's most inventive and passionate filmmakers, the textural fantasias of WKW come to life in a brilliant new way thanks to new restorations of these masterpieces, along with a cavalcade of new special features, archival materials and even things like extended versions of WKW's 2004 short, The Hand, which has literally never been available here stateside prior to this release. Despite missing the back portion of the director's career (specifically something like My Blueberry Nights, a film absolutely deserving of a larger cultural re-evaluation) this is easily the most essential purchase, home video wise, of the year so far. A titanic achievement.
Essential Supplement: The packaging – Arguably a controversial choice given the depth of this incredible release, I'm personally transfixed by the packaging here. The booklet is utterly breathtaking, as is the literal packaging the discs come in, despite being mocked online as overly complex. There's something rightly baroque about the box, a strange specificity in its opulence that fits so brilliantly within the larger context of WKW's work that it seems almost comically perfect.