Whenever I think of Ace in the Hole, I think of Andrew Sarris's famous one-line summation of Billy Wilder – "Billy Wilder is too cynical to believe even his own cynicism." I also think of the nuance he added to his assessment: "Only [Charles] Laughton's owlish performance makes Witness for the Prosecution look like the tour de force it was intended to be, and only Jack Lemmon keeps The Apartment from collapsing into the cellar of morbid psychology. Wilder deserves full credit for these performances, and for many other felicities that redeem his films from the superficial nastiness of his personality."
I'll confess to you now that I am no great fan of Billy Wilder. Even the films of his I treasure – namely One, Two, Three and Some Like it Hot – feel somewhat removed from himself, an attempt to craft rather than a genuine expression. In some ways, he feels like the first major director to have been inspired not by the stage, literature, or other arts, but by the movies themselves, and there's an imitative quality to much of his work that, no matter how fine and thrilling, feels somewhat shallow upon reflection. However, he is such a fine craftsman – of story, character, dialogue, performance, and rhythm – that every film of his I've seen (save The Private Life of Sherlock Holmes) has abundant pleasures and excitements. He still keeps me on my toes, unsure that my assessment is as firmly grounded as I thought it to be, only for the whole experience to drift away in the weeks to follow. His dedication to writerly craft is both his greatest asset and his ultimate undoing, his work too clean and succinct to truly resonate.
---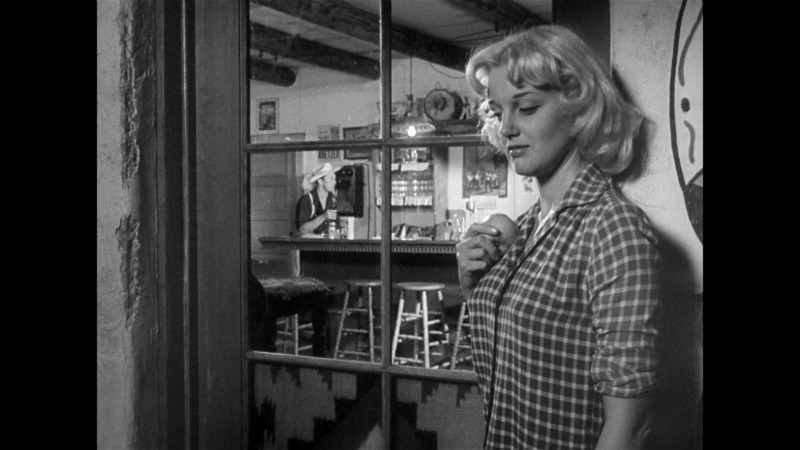 ---
Ace in the Hole is a particular sticking point, the fullest example of his limitations and tremendous capacities. Chuck Tatum (Kirk Douglas) is a journalist with a knack for two things – hustling, and disgracing himself. He'll do both by the time this picture is through, many times over. He lands in Albuquerque with a broken-down car and as little money as such an object would represent before wiling away his days at the local Sun-Bulletin, marking time until the unthinkable happens – he gets his hands on a real story. A man is trapped in a cave while searching for ancient artifacts. It's pretty simple to get him out, but Chuck knows this story's bigger than that; if he can draw out the rescue efforts for even just a week, he'll have a nation watching and himself as the one with the inside scoop, able to sell the story to newspapers across the country.
That this seems fairly standard in the age of daily, if not hourly, updates on the total lack of progress in, say, finding an airplane or, indeed, rescuing some miners, hardly lessens the film's rather dynamic chokehold on American media consumption and entertainment. Rather, I suspect this was never a particularly trenchant insight, in part because journalistic callousness was a popular topic in cinema since at least the dawn of the talkies (By Whose Hand?, Okay, America!, and Picture Snatcher all presented this casually), and in part because, well, I can only assume that the public then was at least as thoughtful as they are today. The early thirties were the days of the Lindberg baby, after all. The idea of exploiting tragedy for readership is as old as the newspaper business itself, and cinema had no trouble finding interest in those stories.
---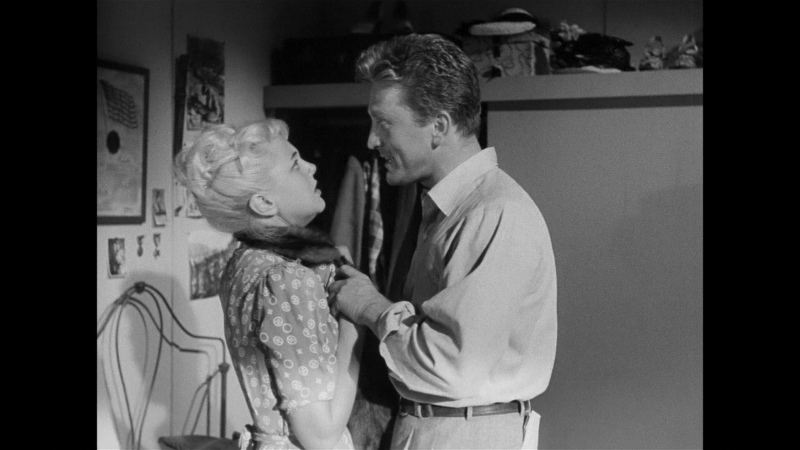 ---
Luckily, the film has its own ace that prevents it from wallowing purely in cheap observation – Kirk Douglas. Just as Sarris notes that Laughton saves Witness for the Prosecution and Lemmon keeps The Apartment afloat, Douglas sells Wilder's trite cynicism with a true sense of ferocity and urgency. He's like DiCaprio in The Wolf of Wall Street or James Cagney in anything – the absolute distillation of single-minded pursuit of personal glory and fortune, unencumbered by such minor trifles like morality or even basic human decency. Unlike the films featuring DiCaprio and Cagney, however, Wilder backs down from his indictment, punishing Chuck for his actions, reassuring us that whatever we've seen here today, good will always prevail and morality comes to everyone. It's representative of his didactic approach, more condemning than exploratory, damning rather than inquisitive. He hasn't the moral fiber to truly wade into the muck of Chuck's perspective, to see the world from his demented outlook.
I will say that I was rather startled by just how good Ace in the Hole looks on Masters of Cinema's new (Region-B locked) Blu-ray. I've seen the film a few times on DVD before, and this is a rare instance of something feeling brand new in the high-definition upgrade. Depth is markedly improved, so all the details in the newspaper office, and more importantly in the increasingly carnival-esque desert, really pop. The rampant capitalism feels all the more pertinent, all the more pressing, all the more uncontrollable and unimaginable as you can parse out just how vast it's become. Cinematographer Charles Lang lent the film a degree of softness that may strike some as a bad transfer, but which seems to me to be inherent to the image; coupled with heavy contrast, characters seem to genuinely glow at times. The usual matters of clarity, grain, sharpness, and contrast are all well handled. Like I said, it's like a whole new film.
---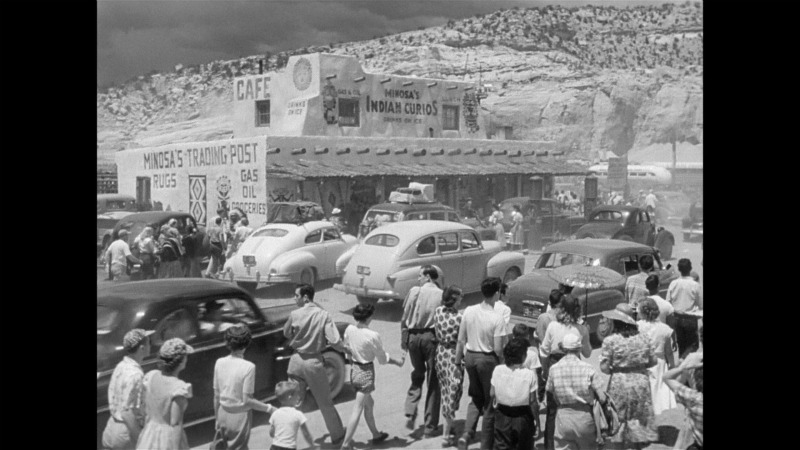 ---
The disc extras are a little slimmer than the Criterion edition, though we still get the hourlong 1980 documentary Portrait of a "60% Perfect Man": Billy Wilder, which is very good. Wilder's career was definitely on the decline at that point, and he'd only release one more film – 1981's Buddy Buddy – before effectively retiring until his death in 2002. But you wouldn't know it from this documentary, which shows him continuing to show up at a private Beverly Hills office every work day to hash out scripts and story ideas.
The only other disc extra is a 34-minute interview piece with film scholar Neil Sinyard, who offers a sort of all-purpose assessment of the film, from its conception to production, in addition to a great deal of analysis. It functions pretty well as a sort of condensed commentary track, and I was very appreciative of its presence.
If your supplemental tastes are more literate in nature, look to a very fine essay by Emmanuel Burdeau, former editor-in-chief at Cahiers du cinema and current head film critic at Mediapart. Burdeau does a nice job of placing the film in Wilder's filmography (it was his first after splitting with former writing partner Charles Brackett), and discussing how it reflects similar themes that he had explored previously and would continue to examine. Where better to look for an auteurist perspective, after all, than from a Cahiers guy?
I still struggle a bit with Ace in the Hole, but I know many hold it in high esteem, and this disc offers a great deal of value in presenting and examining the film at hand.
---