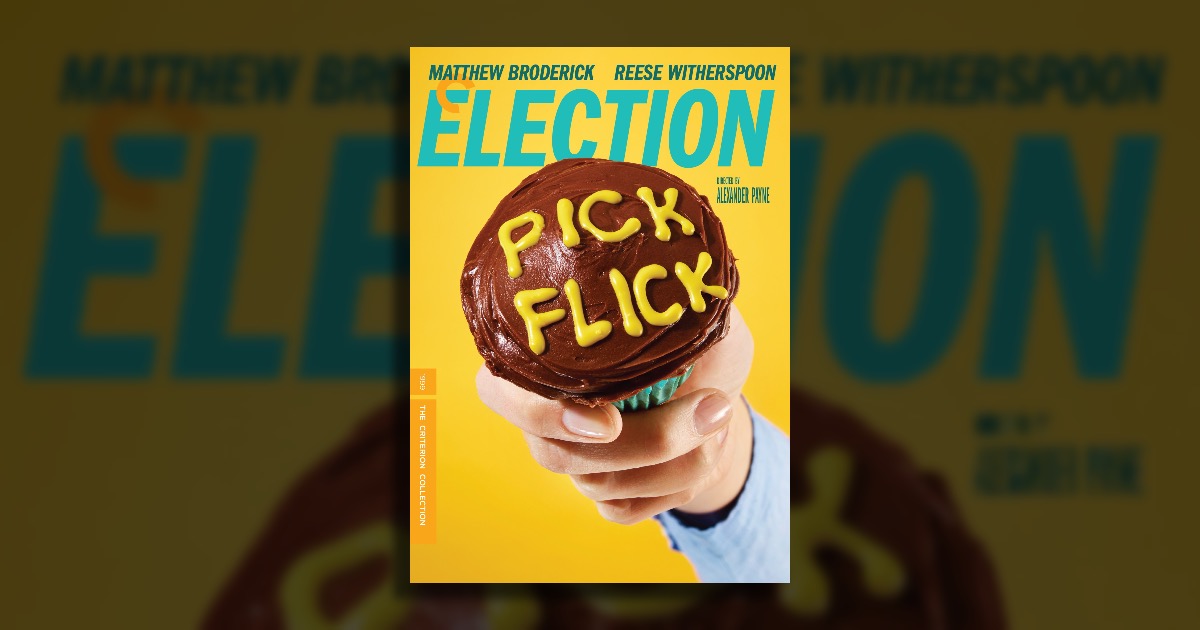 Beginning his career as a shockingly independent voice in the world of film during the rise of American Independent cinema in the '90s, Director Alexander Payne has seen the trajectory of his career lead him from indie auteur into the world of studio executives and awards season chatter. Starting off with the controversial abortion drama Citizen Ruth (shouts to the queen Laura Dern), Payne's career has seen him leap from taboo breaking to award bait making with the likes of The Descendants and this year's impossibly dreadful Downsizing. However, there likely hasn't been a high in his career quite like his second feature, Election.
One of the greatest and most well known films of its period, Election tells the story of Tracy Flick, a precocious young student, running for Student Council, and the teacher hell bent on ruining what she feels is her rightful place at the top. Led by a career making (and as she describes a briefly career defining) performance from Reese Witherspoon, Election is a delightfully poignant comedy, a film that feels both specifically of a moment aesthetically and yet weirdly timely today.
Or maybe one shouldn't say weirdly so, as the idea of a group of powerful people looking to undermine a firesome, driven woman isn't rare. Instead, the film screams of this political climate, in a way that's impossible to properly describe. At once broad enough to play for pure satirical yucks, yet profoundly specific in ways that make the film almost impossible to watch sans-cringing, Election is a film about everything from sexual harassment by people in power to white male privilege in a way that turns it into something greater than just a '90s high school comedy. Criterion, in talking about the film for their new Blu-ray, describe the connections to today's politics as "uncanny," and no word may be a better fit.
Yet it's also quite an interesting statement for Payne as a film artist, even more so when placed in context of his student thesis film, included here on this release. Entitled The Passion Of Martin, the medium-length film looks at a male loner as he makes his way through life, ultimately falling "in love" with a beautiful woman. A short squarely about toxic masculinity and the disgusting ownership men feel entitled in having over women they court, Martin feels both closely related to Election thematically and also sees Payne arriving as an almost fully formed being. Close up is used heavily here, editing is a major key, as are visual gags and primarily the director's use of voice over, all of which have become staples for Payne. It's a remarkably upsetting short film that occasionally falls prey to the trappings of indie short filmmaking (the disturbed male loner as a male filmmaker's focus is a trope I'm glad to be seeing less of today), but adds a great deal of context to this really interesting home video release.
Talking about Election can be difficult. Nearly 20 years old and part of what is maybe the greatest film year of modern time (don't @ me 2007 is great too), Payne has become a mainstay in film discussion, and this is arguably his masterpiece. Performances here are utterly unforgettable, particularly Witherspoon whose Flick is both unsettlingly self assure and grating, yet equally relatable and lovable. Her arc is a fascinating one, finding its high points in the moments her character shares with Matthew Broderick's Jim McAllister character. Their chemistry is captivating, and the use of voice over really allows each actor to give their characters true singularity. Chris Klein is a revelation every time one watches this film, a truly underrated aspect of the film. It would have been easy for Payne to give the film a toxic, Trumpian face for the lead to battle with, yet Klein's Metzler is so kind and aloof that it shines the focus on the toxic institutions which bring his rise. Finally, Broderick is rarely this detestable, and it's oddly delightful seeing the former Ferris Bueller becoming the focus of a film's ridicule. It's simply a perfectly acted comedy.
Criterion's new Blu-Ray is also quite a doozy. More thin than many of their high rated releases, Election's main supplement is the above mentioned short, and an introduction by Payne. It's an enlightening introduction, giving background to the short's production and influences. There is a short piece from a local news broadcast in Omaha, Nebraska from the film's shooting, and while it's fun to watch it adds little to nothing to the actual experience. There's a commentary included here that was recorded in 2008, and a documentary about the making of the film, both help add context to the actual production of the picture. Finally, an interview with Payne is listed as a supplement but is nowhere to actually be found on the disc. Oh, and the new 4K transfer is, as one could guess, quite wonderful. The film's never looked better.
$27.94
$39.95
in stock
11 new from $22.99
4 used from $23.94
Amazon.com
Free shipping
Last updated on June 8, 2020 12:36 pm