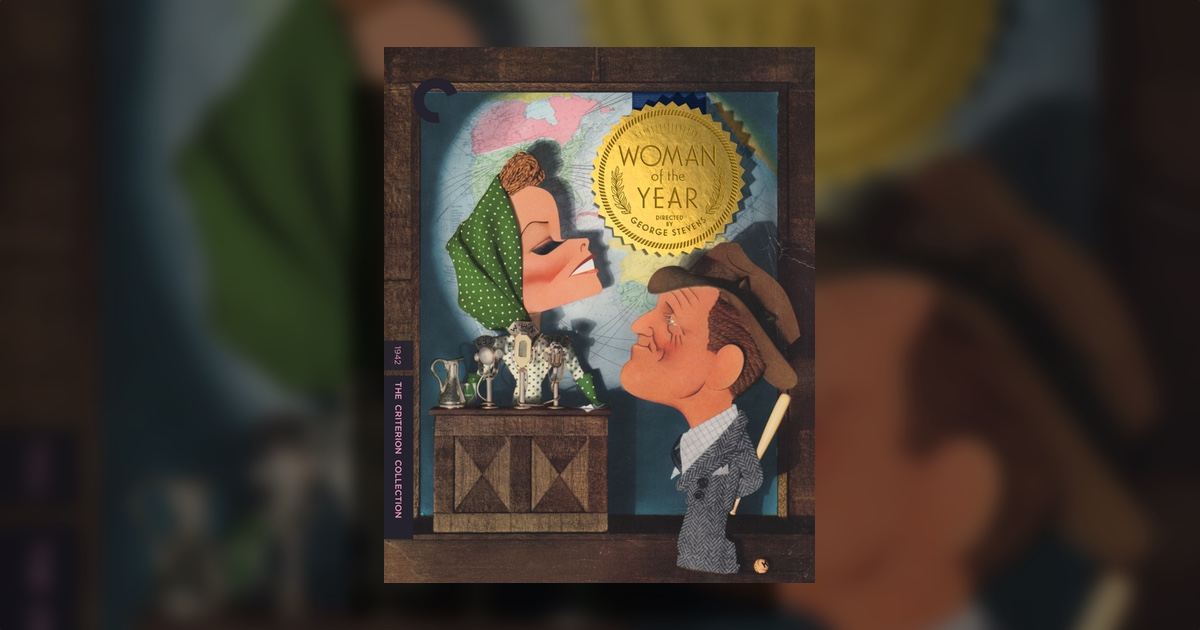 Bogart and Bacall. Powell and Loy. Cinema history is chock full of iconic on-screen dynamic duos. However, few pairs have fostered more great films and a more historic legacy off screen than Spencer Tracy and Katharine Hepburn.
Two of classic Hollywood's most legendary actors, the pair would share the screen for nine feature films that played part in a decades-spanning love affair as public as their films were instantly beloved. Working together for roughly 25 years, Tracy and Hepburn were the focus of beloved comedies like Adam's Rib and ultimately the figureheads for a generation in Guess Who's Coming To Dinner. But where did it all begin?
That would be George Stevens' seminal gender politics comedy Woman of the Year, which is now out in a delightfully rich Criterion Collection DVD and Blu-ray. With a screenplay from Ring Lardner Jr. and Michael Kanin (an Oscar winning one, at that), Stevens' classic comedy is at once a decidedly important work in the history of screen acting and the careers of two iconic thespians, and also a workplace comedy that's light on style but high on laughs.
Narratively, the film is an easy one to engage. The film finds Hepburn and Tracy as sparring newspaper writers, Hepburn a culturally significant columnist and Tracy a sports reporter, who ultimately become entangled in a story of emotional connection and gender politicking. After a chance meeting, the two fall head over heels for one another, which finds both parties becoming conflicted about their romance, particularly Tracy's Sam, who is troubled by his wife's commitment to her work. Named "Woman Of The Year," Hepburn's Tess is a brilliant, driven and confident reporter, one who gives everything she has to her trade.
And at first, the pair seem like an odd match. Sam lacks the political and sociological heights of Tess' work and reputation, and Tess' knowledge of things like baseball is about as rudimentary as a child's. In fact, despite working at the same newspaper, the two writers begin quarreling in their columns over the sport. But, as would any editor, theirs attempts to squash this proverbial beef, which sets in motion the love affair that would in real life transcend the big screen. Over the span of a day, with Tess breaking into a press box at a baseball game and Sam trying to make ground at a social gathering hosted by his eventual paramour, the two verbally quarrel as their interactions evolve from hostile to romantic.
The two marry, and the film begins to truly engross. As they face the everyday struggles of a working couple working through their marriage, the film evolves from an engaging comedy of the sexes into something far greater. Despite aging relatively poorly from today's perspective, the gender politics here are broad but interesting, particularly given the film's final act and specifically its final few moments. The idea of a couple and each specific half of the relationship trying to find a balance between work and home is a universal one and one that, despite early '40s gender politics, makes for a comedy that's both charming and emotionally engaging.
That said, this is an interesting moment in the career of George Stevens. Part of a collection of films Stevens would make before heading off to shoot documentary footage during World War II, Stevens was best known for broad comedies that evoked the type of broad comedies he began his career shooting as a cameraman on Laurel and Hardy sets. While being driven by two superlative performances, Woman is an inelegant film, with only the occasional flourish that reminds you that a truly great filmmaker is beginning to really break through. His eye for visual gags is above reproach, yet there's a classical style to the storytelling structure and the dramatic execution that makes the film feel of a specific era.
I mention the moment this was specifically made for Stevens because, it feels like night and day compared to what would follow after he returned from war. Three films specifically; A Place In The Sun, Shane and Giant, would see a massive leap forward for the filmmaker as a craftsman. That makes this film not only a historical moment for Hollywood history as it is the first Hepburn/Tracy film, but also a historical curio for an underrated classic Hollywood auteur. The photography here is quite pretty, but again, this is a perfectly broad romantic comedy that is as delightful a watch as it is an aesthetically classical a piece of art.
But again, it's a Hepburn/Tracy film, and they take center stage. Both are quite great here, particularly Hepburn who is at the top of her game. She has a strength and a vitality that's almost otherworldly, and her chemistry with Tracy is crackling. He's as quietly muscular an actor as you'll find in this period, and there's a freewheeling liveliness to his performances that's perfectly distilled here. The film, as one would expect, thrives when they're on-screen together, and it's clear to see that their chemistry together expands past just what's on the screen. It may be implied by extra-textual material that we have in retrospect, but it's hard to doubt that there's a light behind their performances that feels like something more than just embodying a character.
Now available on DVD and Blu-ray from The Criterion Collection, the film has rarely looked better. It's the recipient of a crisp new 2K restoration that makes the most of its rich black and white photography. The real highlight of the disk is a pair of documentaries that highlight both the life and work of director George Stevens as well as that of Spencer Tracy, the latter of which finds Katharine Hepburn directly involved. Interviews with George Stevens Jr., biographer Marilyn Ann Moss and writer Claudia Roth Pierpont look at Stevens' work and also Katharine Hepburn, and Stevens himself gets to speak on his work in an archival interview from 1967. Toss in a Stephanie Zacharek essay that is, as one should expect, superlative, and you have a dense home video release for a truly great, and truly historic, Hollywood comedy.