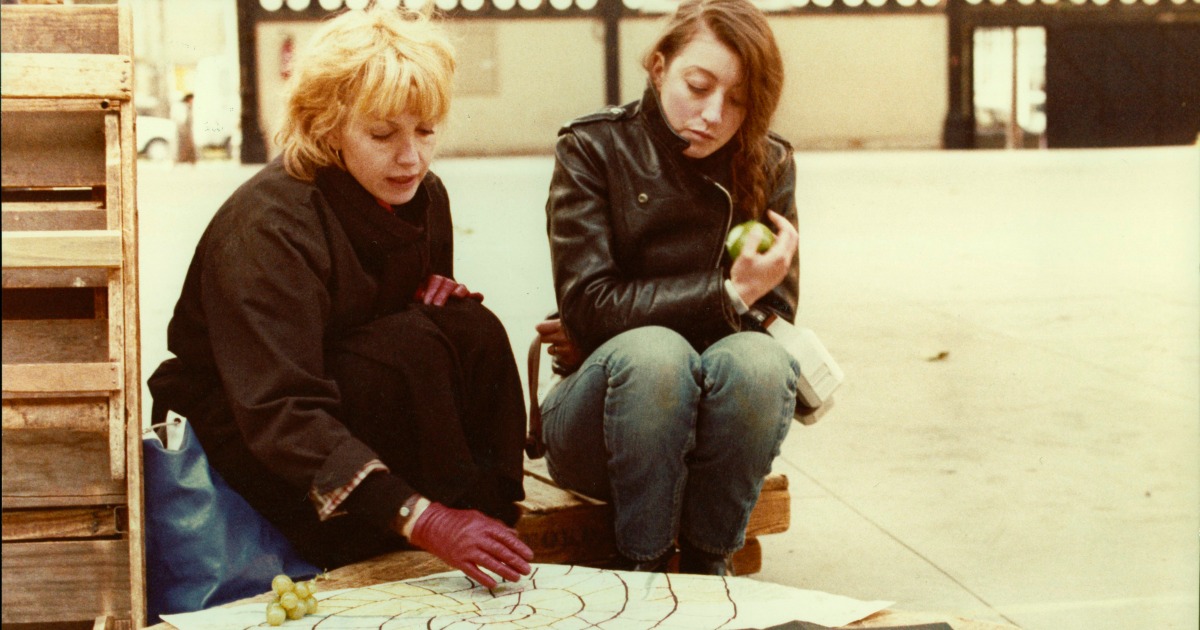 When it comes to cinematic movements, few throughout the medium's history have been as influential and full of impact as that of The French New Wave. Be it the antagonistic philosophizing of the movement's enfant terrible, Jean-Luc Godard or the beautifully woven tales Eric Rohmer, the movement has spawned generations of filmmakers ever since arriving in the 1950s. However, one of the movement's lesser known creative minds may very well be one of its most influential and important, that being one Jacques Rivette. With masterpieces like Paris nous appartient and Celine and Julie Go Boating under his belt, and a career spanning over 50 years, Rivette has become a bastion for hardcore cinephiles and one of the most rewarding filmmakers for up and coming artists to discover.
Thankfully, one of his best films happens to be newly available on Blu-ray as well.
Entitled Le Pont Du Nord, Rivette's masterpiece is an extension, of sorts, to the aforementioned Celine And Julie Go Boating, introducing us to Marie and Baptiste, two spirits seemingly lost in their Parisian universe. Played by mother/daughter team Bulle and Pascale Ogier, the pair meet by chance after Marie is released from jail, attempting to rekindle a relationship with her mysterious, briefcase toting lover Julien. Paranoid in her own right, Baptiste is a beautiful young loner who discovers that some of her conspiracy theories surrounding Julien and what he holds in his case are more than just theories, all of which help turn what seems at first glance like a Godard-esque bit of travelogue turned philosophical thesis, into a densely layered neo-noir that is as thought provoking as it is bewilderingly beautiful.
Shot by the pair of cinematographers William Lubtchansky and Caroline Champetier, the film's greatest aspect may very be the 16mm photography and Rivette's camerawork. Shot in 1981, the film is lush and crisp, with the intimate photography adding a naturalism to an otherworldly narrative where stone lion statues may not be all that they seem at first glance and dragons are abound. Considered by many a companion of sorts to Rivette's seminal piece, the auteur is at the top of his game here, a neo-noir from a filmmaker truly spreading his creative wings in the latter stages of his career. The greatest power of film is its ability to turn the mundane, the every day aspects of our lives, into something unsettling or something entirely otherworldly. Here, that's the name of the game for Rivette. Be it construction cranes or a staircase that, with every edit, seems to grow exponentially, this world is both entirely relatable and yet not of this planet. The central map that is discovered expands upon this structure, giving this universe Rivette has crafted an atmosphere entirely its own. It's a powerfully layered and evocative piece of work, a film that finds its creator pondering the meaning of the ever evolving world around it and, come the final sequence, questioning if it is even worth going along with.
The performances here are also beautiful vessels for the viewer to use to journey through this world. Bulle and Pascale Ogier are quite fantastic here, with Pascale the biggest surprise. She's got a truly unforgettable look to her, seemingly allowing for her to be to Rivette what someone like Anna Karina was to Godard, a muse with the exact look and style to fit Rivette's storytelling. She has an otherworldly beauty to her, the type of paranoid energy that fits this narrative like a glove. Bulle Ogier is a much more classic character, a woman in love longing for a connection she is in the midst of losing. The type of cracked psyche felt by both actresses is fitting of a film from this period of Rivette's career, as just a few years prior he suffered from a nervous breakdown which thrust his film Merry-Go-Round into complete chaos. The two are brazenly claustrophobic and paranoid, with Pascale's Baptiste trying to "kill" models in advertisements she believes to be spying on her. It's a deeply haunting piece of work and the darkly comic energy really comes through thanks to the two lead performances.
Released in late February on Blu-ray from Kino Lorber, this is a must-own release. The photography here is absolutely stunning, the definitive transfer of this picture to date. The 16mm cinematography has an anarchy energy to it, with each frame really popping off the screen, immersing the viewer in this narrative that feels both surreal and entirely tactile. The Astor Piazzola score is superb and sounds fantastic on this disc. Supplements here include a booklet with both original press notes and a must-read essay from Dennis Lim, that plays like a key codex when trying to take apart and unpack this picture. Toss in two visual essays from Roland-Francois Lack and Gina Telaroli, and you have a Blu-ray that is an early contender for the best home video release of the year.