Ever since Criterion launched their Hulu Plus page a few years back, one director, almost above every other one in the canon, has stood out as one of Criterion's most beloved and well respected.
With over 25 of his films currently on the streaming service, director Keisuke Kinoshita is an interesting beast. Only one of his films (until this release) is a member of Criterion proper (that film being Twenty Four Eyes), but with the rights to a gaggle of films from the director held by the company, it should come as no shock that he's see yet another film added to the ever growing ranks of The Criterion Collection.
To kick off their February slate, Criterion has released, as part of their bare bones/discounted series of spine-numbered DVDs and Blu-rays, Kinoshita's glorious and brooding drama, The Ballad Of Narayama, and while it may not have any special features to speak of,  this is one hell of a way to get the early par of 2013's Criterion slate off and running.
Kinoshita's adaptation (of sorts) of a legendary Japanese folk story, Narayama follows the story of an elderly woman named Orin, who, according to tradition must, on her 70th birthday, be taken up Mount Narayama, and left to die as to take her burden off the shoulders of her widowed son and his lovely new wife. Structured as if it were a kabuki play, filmed, the picture features a traditional joruri narration, and is as breathtaking visually as any film from this era, and easily the most experimental film made by a director who lived and breathed cinematic experimentation.
Made in glorious color in 1958, the biggest star of this picture is easily Kinoshita. Ever since the director seemingly became a darling in the Criterion offices, I've had the pleasure of digging through a lot of his work on the Hulu Plus page, and throughout his career, he rarely made a film as visually inspired as this picture. Featuring incomprehensibly jaw dropping color cinematography from Hiroyuki Kusuda (who also photographed Kinoshita's Twenty-Four Eyes) the film pops off the screen with its lush color palette, ranging from earthy browns to neon greens and purples. There is one sequence in particular, a nighttime sequence near the middle of the picture, that is as beautiful as anything ever committed to film. This is truly a watershed film in the golden age of Japanese cinema.
But all would be for naught without beautiful production design from Kisaku Ito and Chiyoo Umeda (the former of whom worked on Inagaki's Samurai films and the seminal Ugetsu for Mizoguchi). The sets here are absolutely startling, and with this new 2k transfer, the film's settings have new life breathed right into their souls. Yes, the film looks and feels like a staged play of sorts, but with a sense of style that is, to this day, being aped in films like Anna Karenina, it is a startlingly crisp look at a film that is as underrated as any of this era.
Performance wise, the film is a tad histrionic. The film stars Kinuyo Tanakara as Orin, and while it's a devastating performance, there are some very shrill beats here, and the theatrics make the film seem more melodramatic than the Gothic folk tale that it truly is. The final act is absolutely devastating, and it's a tribute to the mixture of gorgeous direction and photography and emotionally charged performances hitting the right notes. The widescreen direction thrives in this final act, and any frame of this film could be fodder for a gallery showing in any art museum in any country in this world.
But what about this supplement free release? Save for a pair of trailers, you'll come for the brilliant Kinoshita masterpiece, and stay for the transfer and the artwork. The 2k transfer is from a 2011 restoration, and the film looks brand new here. It's really a tribute to how brilliant a director Kinoshita was that Criterion is giving a bare bones release one of their better restorations in quite some time. There is an issue early on in the film, which will be interesting to see Criterion deal with going forward, but outside of that one glitch, it's a rather seamless release.
And then there is the artwork from Yoko Shimizu. An award winning artist, the illustrator gives us one of Criterion's prettiest releases in months. The cover art is breathtaking in and of itself, but the cover to the booklet on the inside of the case is one of the most beautiful pieces of artwork I've ever seen involved with a  Criterion release. I love the title treatment here, and overall, it's just a beautiful piece of artwork that is paired perfectly with the film's Gothic sense of melancholy and sadness.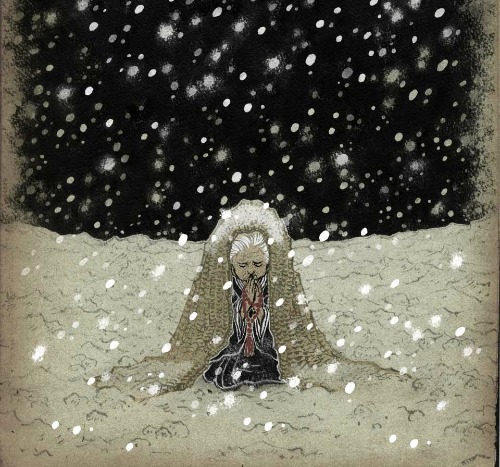 An affecting meditation on mortality and the burden of old generations on youth, The Ballad Of Narayama proves that while Criterion may be discounting the price of some releases, the lower cost doesn't mean a result in lower quality. A stunning film in and of itself, this is an absolutely perfect introduction, or re-introduction, into the work of one of Japan's most unsung auteurs. It's truly something to be in awe of.