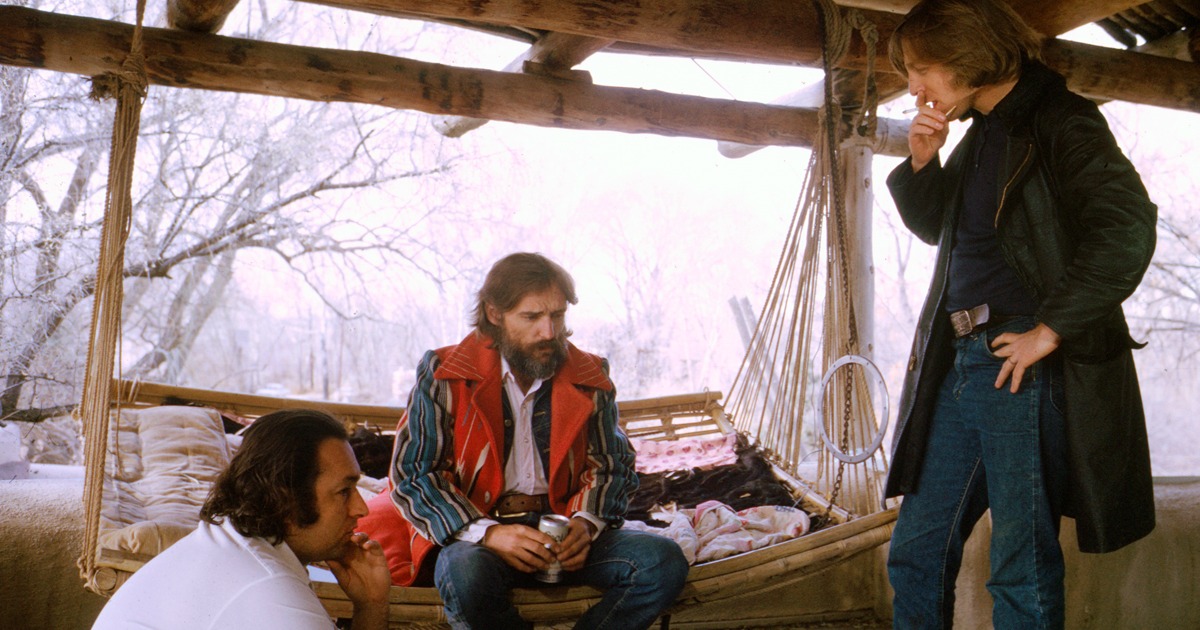 There have been few names to enter the film landscape quite like the late-thespian/enfant terrible Dennis Hopper. Best known for directing and helping write the iconic New Hollywood masterpiece Easy Rider, Hopper began his career starring in various TV series until hitting big screens with pictures like Rebel Without A Cause, Giant and eventually Night Tide, a film that would become a calling card for the actor and a movement of surrealist filmmaking unlike anything the US had seen cinematically up to that moment. However, while his career would continue growing from Rider, his work on that film would seemingly change him from avant garde character actor to the idol of his generation.
And then there was The Last Movie. Still nearly impossible to see, Hopper's Rider follow up would see him heading to New Mexico to make what sounds like a masterpiece of the "films about films" genre, but ultimately turned into a relative urban legend, only truly being shown at the occasional retrospective and underground art house show. Even more rare? Well, in 1971, directors L.M. Kit Carson and Lawrence Schiller found themselves drawn into Hopper's web of guns, drugs, love and filmmaking, and they chronicled Hopper's attempt to bring The Last Movie to life.
Entitled The American Dreamer, Carson and Schiller introduce us to Hopper, a man in the middle of a movement, and more so a generation. A collaboration between photographer Schiller and avant-garde filmmaker Carson, the film is ostensibly a quasi documentary that plays more as a thesis statement for one of cinema's most original voices. Hopper, as seen in this film, is fully immersed in the mythology surrounding his previous masterpiece. Stuck in the throes of post-production on what appears to be one of Hopper's most personal pieces, at age 33, Hopper looks as though he's a man twice that age. At its very best Dreamer is a startling look at an artist on the brink of complete and utter implosion. With his most personal film to date looking like a complete disaster and a marriage that lasted all of eight days now over, Hopper is a beaten man, an artist that is at a similar crossroad to that of his entire generation.
Coming decidedly after the murders perpetrated by The Manson Family, a point in the history of this nation that is as singular as they come, the film is at its best not when it has its various flights of fancy (of which there are numerous throughout this art installation of sorts), but instead the moments of intimacy shared with Hopper. Inherently a fascinating creature, the film allows Hopper the room to breath, and ultimately ramble, about everything from love to one's right to have weapons. This is as much a time capsule as it is an actual piece of cinema. We see various discussions about love and sex, even between Hopper and a few women he has enter his life, which itself shows the early stages of a conversation that would evolve into the type of discussions about sex we still very much have today.
---
---
Baroque, lavishly photographed and delightfully anarchic, The American Dreamer isn't so much a documentary as it is a piece of performance art, one with breathless amounts of vitality, even to this day. Very much a verite style documentary, the film thrives when the camera is allowed to sit in on various moments of Hopper's life, in what is some of the most gorgeous footage you'll ever see. Hypnotic in its use of color and with grain that seems to bring to life an era seemingly long gone, Carson and Schiller make a film that takes creative leaps through various almost dream like set pieces, but comes to life when it stays grounded, and focused on its imploding central figure.
Newly restored and released Blu-ray, The American Dreamer has been given a new life by Etiquette Pictures and Walker Art Center in Minneapolis. Given a new 2K restoration from four original 16mm prints, the film is absolutely gorgeous here, one of the more interesting restorations we've seen this year. There are a few supplements included here, namely a lengthy making of featurette and a look at the preservation of the picture. Toss in a booklet, a photo gallery and even a mighty pretty reversible cover, and you've got one of the year's most underrated home video releases.