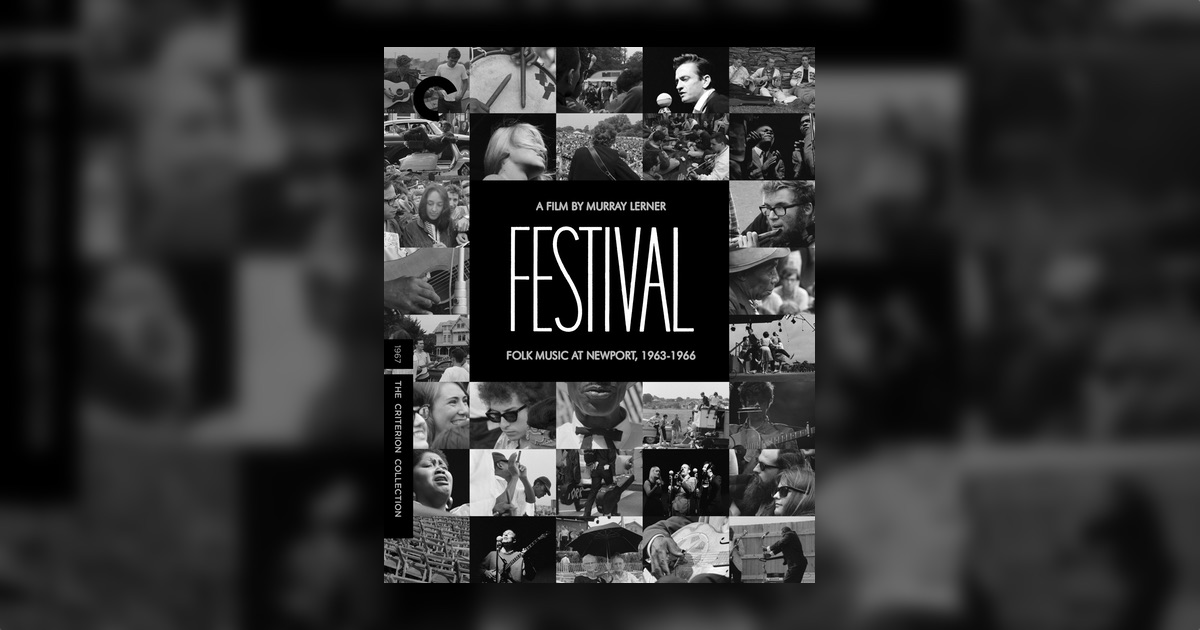 The music documentary comes in all sorts of shapes and sizes. For fans of live experiences, you have your Woodstock, and for those who like a bit more of a behind the scenes vibe, you have something like the recently-released May It Last: A Portrait of the Avett Brothers. There are films that subvert those two modese, like the impossibly powerful White Stripes: Under Great White Northern Lights, and some that go the historical route such as Ken Burns' Jazz. However, there is not another music documentary quite like Festival.
Shot by director Murray Lerner at the annual Newport Folk Festival from 1963-1966, Festival tells not only the story of folk music at its historic peak, but even more so the politics of the movement that brought it to the fore. Driven by performances ranging from Joan Baez to Howlin' Wolf, Festival is an iconic, gorgeously composed meditation on America during the Vietnam War and the art that both sparked a cultural revolution and encapsulated it.
Lerner, as a directorial figure, is unsung, even in today's "golden" age of documentary cinema. Starting off his career teaming with Robert M. Young (Alambrista) on Secrets of The Reef, Festival marks his first solo directorial outing, and it's an absolute doozy. A triumph of editing, Festival is shot over the span of four consecutive Newport Folk Festivals, and yet feels entirely of one singularly specific, American, moment. Gorgeously shot in black and white, Lerner's direction is subtle and driven not by any need to flex creative muscle, instead a subtle understanding of what this movement is sonically and even more so sociologically and politically. Be it his quietly straightforward performance sequences or the intimate and lively interview segments, the film is the prototypical performance documentary, caught in its almost primordial beginnings. Juxtaposing each performance sequence with glimpses of the performers off stage and their fans anxiously awaiting their heroes arrival, Lerner spans these definitive years of folk music with a profound ease and complete understanding.
It's also worthy to note that we get some superlative insight into the very moment that Bob Dylan "went electric." Maybe the watershed moment of this entire movement, this performance is seen in great detail and the response to it isn't far from Lerner's mind. We see, over the span of the film, a distinct evolution specifically in the art and response to said art of Bob Dylan, culminating in that fateful set. Dylan goes from up and comer in the early portions of the picture and ultimately its most controversial rebel by 1965, and we see this arc play as one of the film's true narrative centers, and it's clear that there was a connection between Lerner and the iconic Dylan, as he's a character Lerner's career would see him return to decades later.
It's also a relatively ramshackle documentary. The film itself is well structured and composed, but there's an infectious looseness to the proceedings that makes it entirely its own. It's clearly inspired by the rawness of the performers (there's a choreographed dance sequence that is more rigidly edited than the previous pieces, itself an example of this type of aesthetic understanding) yet it's also cognizant of the freedom the fans of the music aspire to. War is not far from the film's mind, yet there's a youthful energy and rebellious roughness to the film that makes it feel entirely in the moment literally and of the moment aesthetically. From the opening interview sequence that almost states the thesis of this film literally to the breathtaking title sequence that follows it, Festival is a thrilling piece of filmmaking.
And what's even more thrilling are the supplements that Criterion has nabbed for their new, and absolutely superlative DVD and Blu-ray. First, the new restoration, in all of its 2K glory is top notch, and the sound is even greater. The release also features what Criterion bills as a "new reconstruction and remastering" of the picture's recordings, and it shows. Performances are uniformly great and each have a distinctive energy and liveliness. Be it a solo or duet in a sun soaked field or Dylan all but solo set against the inky black evening, each performance is singular and makes for a captivating whole. When We Played Newport is a new series which includes archival interviews with people ranging from Lerner himself to performer Buffy Saint-Marie, who is featured performance in Festival is arguably the picture's most profoundly moving segment. Is a gorgeous segment that's at once incredibly emotional and also evocatively made.
The supplemental highlight is Editing Festival. In this standard Criterion supplement, a key to understanding the place of the film within documentary cinema is stated. Very much rooted in the style of ethnographic documentary filmmaking seen in the films from the Kartemquin collective out of Chicago, Festival is a clear counterpart to films like Parents, specifically in its intimacy and focus on the cultural moment it is set during. The Kartemquin brand gets a shout out in this featurette, and it is a major key in understanding what this documentary is attempting to do. Toss in a booklet with both artist bios and an essay from critic Amanda Petrusich and a series of extended performances and you have one of the year's most exciting Criterion releases and a genuine discovery.