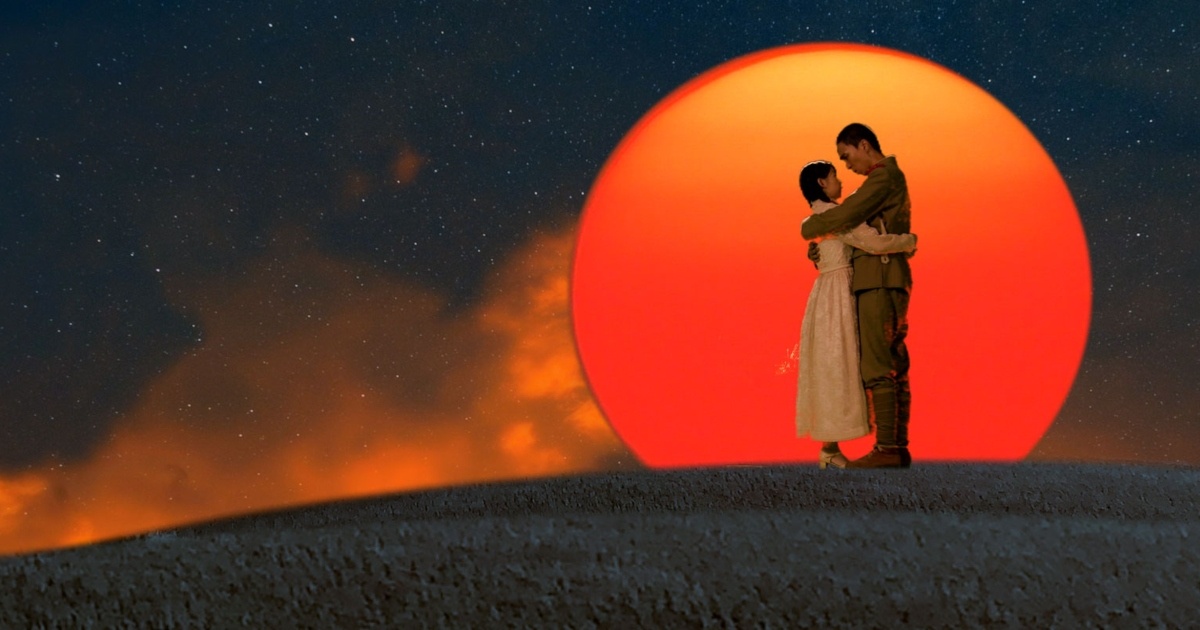 As we near the end of 2021, it's a time of reflection over what has been the best, or the worst, things one has consumed over the last 12 months. Be it one's favorite song, album, movie or television show, December is not just a time to spend time with one's loved ones, but to look back on the greatest "things" of the year just witnessed.
That, however, becomes difficult when one of those best "things," in this case Blu-ray, gets released near the end of the year.
In this specific case we have Crescendo House's mind-blowing release of Nobuhiko Obayashi's masterpiece,  Labyrinth of Cinema. Originally released in 2019, Labyrinth of Cinema marks the final feature shot in the life of the beloved Japanese auteur, a film that feels not just like a "final film" from a director who knew his life was coming to an end, but also like that of a experimental "next step" from a filmmaker who never believed it would.
I reviewed the film back in 2020, when the film originally came stateside, and had this to say about it:
First up on this final dispatch from Fantasia 2020 comes maybe the best film yet to see theaters in 2020, and the final film from director Nobuhiko Obayashi. From the late Obayashi comes Labyrinth of Cinema, a ground-shattering conclusion to one of Japanese cinema's great careers. A densely packed three hour magnum opus, Labyrinth tells the story of three men who are transported into a series of Japanese war films being shown at a theater on its last night being open. Bombastically anti-war, the film is a love letter not only to cinema as the premise would have one imagine, but also a thrilling and audacious meditation on the power of cinema to connect people through space and time. Embracing every trick and gimmick the director has ever used into one eye-popping extravaganza of surrealism, Labyrinth is a thoughtful and thought-provoking acid dream that finds Obayashi distilling all of his interests and passions into a final sonic boom from one of cinema's great experimenters who saw cinema as a way to connect nations to their history and one generations to one another. A genius work.
Now, upon rewatch, these words ring not just completely true, but exponentially more felt. A film of decidedly youthful verve and the defining vitality that made Obayashi's work, even at its most thoughtful, feel entirely of its own universe, Labyrinth is a powerfully political work from a punk rock iconoclast. And the presentation here does the film, and the director, a proper tribute.
First, let's talk packaging. The steel book release is a pleasure to toy around with, from the gorgeously kinetic slip screen to the eye-grabbing cover art. These are spine-numbered releases (this being Crescendo's first ever home video release), so collectors may be even more keen to grab this. Inside houses a set of four beautiful postcards (perfect to say thanks to anyone who gets this for you this holiday) and a pleasantly packed booklet. The booklet includes a thrilling essay from Eiko Ikegami and both the English and Original versions of series of poems from Chuya Nakahara, whose poems are seen in the film.
The discs are also equally stacked. Leading the way here is a 60-minute making of documentary that gives thrilling incite into the filmmaker's process, particularly on such a deeply personal work. It features the filmmaker speaking at his most candid, and with him no longer being with us, this has a melancholy, strangely beautiful energy to it. There's a lovely introduction from Kyoko and Chigumi Obayashi, Nobuhiko's widow and their daughter respectively, that's also bittersweet and is optional when starting the feature. Toss in a tender and delightful interview with Kyoko Obayashi and you have a release that is, top to bottom, one of 2021's most delightful and engrossing home video releases. Giving a return to life for one of the great films of the last five or ten years, Crescendo House has announced themselves as a must-watch boutique. Labyrinth of Cinema is a masterpiece of politically vital maximalism, and this is a towering representation of this instant classic.