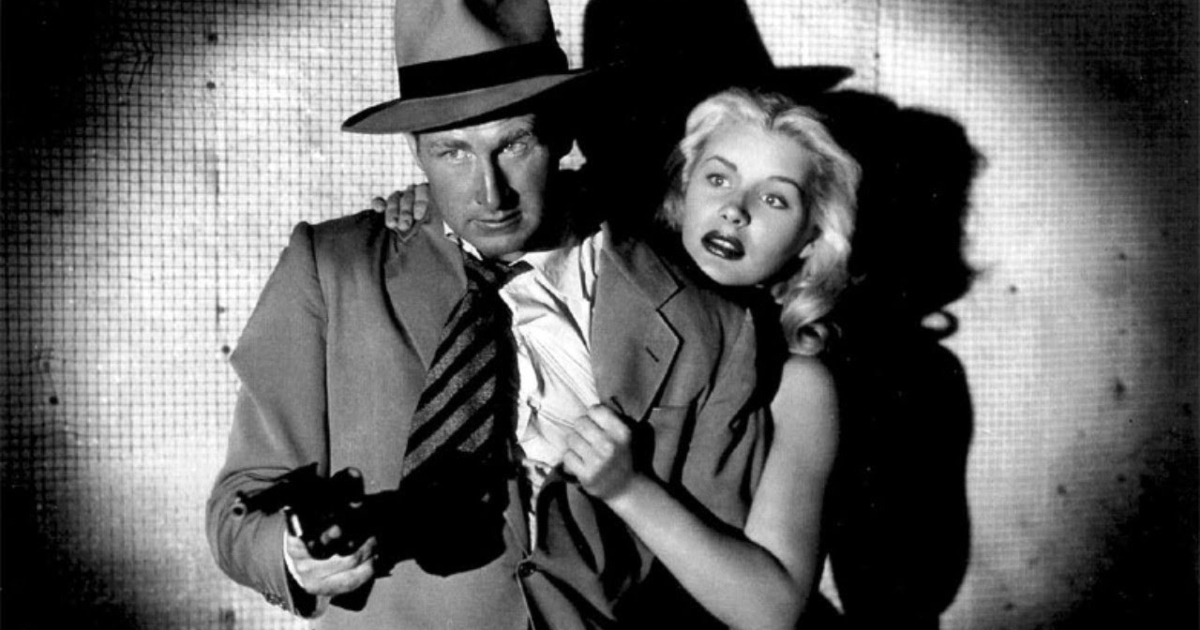 While it may not be "Noirvember," there are few moments on the calendar more fitting to dive into a great film noir than the dog days of winter, if you will.
Defined by an almost primordial ice-cold sense of existential dread, noir cinema is synonymous with a cold, chilly demeanor both stylistically and narratively, in the form of your prototypical hard boiled anti-hero. So it's no wonder why Flicker Alley took December as the time to release their latest film noir Blu-ray, a new dual-format release of the underrated, rarely seen masterpiece Trapped.
Not as much "hard to see" as it was just hard to see in a format that looked at all respectable, Trapped is one of the hundreds of films that have been relegated to the world of the public domain, staying alive thanks to low-quality prints that were able to be passed around for relatively no money as anyone who wanted to could lay claim to a copy to sell. That is, though, until now. Directed by Richard Fleischer, the film has been painstakingly restored thanks to the Film Noir Foundation and the UCLA Film and Television Archive, and has been given new life in the form of an absolute knockout home video release.
Fleischer, best known for his work some years later like Fantastic Voyage and Dr. Doolittle, began his career behind the camera at RKO, where he'd be a go-to craftsman for some truly interesting B-grade programmers. The likes of The Clay Pigeon would maybe not make him a genuine household name, but would get the attention of producer J. Arthur Rank, whose newly minted Eagle-Lion Films not only sought to produce the very same gritty noir films Fleischer made his stock and trade, but would do so with a pedigree that (due to a purchase of studio PRC) included masterpieces like Detour.
So on loan from RKO to Eagle-Lion, Fleischer would jump behind the camera for Trapped, a moody and genuinely thrilling B-picture that tells the story of Tris Stewart, a legendary counterfeiter who, upon the distribution of what appear to be bills from a copycat batch, is asked to snitch on his crew as they remain the number one suspect for this new rash of fake bills. More or less agreeing to this, Tris is bailed out by federal agents, only to then double-cross them, getting back in touch with his old flame and going on the run, hoping to make it across the border and in turn to true freedom. A film of unraveling cons of all shapes and sizes, Trapped is a twisty, briskly told thriller that takes the B-movie thriller and elevates it with incredible style and some top tier performances.
While star Lloyd Bridges my get the top billing here, his character's main squeeze, Meg, is played by the true gem of this cast. Known as one of Hollywood's many "dead blondes," Barbara Payton's story more or less begins with Trapped, her first real feature performance which sees the then-22 year old actress absolutely light the screen on fire as the lead's former flame. Just a decade or so later the actress would have gone through a marriage with legendary actor Franchot Tone, an arrest for prostitution and so much more. Dying tragically in 1967, the actress has been relegated to the stuff of true crime-style podcasts and grotesque "tell-alls" mining her troubled journey for content.
This is one of the many ways that Trapped becomes a true revelation. Payton is absolutely fantastic here, taking a tried and true character type and her chemistry with Bridges feels strangely tactile in an otherwise stylized picture. Payton has a singular energy to each of her scenes, and helps bring some much needed life to an incredibly gritty piece of work. Bridges is also quite good, playing the shit-heel with a smirk that's very much a defining trait of this archetype. Rounding out the cast is John Hoyt as John Downey, a "friend" of Payton's Laurie who's been keeping the cigarette girl company while Tris has been away. Carrying in his performance a similar sleaze as to what one sees throughout the film itself, Hoyt's performance is a perfect counterpoint of sorts to the two other leads. We never quite get a proper handle on anyone, and each performance feels knotty in a way fitting for a film this narratively twisty.
Again, with Trapped being fodder for the "public domain" world, Fleischer's direction really comes alive in this new dual-format release. Despite modest means, the film is strangely accomplished, with a propulsive sense of energy and a grittiness that gives each set piece a real vitality. It's a film of double-crosses and gunplay, with each new revelation being played as just another part of the floor falling from under our lead and everyone in his life. The location-shooting makes the film feel tactile in an entirely different way, which itself is elevated thanks to the new restoration, set from a 35mm acetate print. It's not a clean print, nor a clean restoration, with each and every hair, or scratch, or piece of dirt bringing with it some genuine character fitting for this type of thriller.
Extras are numerous here. As is Flicker Alley's norm, the release comes gorgeously put together with both incredible artwork and pieces of writing that both help introduce the film to new viewers and add some much needed context for those intrigued by it after checking it out. There are superb retrospectives both about the production of the film as well as its director, and even a commentary track with author Alan K. Rode and historian Julie Kirgo. It's really a fantastic commentary track that, similar to the booklet and pair of video pieces, shines a light on the film's production, Fleischer's strange career, and the lives and times of the three leads. Overall, it's another banner release from one of today's great boutique home video labels.
$34.99
$59.98
in stock
9 new from $33.98
3 used from $36.85
as of August 11, 2022 9:31 am
Last updated on August 11, 2022 9:31 am