There are horror films, and then there are Hammer horror films.
Possibly the most iconic name in all of genre film, Hammer Films have been behind various beloved horror gems ranging from the Bela Lugosi starrer The Phantom Ship in 1936 all the way to the genuinely underrated post-Potter Daniel Radcliffe film, The Woman In Black. Partnering with various companies on new projects in today's film landscape, even the remake of Let The Right One In, Hammer Films have become synonymous with horror even to this very day. And thankfully, with the rise of boutique and genre home video release houses, their classic pictures live on just as strong.
One such film is the erotic thriller, The Vampire Lovers. Part of Hammer's "Karnstein Trilogy" with Lust For A Vampire and Twins Of Evil, the film is also based on the legendary early vampire novella, Carmilla, from writer J. Sheridan Le Fanu. The picture follows the story of a female vampire, in late 18th Century Europe. However, she's not your run-of-the-mill throat biter. Aside from her occasional appreciation for the female body, she is out for revenge as years prior, her fellow vampires . She herself becomes the focus of a hunt, in what is ultimately a minor thriller in the grand scheme of Hammer's long and storied history.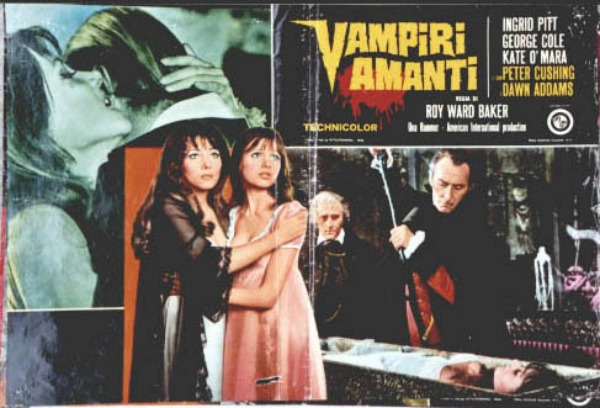 From director Roy Ward Baker, the film is most important in its overall aesthetic. Oozing the classic Gothic aesthetic that would today become known as one of the last truly inspired creative efforts from the studio. The film itself thrives in Baker's use of both the camera and the superb production design and above superb cinematography from Moray Grant. Beautifully framed sequences of sex and violence adorn this film, as do lavish sets ranging from a forest that no one would dare be found in to a castle that seems ripped right out of classic literature. Toss in equally lively costumes and some of the most erotically charged horror sequences you'll find this side of a midnight Cinemax picture, and you've got a film that is definitively style over substance.
But that's not entirely a bad thing. Overall a flat picture, the themes here are as vapid as the performances, which neither add nor detract from the overall picture. Peter Cushing is a welcome find here as "The General," giving what is more or less the type of performance one would imagine Cushing giving in any film, or at any dinner party for that matter. Ingrid Pitt is fin here as our lead, but doesn't add much to a character that is little more than a narrative extension of the Hammer idea of blending eroticism and chills, and the likes of Pippa Steele and Dawn Addams do little to nothing to add anything else to the feature.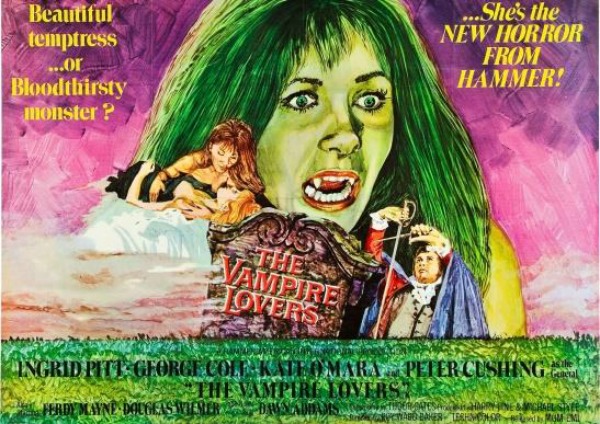 Now available on Blu-ray thanks to Scream Factory, this middle of the road curio for genre hounds has finally arrived on Blu-ray and in one hell of a form, for that matter.  The transfer here is solid, as the photography really pops, amping up the film's strongest aspect while also bringing to light the solid score from composer Harry Robertson (billed as Harry Robinson in the credits) which adds even more mood to this film, which isn't short on its atmosphere. Baker pops up on a solid, if un-involving, commentary, as does Pitt who finds herself reading the novel from which this picture is based. There is a trailer, radio spot, photo gallery and even an interview with Madeline Smith, rounding out what is a solid, if not entirely perfect, release from a company making their name in top notch releases of horror pictures that would otherwise never get the time of day. Hammer hounds will enjoy adding this to their collections, and while non-genre nuts may have  a tough time finding an entry point into this film, they will be rewarded with a top notch release and a film that has enough style to make it something to reckon with.