3D, for better or for worse, has been widely seen as nothing more than a gimmick. With most films choosing to do nothing more than toss various things at the viewer or use it to add some sort of unfounded gravitas to an artificially epic action sequence, the format has become a laughing stock of cinematic culture, a culture that has seen it as rarely more than way to pull out an extra wad of cash from the pockets of moviegoers all over the planet.
That is, until the auteurs got ahold of it, at least.
Names like Scorsese and Jackson have taken to 3D (and even, in the case of the latter, a higher frame rate to make it smoother) and attempted to use it as something more. Pixar, the bastions of animated brilliance, have taken to it, only to use it to add depth and life to their already detailed and vibrant frames. Using the format as a window instead of a weapon, these names have proven that it's, for artists, yet another brush to paint with. And then Wim Wenders got a hold of it.
More a loving ode to a friend than a documentary, Criterion has just released the 3D dance film, Pina on DVD, Blu-ray and, of course, 3D Blu-ray and while a film like the oft-compared Girl Walk // All Day may be seen as what dance can do in today's landscape and what it'll be doing going forward, Wenders' film is a touching look back at one of the medium's most important and influential names.
Structurally, the film is as rigorously structured as any narrative feature film you've seen. Best described as a collection of dancers giving their final words on iconic choreographer Pina Bausch, the film finds these dancers speaking to her life, work and career, while in the interim performing some of her most legendary pieces. All shot with the virtuoso hand that is Wenders' staple, the film is, narratively, the most luscious love letter to a fallen friend that cinema has seen in quite some time.
And frankly, it's the work of Wenders here, shooting these performances once directed by his close friend, that is so moving and evocative. But is it ultimately inventive? With the aforementioned Girl Walk now amongst the list of some of the most talked about independent films of this past year, one can't help but compare the two, despite how different the pictures are intentionally. Wenders' picture is almost morose in how reverent it is towards the subject, simply allowing for the luscious and beautifully choreographed sequences, and the equally poetic performances, to truly speak for themselves. The structure is interesting, playing as an essay almost, looking at a career instead of telling a true cinematic story, but the directorial voice doesn't feel as kinetic and anarchic as found within All Day. Both pictures allow the dance to become the star, but one looks, plaintively, back at history while the other attempts to prove that dance is one of the more forward moving mediums in our artistic culture.
That said, don't let me sell this film short, as it's utterly breathtaking. The 3D is truly fantastic, and while I can't speak to the use of the format at home, in theaters, the film thrived when Wenders allowed the 3D to add a level of depth to a beautifully framed film. I still have images of the 3D in this film burned into my mind, now nearly two years after I saw it. A few of these pieces are really quite interesting, but truth be told, the entire film feels as though it is a stage performance. With one piece seemingly connecting them all, the picture feels quite intimate, but with some gorgeous photography, the film also holds its own as a piece of cinema.
One of the more talked about features from the arthouse world over the past few years, it's about damn time the film arrives on home video, and thankfully, it is in the form of an absolutely stacked Criterion release. The transfer here is stellar, particularly during the handful of outdoor sequences, the same sequences where you can feel life being breathed into the motion picture. The commentary here is enthralling, adding even yet another layer of appreciation for the film and also its focus. A making of documentary shines a light on the actual production of the picture, and Wenders shows his face again in a behind the scenes interview and during the commentary on a collection of deleted scenes.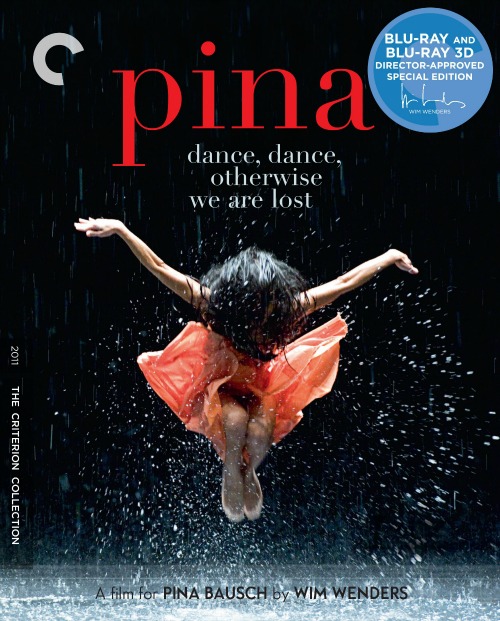 With Criterion not afraid to focus their efforts on the world of dance, Pina lands somewhere firmly between the thrillingly focused Martha Graham films and the blitzkrieg of style found within Carlos Saura's Flamenco Trilogy. A love letter to his fallen friend, the picture feels like more of a meditation on a career than anything resembling a documentary, or even a dance film for that matter. Yes, dance is the central medium of expression here, but instead of being used as a plot point, the film attempts to prove that dance may be the most visually stunning artform that we have today. A tone poem about a life lost, Pina is a must own for anyone, and everyone. Truly.