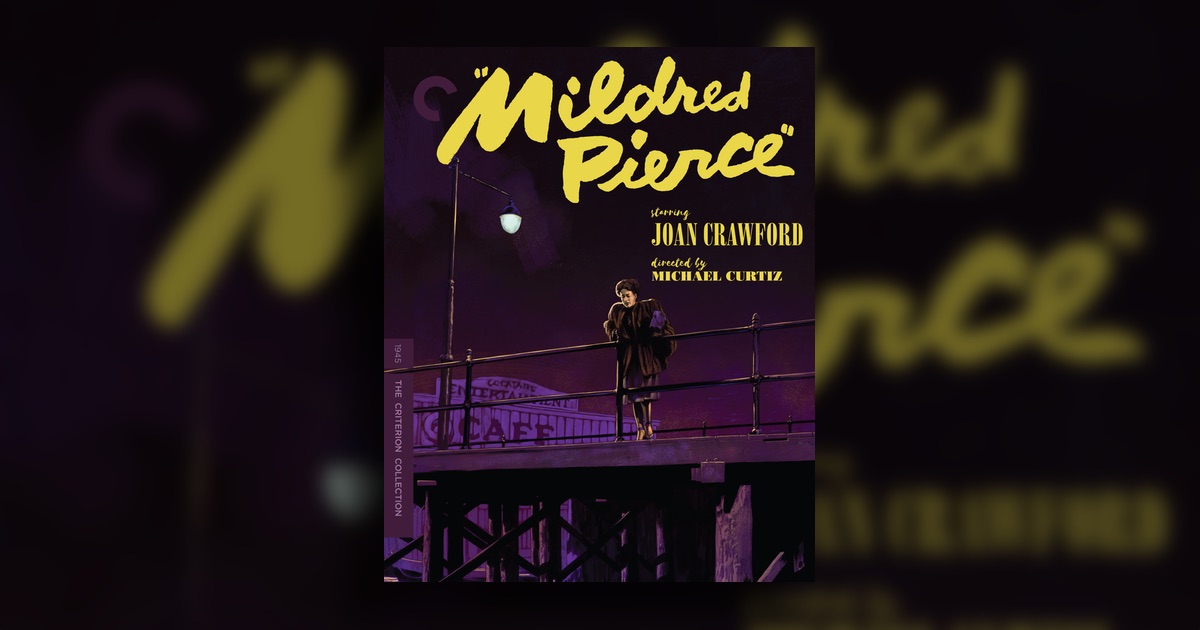 With the new release of Mildred Pierce, the Criterion Collection appears to be solidifying a trend over the past couple years of providing a showcase for some of the greatest female actors from Hollywood's Golden Age. Since late 2014, stars like Claudette Colbert (It Happened One Night, The Palm Beach Story), Rita Hayworth (Gilda, Only Angels Have Wings) and Rosalind Russell (His Girl Friday) have made their first appearances in the Collection, in what can be considered career-defining roles. These additions seem to be addressing a notable blind spot for Criterion. As impressive as their reach has been in bringing many of the most iconic women from the past hundred years of world cinema to the forefront, the continuing absence of silver screen legends like Bette Davis, Olivia de Havilland, Greta Garbo and Elizabeth Taylor, just to name a few, seems like a lingering oversight, a problem yet to be resolved as the Collection continues to catalog its ever growing list of "important classic films." Yes, there are always the rights issues to be reckoned with when it comes to notable omissions, but as I see it, this recent acquisition of once-unattainable major studio properties is a promising demonstration of Criterion's adventurous evolution into new territory, as the catalogs of their favorite go-to directors (the Kurosawas, Fellinis and Bergmans, and so on) become increasingly picked-over.
There were a few exceptions that featured top-shelf female actors in Criterion's early years. Names like Barbara Stanwyck, Ingrid Bergman, Katherine Hepburn and Marlene Dietrich come to mind, all of them appearing in films arguably selected more for the auteurist credentials of their directors (names like Sturges, Mann, Hitchcock, Lean and von Sternberg, respectively) than on account of performances by the leading ladies. (Though of course, that's always a nice asset to emphasize when promoting discs for sale.)
But with Mildred Pierce now taking on its own spine number, the inimitable Joan Crawford has at last secured a spot within the illustrious Criterion library. And this package really does an outstanding job in making the case that Crawford is indeed, as the subtitle of one of the bonus supplements proclaims, "the Ultimate Movie Star." This was the role that won Crawford her only Academy Award (out of three nominations overall). The relative lack of Oscar hardware for a widely acclaimed actor who worked steadily over a period of 45 years might seem to belie that claim of being the "ultimate" screen goddess, but as we see in both the story of Mildred Pierce and the larger biography of its star performer, the favor of "the establishment" did not come naturally or easily to a woman of self-reliant, independent temperament who didn't display many qualms about breaking rules and pursuing her dreams, whatever price she had to pay to make them come true. A lot of resistance had to be turned back for Ms. Crawford and Ms. Pierce to each overcome the obstacles placed before them. Despite the anguished outcomes and murky conclusions offered up by their respective stories, one fictional, one true but in so many ways larger than life, there's a lot of inspiration and fascination to draw from on this disc.
For many (maybe most?) readers of this review and potential owners of this disc, Mildred Pierce is a familiar property, with the main appeal of this edition being a chance to own it on a nice Blu-ray transfer. If you're that kind of viewer, I'm pleased to let you know that the release serves up a wonderful tribute not only to Joan Crawford, but also to the other great collaborators on this project, such as director Michael Curtiz and actress Ann Blyth, who was sensational in her play against type as Veda, Mildred's horridly spoiled brat of a daughter. The sumptuous production values of this relic from Warner Brothers prime years glisten with rich sonic and visual textures throughout – whether it's shadows cast on the wall, the sharp outfits worn by the leading women in the cast or the deft blending of drama, humor, pathos and suspense that keeps the proceedings so lively, engaging and worth revisiting.  I'm confident that this is a package that will delight Crawford's fan base, whatever those numbers may be at this point in time. (I have a hunch that she's not as celebrated nowadays as many of her one-time peers and rivals.)
But for others, such as myself (at least up until last week when I had a chance to preview the pending release), both the film and Joan Crawford herself are new discoveries. I'll confess right here that though I've been vaguely familiar with Crawford's screen persona (mostly through her late career ventures into ghastly exploitation horror roles, which genuinely scared me and kind of freaked me out, in a not so fun way, when I caught glimpses of them as a little kid), I was never particularly drawn in to explore her signature works of the 1930s and 40s from the MGM and Warner Brothers archives. My journey into cinema approached the art form from different angles, with the net result that if I was inclined to watch a Hollywood film from this era, it was more likely to be a gritty fatalistic noir, a cheesy old monster flick, or even a Three Stooges short subject. My general impression was that Crawford's specialty was along the lines of potboiler soap opera "women's films" with an emphasis on domestic conflicts, heartbreaking tearjerkers and other such concerns that my younger, more foolish self once considered uninteresting and a waste of my time. (I know, I sound kind of like Keith Enright talking about Westerns…) But my first-time viewing of this gem, expertly guided by the witty and insightful liner notes essay by Imogen Sara Smith, who provides a useful roadmap for further explorations of this mid-century independent women sub-genre, and a similarly informative video chat featuring Molly Haskell and Robert Polito, dramatically overhauled a number of my flimsy and easily disposed of preconceived notions.
So I'm more than happy to step forward and proclaim that I greatly enjoyed this recent immersion into a bona fide Tinsel Town classic; for the aesthetic pleasures it offers at just about every turn of its lurid, fatalistic plot… for its ability to stir up my thoughts on what this film must have meant to women of its immediate post-WWII era (and ever since) who similarly found themselves in the dilemma of working so hard to create a better life for their families, only to see their sacrifices go for naught due to the callous indifference of the very spouses and children they cared for… and for the genuine pathos I felt in getting to know more about this fascinating, complex and supremely driven woman, Joan Crawford, who relentlessly pushed herself forward through a long, fascinating and complex life. She arose from dirt-patch rural poverty, through the anonymous ranks of a silent movie chorus line showgirl whose screen time flashed by in an instant, over and above the reputation of "box office poison" and established new precedents that exposed the hypocrisy of the studio system's routine dismissal of highly capable women from prime acting roles when they passed their perceived expiration date.
Whether its through her striking performance as the titular protagonist of Mildred Pierce or her curiously morbid late-in-life contemplations offered up in a 1970 interview from "The David Frost Show," I found myself rather awestruck by the presence and intensity of this powerful, indomitable woman. I remain quite intrigued to see and experience more of Crawford's mastery of her craft. Unfortunately, FilmStruck doesn't feature any of her movies at the moment, despite the TCM connection (which I thought would have meant much more of that sort of thing available on the service), so I'll have to look elsewhere to pursue that interest. (I hear Johnny Guitar calling my name…) But I'm really glad to have had this encounter. It leaves me all the more eager to check out Katherine Hepburn (and, oh yeah, Spencer Tracy too) in Woman of the Year a couple months from now, for another generous serving of this golden age Hollywood greatness, Criterion style.
Products from Amazon.com
Price: $22.97

Was: $26.29
‹
›
Products from Amazon.com
Price: $17.97

Was: $22.99
‹
›