Back when I was embarked on my serious quest to build a complete Criterion Collection (a subject of significant interest as of late), I have to admit that the original DVD release of Robert Bresson's Pickpocket bothered me quite a bit. I had a hard time understanding and justifying the $40 price tag on a film that was only 75 minutes long and didn't seem especially loaded with extra goodies. At the time, it looked to me as if it should have fallen into the $30 price range, as was the case with titles like Les Dames du Bois de Boulogne and Au Hasard Balthasar. The extra ten bucks they were charging gave me the feeling that Criterion was filching from my own wallet, thank you very much.  Mind you, I hadn't even seen Pickpocket yet, so my annoyance was strictly based on considerations of quantity, not quality. Eventually I did get around to seeing it and, finding it quite an impressive achievement, the elevated price tag became a bit easier to understand. But I have good news – for that same $39.95 SRP, you can now have access to the same Bressonian brilliance in both Blu-ray and upgraded DVD formats – or if you insist, there's a DVD-only version that brings it down even $5 lower than I once dared to dream: $24.95 list, and even cheaper if you take advantage of certain sale prices!
What follows is a slightly edited version of the review I wrote on my Criterion Reflections blog back when I first apprehended Pickpocket back in July of 2011. I've added a few observations here and there, but for the most part, my thoughts from three years ago still speak adequately for me now. The main comments I have as to the advantages offered by the new Blu-ray (for those who have the old disc and are wondering if it's worth the double-dip) are that the crispness of the image and the uncompressed mono soundtrack really do enhance our ability to immerse ourselves into Bresson's solemn atmosphere. The clicking of heels on pavement; the withering decay of cracked walls and fraying wallpaper in shabby tenement corridors; the rich weave of fabrics and supple texture of personal accessories (handbags, wallets, valises) explored and violated by the slithering fingers of thieves; the muted glow and impeccable contrasts of Leone-Henri Burel's impeccable cinematography… these are among the elements that stood out most prominently when I compared the two releases. Even the new DVD shows a marked improvement. In short: this is a worthy re-purchase, in my not-so-unbiased opinion.
*                              *                              *
For people who have fallen thoroughly under the spell that fine art house cinema, Robert Bresson as a director, and Pickpocket as a film, are indisputably held in higher esteem than he is by most movie watchers who might, for whatever reason, find themselves facing this oddly fascinating little masterpiece from 1959. Despite starting off with a persuasive bit of intrigue (a successful if enigmatic demonstration of the art for which the film is titled), Pickpocket quickly abandons any pretense of being a crowd-pleaser as it calmly proceeds in its narrative unfolding, oblivious or perhaps even contemptuous in its lack of interest in delivering the explanations or other background elements that provide a more accessible frame of reference for understanding Michel's self-annihilating urge to commit acts of petty theft so brazen and foolhardy as to guarantee his eventual detection and capture.
Clearly Bresson is one of those directors more intent on pursuing his personal ambitions and fulfillment, supremely confident, to the point of what some would consider arrogance, that even if only a select few are willing to follow him toward his destination, it's a price worth paying to avoid the moribund constraints of commercial considerations that would have made Pickpocket a more conventionally satisfying foray into the noir-ish criminal underworld explored so successfully by great French crime films like Rififi, Touchez pas au grisbi and Bob le flambeur in the years preceding its release. One big difference, of course, is the age of the protagonist. Those three films all have in common aging crooks well past their prime (at least when it comes to sustained, uninterrupted criminality), reminiscing in various ways about youth's faded glory. Pickpocket features a man just emerging into adulthood, a reflection perhaps of the Nouvelle Vague that was erupting into French cinema even as Bresson, one of the old guard whose innovations helped pave the way for that uprising, was still at the top of his game.
Whether or not the following quote applies to Bresson's personal philosophy of life, it seems at least worthy of conjecture that when his anti-hero Michel voiced the following sentiments, he may have been speaking about the director's attitudes toward run-of-the-mill filmmaking aimed at generating big box office, and the role that contrarian talents like himself played in the contemporary cinematic scene:
Can we not admit that certain skilled men, gifted with intelligence, talent or even genius, and thus indispensable to society, rather than stagnate, should be free to disobey laws in certain cases?
This Nietzschean outlook is bound to offend some, appeal to others, and leave most just scratching their head and shrugging, "what the huh?" before moving on to some more easily digestible distraction. Such is Pickpocket's fate, destined as it is to be an object of fascination to a select few, and a readily acknowledged landmark to others who recognize Bresson's superior craftsmanship, his innovative vision for the future of cinema and the skillful application of a rigorous discipline, even as they fall short of fully embracing the film as a satisfying experience, due to its brevity, its severity or its lack of the user-friendly payoff that we've come to expect from movies we hold especially near and dear to our hearts.
As a story, Pickpocket is even slimmer than the peculiar 75 minute running time would suggest. That clipped, abbreviated duration suggests something along the lines of a prime-time TV drama, plus a little extra, not the deeper exploration of human interiority that comes as part of the package with a standard two-hour feature film these days. And yet, there are a series of small but influential gestures that demonstrate Bresson's willingness to pack more in, and create more rewatchability for his selected clique of aficionados, than ever occurs to the average network TV director, whose mission is primarily to advance concise, tidy narratives and lead the viewer to a hook that draws them into the next episode. Pickpocket's story arc, such as it is, tracks a slide onto the edges of oblivion that Michel finds necessary to fulfill his own sense of self, but the film offers precious little in the way of any context that would help us, the outsiders sitting in the dark, staring at this spectacle, to understand "why?"
It occurs to me as I write this that I'm spending more time talking about Bresson and his method than about the actual content of the film itself. Such are the hazards of directing as he does, hewing so faithfully to the path he's chosen to travel. Perhaps I'm falling into the trap of regarding his work as a triumph of style over substance; if so, I won't take on the fault as my own. Pickpocket is an impressive piece of work, presenting us with a leading-man cipher, an idler akin to any number of aimless, perturbed young men found in the short stories of Kafka, or  Melville's (the author, not the director) Bartleby the Scrivener, only to offer the slightest hint of redemption and harmony at the very end of the film, after he's convinced us that he lacks conscience or any motivation to change. Bresson himself pushes us to that edge, stifling as he does both the merits and the restrictions of standardized melodrama, thriller or suspense films, even while exploiting select elements of all three genres.
So allow me to discuss then, the characteristics of Michel, his accomplices Jacques and two others who remain unnamed (one of whom is a yet-to-be discovered Pierre Etaix, subject of one Criterion's more lavish and extraordinary releases of 2013), mere functionaries for all their stylized execution of the fine art of picking pockets, and Jeanne, the teenage redemptress cast more for her ability to cast piercing soulful doe-eyed stares than for anything resembling acting. Bresson famously referred to his cast as "interpreters" and "models," and the way they're used here offers ample demonstration of what distinguishes them from "actors." Their expectations were to deliver their lines in flat, emotionless monotones, looking up, looking down, elliptically turning away from the camera so as to parallel Bresson's forward leaps in time, skipping over the scenes many other directors would consider essential in order to render a sensible arc of character development or the necessary exposition to keep us tracking as a group.
Michel is the prototype of the young man just coming to adult awareness of his own potentials without the guidance of any moral framework that will put his gifts in focus. Alienated from his peers, reluctant to lower his guard enough to accept Jeanne's sincere affection (a credible substitute for love, all things considered), Michel instead follows his own juvenile impulses to take that which does not belong to him yet which he feels entitled to nevertheless. Finding like-minded companions who can help him advance his larcenous skills, he soon backs himself into a corner, drawing the attention of the police and making himself a marked man. The only escape, after his mother dies and he finds himself truly without mooring, is to leave town by train, Paris to Milan to Rome to London, a passage that compresses two years of life experience into a few narrated seconds of screen time before we see him disembark from a train in the same suit, tie and haircut he left with. It's scarcely a believable advancement, especially when Jeanne enters the room looking practically identical to the pretty teenager as we last saw her. What is the point of this transition, except to demonstrate Michel's seemingly hardened resignation to his pickpocket ways? It also serves to ennoble Jeanne's patient, saintly willingness to await Michel's not-so-inevitable moment of realization that life may have more to offer than the displaced eroticism of brushing up against strangers and extracting random treasures from concealed compartments of their personal attire.
Finally, Pickpocket offers us a glancing critique of the anonymity and alienating disconnection required of those who spend significant portions of their lives living in crowded metropolitan environments. The close proximity and personal space invasions that serve as a prerequisite to Michel's crimes seem scarcely conceivable to those of us who live in cultural circumstances where strangers are never allowed to get so close without drawing sharp scrutiny and prompting a hasty withdrawal. In a way, this film stands as a contrasting companion piece to Bresson's earlier film, Diary of a Country Priest, a context in which the protagonist's role as clergy and confessor opens up emotional boundaries utterly foreign to Michel the pickpocket, even as the limits of more intimate physical contact are strictly defined and enforced. An alternative title to this movie might have been "Journal of a City Thief," even though I greatly prefer the original (which is indeed "Pickpocket" – not a translation from the French.)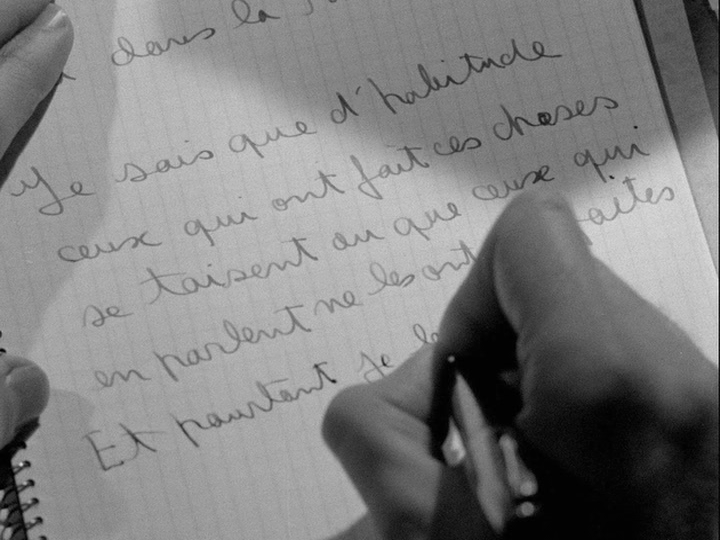 As astonishing as anything we see in Pickpocket is the discovery that awaits in a delightful and revelatory documentary, The Models of Pickpocket, a 2003 documentary included on Criterion's DVD, originally released a couple years later. In it, filmmaker Babette Mangolte manages to track down the three principle characters from the film, Michel (Martin LaSalle), Jeanne (Martika Green) and Jacques (Pierre Lemarie) to their respective homes in Mexico, Austria and France. Beyond just hearing their intriguing anecdotes from the production of this movie, I was even more impressed by seeing what formidable people each of them had become over the decades following their brief forays into the acting side of show business. This hour-long documentary, along with a generous smattering of other shorts and supplements, definitely compensates for what is otherwise a rather short main feature. Pickpocket remains one of the archetypal portrayals of a psychologically ambiguous and largely unexplained loner whose actions provoke many more questions than supply the kind of comforting answers and platitudes we often seek from movies, merely for the sake of confirming that which we already believe.