Writer/director Sacha Guitry's 1951 film La poison, out now on Blu-ray from Masters of Cinema, is so outrageously entertaining, due in large part to the combined wit of he and his star, Michel Simon, but also because the premise he concocted could just as easily work as a noir-esque thriller. This sort of blending of genre is well-worn territory in a post-Coen-brothers landscape, but just imagining this film in the context of even world cinema of 1951 just makes it all the more audacious. As it stands, the film is still a blast to watch, and it takes another tack familiar to its time but barely whispered now – taking a lot of time to establish its setting and characters.
Even with only 85 minutes at his disposal, Guitry is in no rush, so much so that he spends the first five minutes literally walking around the set, complimenting his many collaborators as a means of introducing them to us in the audience. This way of playing with the opening credits will be familiar to anyone who's checked out Criterion's marvelous Presenting Sacha Guitry Eclipse set (all four films of which are now available on their Hulu channel), but beyond their fanciful qualities, they set the stage in an important way towards Guitry's larger purposes with film. Guitry came from the stage, which, with its established practice of company players and so forth (never mind his own status as writer/director/star), creates the immediate impression of artifice that film might not necessarily. With these fun opening credits, Guitry is reminding us that it's all a show, certainly, but also that it takes many people to bring these things to life, all of whom possess more talent than a single film could necessarily showcase.
---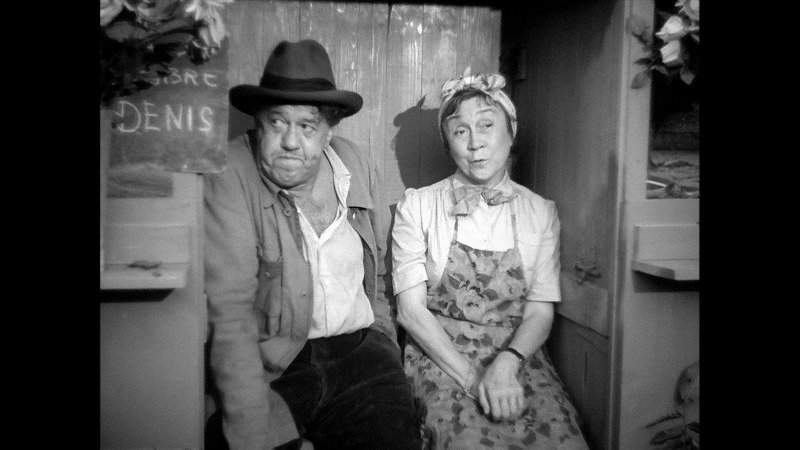 ---
One talent that this film does showcase in full, however, is star Michel Simon, who appeared in several of the greatest films of all time (such as L'Atalante, Boudu Saved from Drowning, La chienne, and Port of Shadows) during the 1930s, but whose career in the years following has not enjoyed the same reputation, so for that alone, this new Masters of Cinema release is a joy. Guitry had the utmost admiration and respect for Simon (and vice-versa), and constructed his entire production around the actor, who commented that he often feels he loses a touch of magic in his performances every time they do more than one take of a scene. Thus, Guitry gathered all his technicians together, and asked that they do everything in their power to do every shot in a single take, and for the most part, they succeeded, shooting the entire film in under eleven days (reports vary, but that was the highest number I heard).

The result does have an uncommon buoyancy, with Simon really tearing into the role of a man looking for a way to kill his wife and get away with it, exponentially multiplying his joy every time he gets a little closer to his goal. His capacity for turning a moment in which nothing is happening into a character beat is unparalleled, so when he really gets a chance to tear into something big – and the climactic courtroom scene is most certain that – it's like watching Astaire dance. There's nothing like Simon, and even though it took far too long for him to team with Guitry, what a pleasure that they finally did. The writer/director's dialogue, such a delight in his socialite comedies from the 1930s, is here sharpened into biting satire of not only the criminal justice system, but of the way murder is accepted and even commodified in certain cultures. Not that the pleasure of the film can boil down to a simple thesis, but a lot about Guitry's goals and attitudes towards his story are revealed in a conversation in which one man laments the murderous intent in men, to which the other replies, "yes, but it lets so many others live." And from newspapers to lawyers to even shopkeepers, we see that murder can be good business for everybody.
---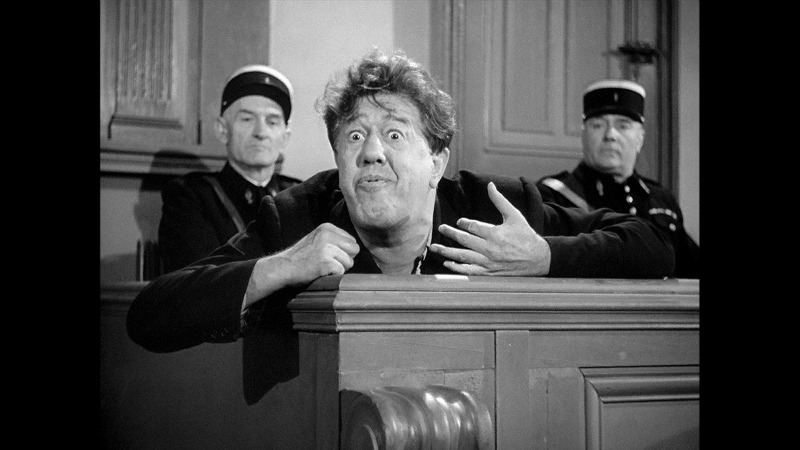 ---
Despite a very smart aesthetic – Simon and the actress playing his wife are rarely shown in the same shot, for example – this is not an especially visually-driven film, though Masters of Cinema have, as always, done their due diligence in bringing La poison to Blu-ray. The only real issue I noticed is that detail is lost in a few wide shots, but I didn't find that terribly burdensome, in no small part because there aren't a whole lot of wide shots. Performances are the focus here, and Guitry sticks mostly to medium shots. Other than those, the image is very crisp, surprisingly bright (great whites on display, though contrast is not sacrificed in the process), and exhibits a healthy amount of grain. The film is presented in its original aspect ratio, about 1.37:1. Sound is also well-handled, though as one might expect, there isn't much dynamism here, either, though Louiguy's original score sounds splendid.
Special features come down to a 2010 hour-long documentary about the film and Guitry, as well as an essay by Bettina Knapp, excerpted from her book on the filmmaker. Not much is repeated between the two, save for the above anecdote about Guitry's one-take policy, but both add a lot to one's understanding and appreciation for what, before viewing, might seem like a more modest accomplishment. The documentary is especially vital, as it covers Guitry's larger career, why he went unappreciated for so long, and what spurred the movement to reassess his work.
I would even go so far as to recommend you blind-buy this, especially if you're already a fan of Guitry's work (or Simon's, for that matter), as it's so immediately and immensely enjoyable that qualifiers barely apply. This is as fine a showcase for the actor as the more-acclaimed Boudu Saved from Drowning, and can easily stand alongside the filmmaker's work from the 1930s, working in a different tone though he may be. Another excellent release from Masters of Cinema.
---