Much like it took Alfred Hitchcock three films to make the first real "Hitchcock film," it took Brian De Palma seven films to get to the first film that would really feel like what he would come to be known for. Sisters is hardly a simple checkbox of expectations, though, some series of incidents involving voyeurism, repressed sexuality, explicit violence, dual identity, a pitch-black comedy. Sisters remains, at least for this viewer, a gripping psychosexual thriller, unpredictable and wildly expressive, incisive and deranged and remarkably ambitious for its rather slight resources. It takes courage to situate a film's first half almost entirely in an apartment, for example, but De Palma milks it for all it's worth, finding possibilities in every unusual crevice. This approach is characteristic of not only his set design, but his writing and directing as well.
In fact, the film isn't really even about the two people we get to know straight away. Philip (Lisle Wilson) and Danielle (Margot Kidder) are game show participants who hit it off well enough to go on a date, then date well enough to go to her place. Neither is the protagonist of the picture, but both are invaluable windows into this world, in which few people are ever truly known, and motivations are rarely what they seem. More actively involved is Grace Collier (Jennifer Salt), a low-level reporter never satisfied with what appears to be the truth. She is introduced during the film's bravura split-screen sequence, showing, on one side of the frame, her numerous clippings, all formatted exactly the same, all trying to expose police corruption and brutality. She's got a lot of spunk, that's for sure.
---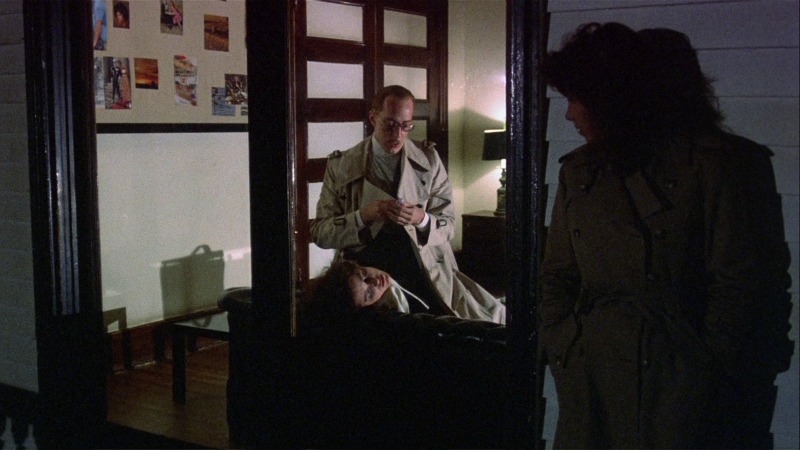 ---
Lurking – forever lurking – in the background is Emil (William Finley), introduced as Margot's possessive ex-husband, and gradually revealed to be more and more integral to the plot, with all meanings of the word very much intended. Am I being too cagey in discussing a film now past its fortieth birthday? Perhaps, but I only just saw the damn thing myself with this new Blu-ray release, and each new twist and turn so delighted and astounded me that I feel it necessary to preserve them all for future viewers. I am far, far, far from a big fan of De Palma, with only Phantom of the Paradise previously gripping me from start to finish. Sisters had the same effect, taking perhaps longer to reach the point of total devotion, but reaching it nonetheless. There simply gets to be a point in some films at which you'll follow them anywhere, down any rabbit hole and across any canyon. Sisters is such a film. It's all about the limits of perception – key information is kept around the corner, behind the couch, over a preventative ledge, a few floors up – while giving us all the information. Even elements that seem to be played as misdirection are unconvincing. A weakness to some, perhaps; to me, it's a character chasing the wrong clue. But there is something sinister afoot, something unthinkable. That's what matters. That's what De Palma conveys. There's something lurid and terrifying and seductive at play, like a date you know you shouldn't go to bed with, if only you could stop undressing.
Arrow Films has been knocking their releases out of the park these last two years or so, and this is no exception. This new Region Free disc looks outstanding, boldly colorful and sharp as a tack without sacrificing much, if any, grain along the way. Depth and contrast are outstanding, save for a few outdoor night shots, which can easily be attributed to the limits of production. The whole thing is clean as a whistle; I recall no significant damage marks or other blemishes.
---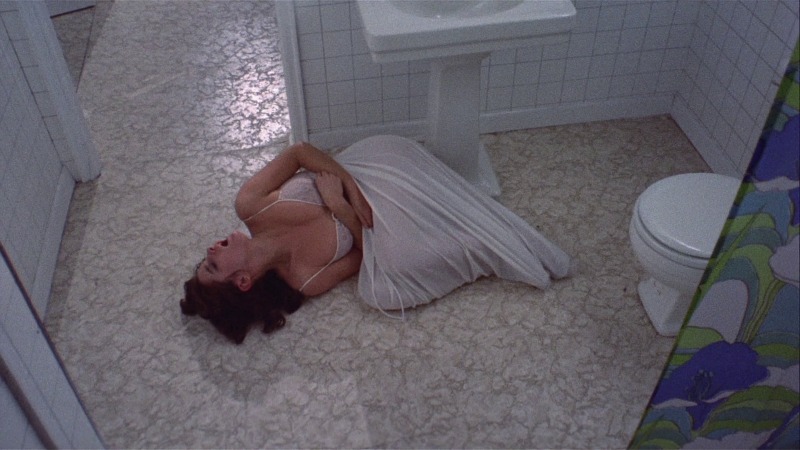 ---
Special features are abundant, and general pretty solid. I will, however, start with the worst. Titled "The Brian De Palma Digest," film critic Mike Sutton cut together an overview of De Palma's career, providing a very brief synopsis and some analysis of each of his many films. At 31 minutes, it's succinct enough, but he never goes so far in depth to justify the project at all, except to entice those new to De Palma to perhaps check out his lesser-known work. Further, it suffers from issues of licensing. While Arrow has a pretty good amount of De Palma's films in their catalogue, it becomes awkward to provide such abundant, clear material from Phantom of the Paradise and Obsession, but nothing but stills from more well-known works like Scarface, The Untouchables, and Mission: Impossible. Not that those more mainstream films are necessarily any better, but, when mentioned altogether in the same program, the difference is jarring.
The same issue is even more prevalent in "What the Devil Hath Joined Together," a visual essay by critic Justin Humphreys discussing Sisters at length (nearly 50 minutes, in fact). His observations and analysis are good enough to make up for it, but when he directly compares a shot from the film to one from a Hitchcock film, but is unable to show the actual clip from the Hitchcock film, it becomes pretty tedious an unconvincing. I understand the limitation, but visual essayists would be better off working around these issues rather than attempting to plow through them.
Aside from that, we get some very cool, short interviews with Salt and Finley, as well as cowriter Louisa Rose, editor Paul Hirsch, and unit manager Jeffrey Hayes, all of whom have different, complementary perspectives on working with De Palma and the legacy of the film, adding to a package that rarely repeats itself without feeling like they're scraping the bottom of the barrel for information.
Look around the case, and you also get a booklet with an essay by author Kier-La Janisse, De Palma's 1973 Village Voice essay on working with composer Bernard Herman (who, Hirsch notes, made Sisters feel like a real movie), an interview with De Palma, and the 1966 article that inspired the film in the first place. How cool is all that? Too cool.
---