There's this song, first recorded by the Canadian band The Original Caste, called "One Tin Soldier." It came out in 1969, at the height of the anti-war movement, so of course it's a folk ballad of sorts. It tells the story of two neighboring villages, the peaceful Mountaineers and the war-hungry Valley dwellers. The Mountain tribe has some buried treasure that the Valley people want. The former offers to share the wealth. The latter decides instead to take it all for themselves, killing everyone on the mountain in the process. When they dig up the treasure, all they find is a message – "Peace on Earth." Franklin J Schaffner's The War Lord is practically the cinematic adaptation of that song, ideologically- and aesthetically-speaking. Unfortunately, it also comes addled with some less-commendable attributes of mid-1960s social attitudes.
Chrysagon de la Cruex (Charlton Heston) has one job – keep the peace of a small village. It's a simple enough task, but one greatly complicated by his attraction to Bronwyn (Rosemary Forsyth), daughter of the village chief, pledged to wed a very decent man she's known all her life. And, well, Heston's not the kind of guy to not get the girl. A few things about their relationship, however. First, he meets her when she's completely naked, stripped by his own men, and refuses to grant her any level of privacy in rectifying this. Second, he eventually woos her by taking advantage of a rather absurd village law that allows a man in his position to deflower any woman on her wedding night. What a story to tell the grandkids.
---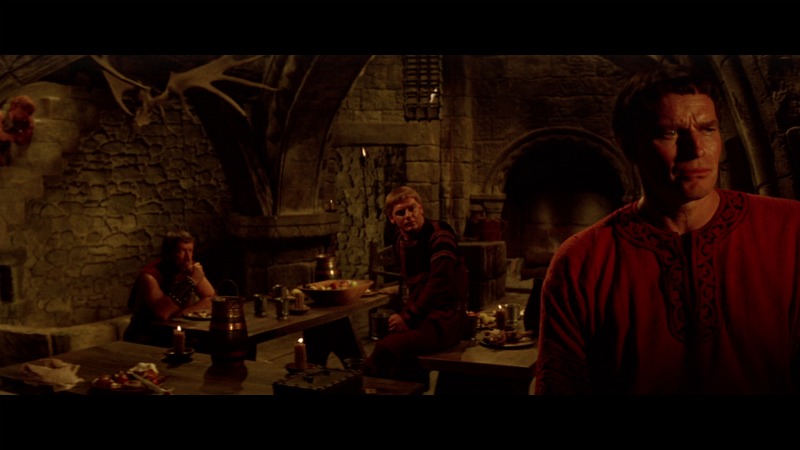 ---
On some level, you might be saying, "well, gosh, the damned thing takes place in the 11th century, what do you expect?" Well, frankly, I guess I expect a lot worse. There's really nothing stopping Chrysagon from outright raping Bronwyn, except how unacceptable that'd be to a "modern" audience expected to sympathize with this fellow. Yet somehow the fact that he imprisons and sexually assaults her is just fine, because – and this is the real irony – their eventual love does actually change him for the better. Peace does emerge as a more righteous, desirable solution to war and bloodshed. But getting there is a mess, neither willing to fully depict the ugliness of the times, nor progressive enough to give cause for altering its course. The result is not just ugly, it's dishonest. As finely-wrought as the middle section is, showing Chrysagon's sexual frustration boil in his blood-soaked castle, he's ultimately wrestling with whether or not to commit sexual assault, a decision that is ultimately portrayed as positive. The film becomes dated in ways that are far worse than the hairstyles and fashions that are so easy to mock in older pictures – it depicts with complete conviction an attitude we should not longer accept simply as "a product of its time."
Eureka! brings the film to (Region-B locked) Blu-ray via their new Eureka! Classics line, and the results are generally tremendous, if a little uneven. Universal forced Schaffner to shoot the film on the lot instead of in European locations, a decision that emboldens the film to be rather audaciously expressive – the matte paintings in particular are jaw-dropping – and also stiflingly limited – a few instances of rear-projection are less than convincing. Further, there seem to be a handful of scenes shot in genuine outdoor locations, which look absolutely awful, over-exposed and muddy. I trust that Eureka's transfer represents the film accurately and faithfully, so you take the bad with the good, but luckily, there's far more good to be had. The colors are incredibly rich, and the textures fine enough to separate the real from the artificial and better admire both.
---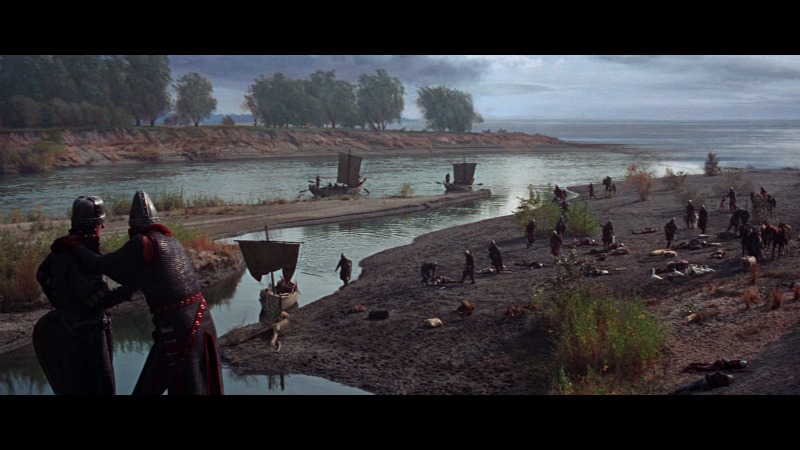 ---
The only special feature available on the disc is a music and effects track. In the accompanying booklet, we get a very good new essay by Michael Brooke, and interesting 1966 review by Tom Milne, and a fascinating collection of excerpts from Heston's diary surrounding the making of the film. It's a tremendously valuable supplement to the film, evidence yet again that Eureka is the best around at this game.
I'm somewhat loathe to recommend the film, based on my own feelings towards it, but Brooke and Milne certainly make compelling cases for it, and it seems the film is not without its fans. For those, this has to be the finest available edition of the film, sporting a mostly-gorgeous transfer and a very cool booklet to bolster the film. For them, I am glad, but for those new to it, proceed with caution.
---